Rotary club!
Classic Motorcycle Mechanics
|
August 2020
Ralph's back with Tool of the Month once more, and this time it's small rotary multi-tools
I remember friends waxing lyrical about the Dremel many years ago, but I didn'treally 'get it' for a long time. I ended up buying a rotary multi-tool for one specific job – removing the security screws from the back door of my printing workshop 20 years ago. Long story, but the Police had battered my back door down, realizing they'd got the wrong place! The end result was that I needed to cut a slot in hardened counter-sunk, non-tamper woodscrews. The only tool I could see that would do the job was a very small abrasive cutting disc, so I bought a Dremel with some baby abrasive cutting discs that did the job admirably. After that, I discovered that it was the most astonishingly useful tool I never knew I wanted.
From the moniker, I had always assumed it was Germanic in origin but was actually developed by an Austrian immigrant based in the USA, who founded the Dremel Company in 1932. Originally known as the Moto-Tool, it has always been a premium product with a name for quality. There are myriad attachments and accessories available for this most flexible tool.
There have been many copies of the Dremel multi-tool, but to date I have yet to find one on a par with the original, which is why I contacted Bosch, who now own Dremel, to discuss this article. Given I had in the past tried a lesser cordless rotary multi-tool and was extremely disappointed with it, when the guys at Bosch offered me one, I said that I would rather have a 'proper' one. They still insisted on sending me a cordless one as well. I made the assumption that it would be heavier and less powerful. The reality was somewhat different. On my postage scales, the cordless was a full 10 grams heavier and I could not find any discernible difference in power using the tool. Having played with both, were I now going out to buy a tool, there is no doubt in my mind that I would take the cordless machine.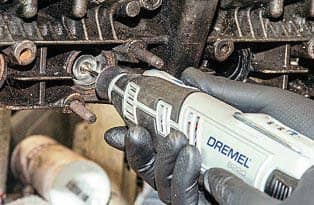 You can read up to 3 premium stories before you subscribe to Magzter GOLD
Log in, if you are already a subscriber
Get unlimited access to thousands of curated premium stories, newspapers and 5,000+ magazines
READ THE ENTIRE ISSUE
August 2020