Project Yamaha CS3C Part 10 Electric Avenue!
Classic Motorcycle Mechanics
|
September 2020
It's mostly electrics this time along with a light dusting of transmission trauma.
And so came the day when it was wiring time, not a process I especially enjoy and not enhanced either by the fact that I'm apparently colour blind when it comes to pale shades of blue, grey or green in close proximity.
On the plus side I have to say the repurposed wiring loom from a CS1C came out well, but I still don't know why it was in 'in stock' or where it came from. As the CS1C and CS3C are fairly similar there wasn't too much adaptation needed, but all of the old insulation tapes was replaced and everything inspected and/or checked with a meter. Using the cable clips and guides, most of it fell into place quite neatly I have to say, but because I don't have any faith in the ability of ball bearings, grease, powder-coat, etcetera to conduct electricity, I've added a few extra earth leads and run them back directly to the battery.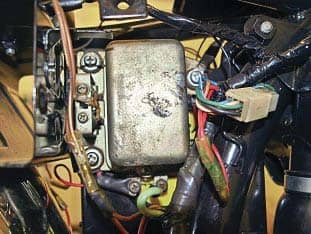 As I couldn't find a decent wiring diagram of the CS3C I enlarged one from a CS1C owner's handbook and dug out my official Yamaha RD200 factory manual I've had since 1973. As the electrical system realistically changed little on Yamaha's 180-200 twins I reckoned I was on firm ground here. Before I looked at the bigger picture with the aid of a mate the lid came off the gold-coloured box that sits surrounded by the oil tank and air-box underneath the main frame tube. Often erroneously called TCI unit/ignition module/black box by eBayers and bike breakers, it's actually the voltage regulator and electric starter relay. There's no rectifier on any of these electric start twins simply because the generator kicks out DC current. Most of the ills associated with these bikes stem from sticking or corroded contact breakers within, along with bad earth and poorly charged batteries. Poor storage in damp conditions is the usual reason for a raft of electrical issues that can, in perfect storm scenario, see the associated wiring. A gentle tidy of the points with 1200 grade abrasive paper allied to some electrical contact cleaner should ensure all is well inside. These relay/regulator units can be the Achilles' heel of CS/RD 200s as their design is actually flawed.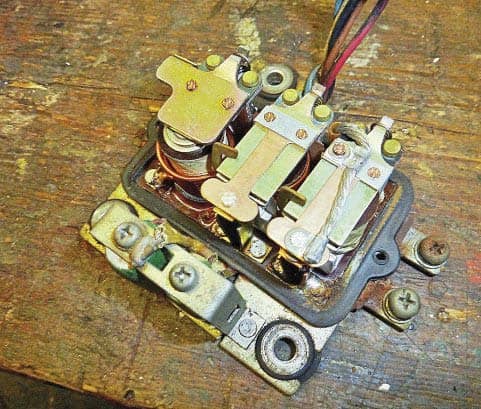 You can read up to 3 premium stories before you subscribe to Magzter GOLD
Log in, if you are already a subscriber
Get unlimited access to thousands of curated premium stories, newspapers and 5,000+ magazines
READ THE ENTIRE ISSUE
September 2020