Miller time!
Classic Motorcycle Mechanics|June 2020
CMM reader Graham Zimmatore finds a 1975 Suzuki rotary being sold by none other than Sammy Miller and restores it
Winter was coming and I needed a project:something quirky, something rare!
I've restored a few Mach III Kawasakis in the past, a couple of Triumphs, a Norton Commando, GT Suzis (125, 185, 250) so what next?
Eventually, I spotted a tiny ad in a classic bike mag for a 1975 Suzuki RE5 M that had been sitting in a garage for 35 years. I knew nothing about RE5s other than the fact that they've been touted as the worst motorbike ever made and that Suzuki nearly went to the wall because of them. Clearly with no logic in the decision I had to have it…
It was a non-runner (a bad thing), but it was a complete bike (a good thing.) Best of all, it was being sold by the great Sammy Miller of The Sammy Miller Museum fame! He wanted £3500 for it, so I saddled up the TDM850 and headed south to take a gander. I'd always wanted to meet this legend of a man and check out his museum, so this was going to be an interesting trip.
Sammy is an enigma: he's 86, but looks 60, and is still brimming with energy and vitality and I realised I wasn't going to be haggling the price down! I had a great time looking at the museum's collection (and bikes yet to find room), but that's another story. Sammy agreed to the RE5 delivered to me as part of the price.
With the bike arrived I wondered what on earth I had let myself in for. The engine wasn't seized, but it hadn't run since 1985. I joined the RE5 owners club and that's when I started to worry. Apparently the 'apex seals' could be a problem. The rotor might turn, but if the seals were stuck there'd be no compression and the central part that houses the actual rotor would have to be split and rebuilt. I didn't like the sound of that at all so I decided it would all be ok.
Pulling the Suzuki apart, I think I realised why it was laid up several decades ago: the electrical connector that joins the wires coming from the generator to the rectifier had melted, which would be enough to bring the bike to a grinding halt. Apparently, this is a common issue. A new connector was sourced and wiring re-spliced.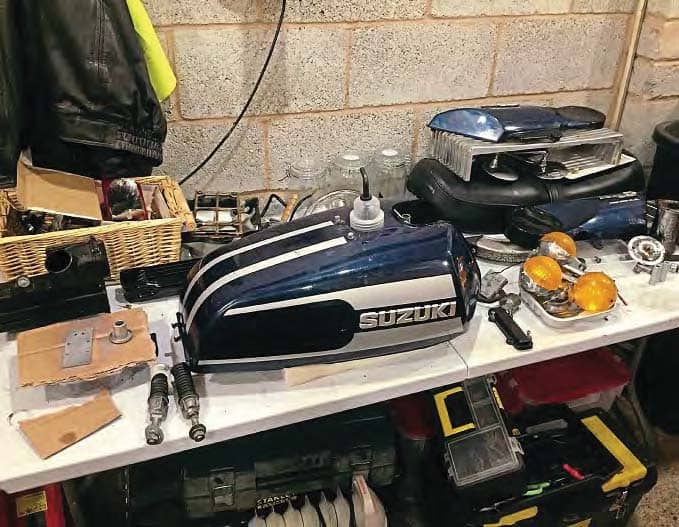 You can read up to 3 premium stories before you subscribe to Magzter GOLD
Log in, if you are already a subscriber
Get unlimited access to thousands of curated premium stories and 5,000+ magazines
READ THE ENTIRE ISSUE
June 2020