Honda ST1100 Pan European part 2- Squeaking Pan
Classic Motorcycle Mechanics|March 2020
Something's going 'squeak' in Allen's Pan… wonder what it is?
My Pan Europeanstarted to make an intermittent squeak from the engine, but it didn't bother me too much at first because I've had a similar noise before and it turned out to be the heat shields on the exhaust manifolds flexing from cracks around the mounting screws.
A few days passed and the noise was getting louder and more persistent, so I removed the side covers from the fairing, but could see the exhaust heat shields were fine and the noise seemed to be coming from the front of the engine. My Pan European has done 88,000 miles so I thought maybe it could be one of the cambelt tensioner pulley bearings starting to fail, so I removed the upper cambelt covers from each cylinder head and had a look in with a torch. The belt seemed ok, but when I re-started the engine the noise was much louder with the covers removed, and I could see a bit of Kevlar cord flapping around on the cambelt!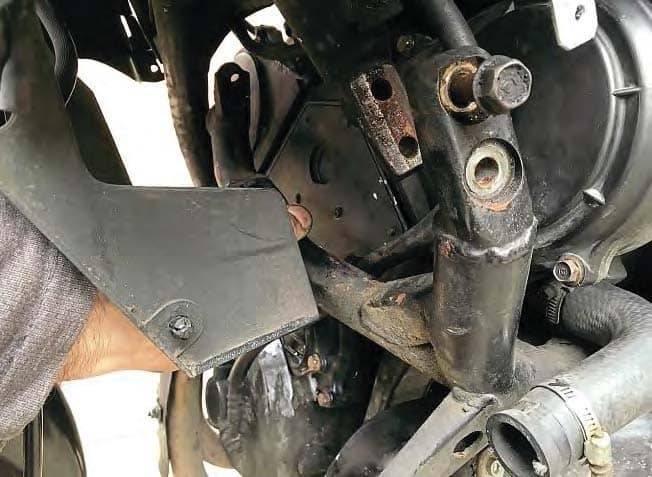 I stopped the engine and cleared space for a big strip-down to investigate further. I disconnected the battery first because I didn't want any chance of inadvertently cranking the engine while the cambelt was removed, and then proceeded to remove the belly-pan and lower fairing panels. I had fitted new stainless steel fairing screws a few years ago so this was a straightforward process. I replaced the screws because the standard steel screws can rust in place, proving difficult to remove. With the lower fairing removed I drained out the coolant and removed the radiator, revealing a large plastic cover on the front of the engine that covers the cambelt.
You can read upto 3 premium stories before you subscribe to Magzter GOLD
Log-in, if you are already a subscriber
Get unlimited access to thousands of curated premium stories and 5,000+ magazines
READ THE ENTIRE ISSUE
March 2020