Feet up!
Classic Motorcycle Mechanics
|
August 2020
Pegs, positioning and comfort are all that's on Malc's mind this month!
I'm quite pleased with the results with the TR750 sofar, but there are already a few bits which are not quite what I envisaged or working how I'd like. A consistent issue is how to get everything to work together as it should and in a safe way – and that means the controls.
Now I have to 'fess' up, age is creeping up on me and I'm no racing snake, the odd pint of real ale and bacon butties have done their best to shape the frame! As can probably be seen from earlier pics the clip-ons have a slight rise and are not halfway down the forks. There's no way I can ride a race bike these days and some level of comfort is essential. Further to this my knees are not good, one a lot worse than the other, the result of snapping my ACL (Anterior Cruciate Ligament) at a keep-fit class! I wish I could mill up a new joint!
I've got to work out where I put my feet and be able to operate the controls. Thankfully, my worst knee is the rear brake side and I've never been a big user of the rear brake. I also struggle to push my weight up once my knee is bent; apparently that's a result of the injury (or beer and butties?). I've got the sympathy vote from you I hope, but the reality of life and ergonomics are going to dictate a few things, whether I like it or not.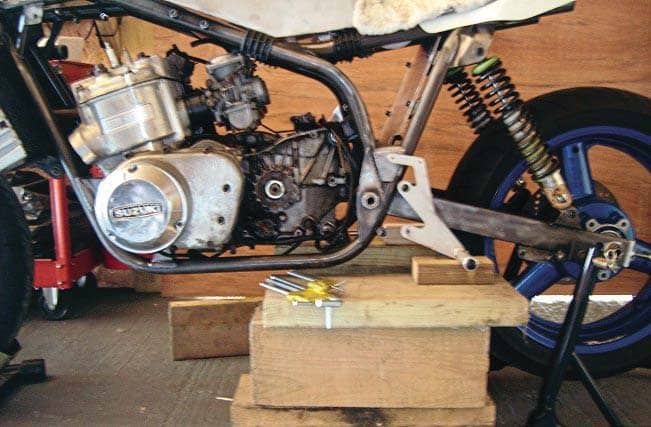 With the bike on a paddock stand and a towel rolled up on the seat to simulate the 50mm of padding, it was a case of positioning my feet to give me a rough idea of where the pegs needed to be. Blocks of wood were then stacked up to give me a further idea of position and what I could physically tolerate. The CMR frame has lugs already welded on to it to mount the footrest hangers. If you look at pictures of their race bikes, there is no way I could bend enough to get my feet on the pegs where they site them, but then I've no intention of leaning over that far anyway! I used a redundant ally plate that had a foot peg on to give me an idea of where my datum points needed to be: this is (Photo 1) and apologies for the poor quality of the shot!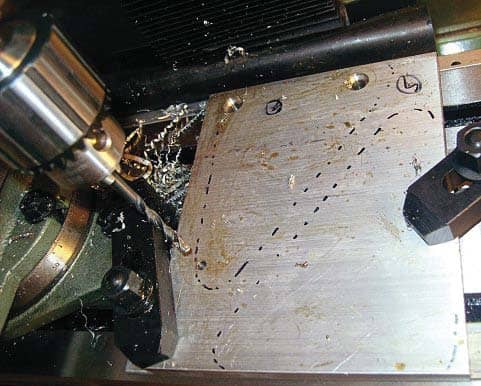 You can read up to 3 premium stories before you subscribe to Magzter GOLD
Log in, if you are already a subscriber
Get unlimited access to thousands of curated premium stories, newspapers and 5,000+ magazines
READ THE ENTIRE ISSUE
August 2020