BLUE BLOOD!
Classic Motorcycle Mechanics
|
August 2020
With work on it finished, we had to do a photo shoot on Niall Mackenzie's beautifully restored YZR500 – and look at the machine's bloodline.
NIALL MACKENZIE, BERTIE SIMMONDS
Every factory race bike is effectively a hand-built special so by nature, they can sometimes be quite rough around the edges. Many would say that is part of their character and I'd agree, however, the OCD racer in me (we're all riddled with it) likes to tidy things up so this is what I decided to do. Don't you think she's beautiful?
Firstly, the finish on my YZR frame and swingarm was inconsistent, some being part polished, some part scuffed, due to the occasional gravel trap excursion. Personally, I don't like the super shiny look so after some trial and error we found the perfect grade of wet and dry paper for the job. Too rough was scratchy and too smooth made no impression, so we eventually settled on P1000 grade paper. It took a few hours, but very satisfying blitzing everything to a uniform original brushed aluminum finish. We then repeated the same process on all four Millet Racing expansion pipe exhausts.
One thing I do love about older race bikes is their minimalist electrics. The wiring harness only has to take care of four ignition coils, the electronic power valves, a kill switch, rev-counter, temperature gauge, and total loss battery. Although out of sight, over the years everything had become scruffy so we replaced connectors, re-soldered, and re-insulated where necessary. As with most race bikes back in the day, it all operates on a total loss system, but with a rechargeable battery for operating the power valves. We had to replace the inner power valve cables that were frayed due to wear and tear. The two-into-four throttle cables and clutch cable still appeared as good as new.
Radiators for these machines were all hand-made and spares simply don't exist now so I count myself fortunate mine is still totally intact and leak-free. After a good hot parts wash and thorough flush through, a good hour was spent picking the fins straight whilst removing any leftover debris. I swear I recognized some Le Mans pea gravel in there from 1991!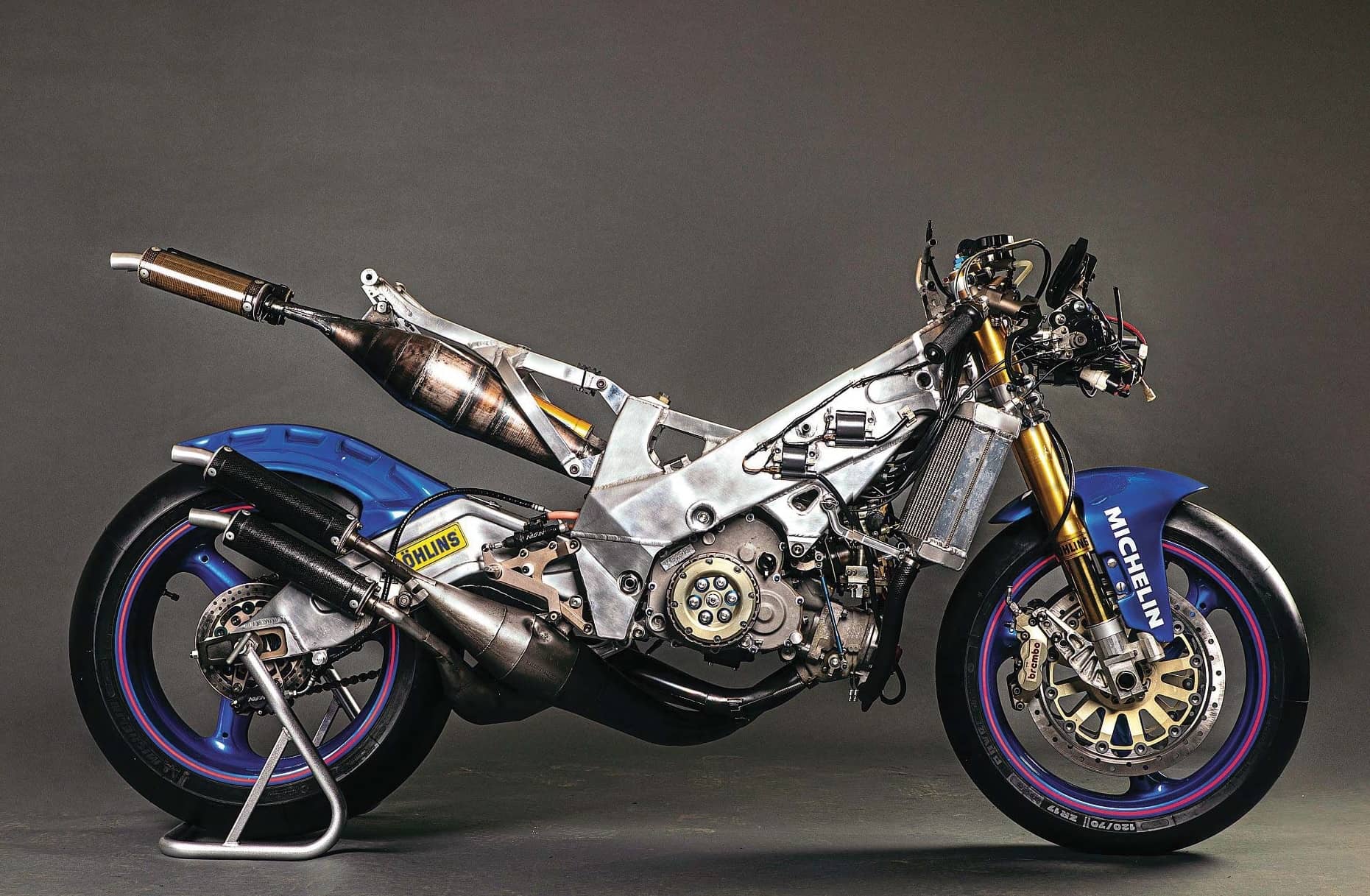 We hired Larry at Illusion Racepaint in Northants to do his stuff with all the paintwork. His tasks included removing a tank dent and sourcing all the period decals from my 1991 season, plus repainting and pin-striping both 17-inch Marchesini wheels.
As with the tank and bodywork, they returned with a sheen and finish that probably wouldn't have been possible 29 years ago. Understandably, the bodywork on race bikes actively involved in racing only ever had a blast of primer and one coat of color as said parts would inevitably (and quickly) become spectators' souvenirs.
Also, anything unseen would normally be bare fiberglass, so it feels good to finish the job off with every surface painted properly. Twice as heavy mind, but no one is watching weight these days.
My bike was originally delivered with 290mm carbon discs which is fantastic. However, no one really knows if this material can stand the test of time. Some experts claim they'll last forever and some say they'll eventually crumble. I decided to avoid any unexpected dramas and bite the financial bullet, investing in new 320mm steel Brembo rotors. Not cheap, and they don't look quite as cool, but I believe a worthwhile investment if they stop me launching my pride and joy. We used these bigger discs in wet conditions back in the day so the forks are already fitted with alternative brake caliper mounts. Just for good measure I also replaced the three-decade-old brake lines and plastic shrouds, and I've swapped the ancient Michelin rubber with new Michelin Power Slick Evos. These modern track day tyres are light years ahead of what we raced on in 1991, but more importantly a whole lot safer than the crusty relics I'd been using.
You can read up to 3 premium stories before you subscribe to Magzter GOLD
Log in, if you are already a subscriber
Get unlimited access to thousands of curated premium stories, newspapers and 5,000+ magazines
READ THE ENTIRE ISSUE
August 2020