The Famous James
Classic Dirt Bike
|
Winter 2019
Though the 'famous' tag is from an earlier period, James did add to it by being the first lightweight manufacturer to win a trade national trial outright.
In one respect it is a shame Bill Lomas' win in the 1951Tiavers Trophy Trial continues to be trotted out by the likes of us journalists, as it suggests James did nothing else after it. This, of course, is far from the truth as the Greet based maker has a long and proud competition career and though Lomas' win is noteworthy, James had success before and after it.
What that win did was provide James with the basis for the best rigid lightweight trials bike of the time, even if it was mostly 'Lomas' rather than 'James' who did the building. James did produce a replica, or as close a replica as they could, of the Lomas machine, minus of course, the personal tuning Bill had done to the Villiers 197cc engine unit.
In his book 'Bill Lomas - world champion road racer', Bill details some of the work which he did to create his national winning motorcycle and was full of praise for the freehand given by James for his work.
The rigid machine enjoyed considerable sales success but once the world had realized rear suspension wasn't such a hindrance to the feet-up scene as it had been thought, almost overnight the rigid was out.
James did have a roadster with a swinging arm frame and offered this in trials form to older at first, then it became a production model. History records the frame as being too weak and while suitable for the road it needed a strengthening brace for trials or it would bend in the middle if dropped in an event. Still, the factory had to go with a swinging arm and the factory riders would have to persevere with it and be seen to be winning or competing on the production machine.
Meanwhile, one young James rider in Northern Ireland was making a name for himself, not only in the trials world but road racing too and had engineering talent to develop what seemed, to him, obvious solutions to trial bike design.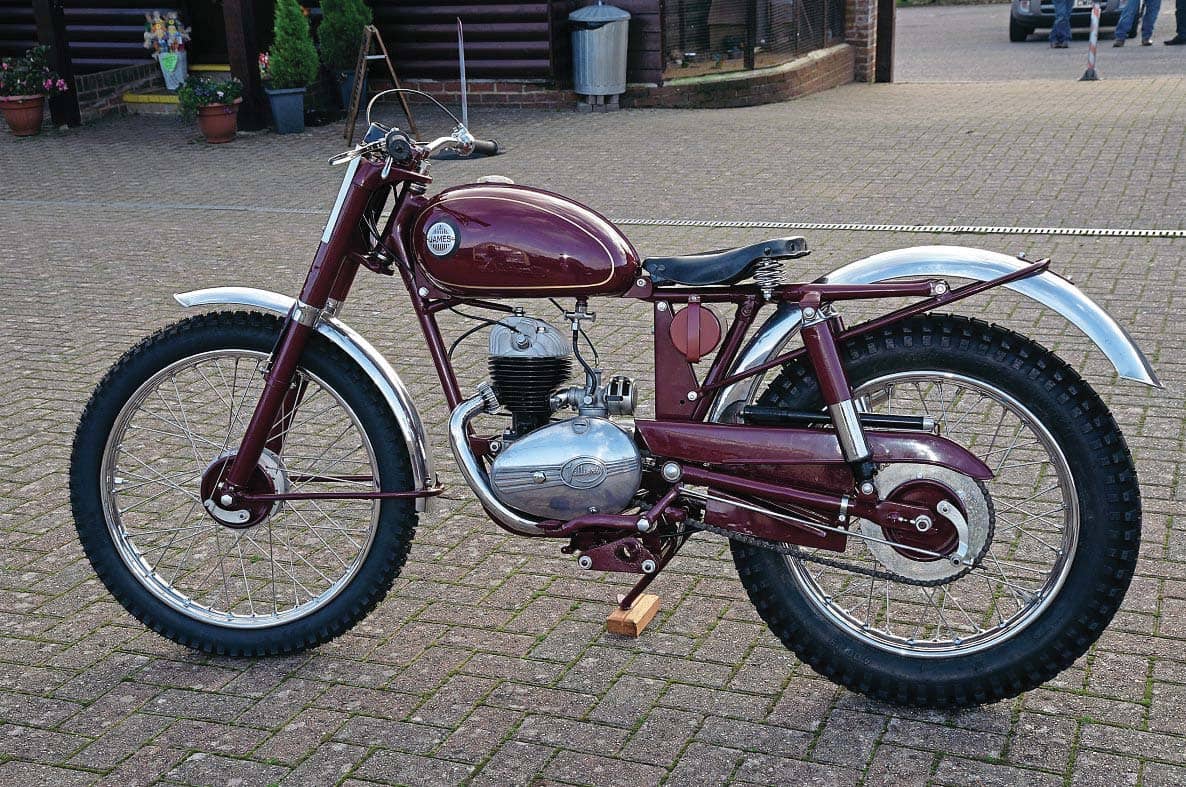 The name Sammy Miller was becoming known outside the province as someone to watch, though by his own admission he was still in awe of the works machines. He was entered in his local national, the Hurst's Cup, on a swinging arm Commando not dissimilar to the one on these pages, and as the photos were being taken Sammy related the tale.
Having reworked his own machine into something more fitting for a trials bike, Sammy was well aware he lacked the resources of a major factory and its pool of knowledge, so was keen to see the full factory bikes for some more ideas.
"I knew the works team, including Bryan Povey, would be over for the Hurst's Cup so I took a notepad and pencil along to jot down what they'd done, so I could use the information. I really shouldn't have bothered, as while I was examining their machines and being a bit disappointed in what I saw, they were all over my machine to see what I'd done!"
Much later, when Sammy was entrenched in the Midlands industry, Povey let on that the factory had instructed them to check this Irishman's machine out. "I was becoming less in awe of the factory machines, it was inconceivable to me why they wouldn't let riders make their machines better, then offer the result for sale."Miller shrugs his shoulder as he's saying this and it's clear more than 60 years on it still puzzles him.
As we looked over the freshly restored machine I asked Sammy how it came to be in the museum.
"We have given it about 20 years ago and it's been in storage since, waiting for us to have the time to restore it."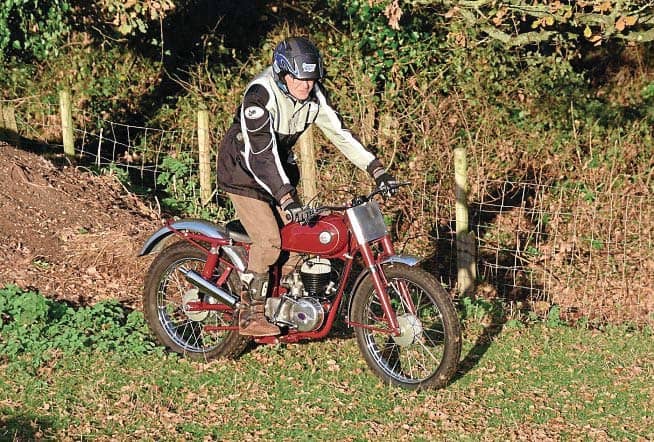 You can read up to 3 premium stories before you subscribe to Magzter GOLD
Log in, if you are already a subscriber
Get unlimited access to thousands of curated premium stories, newspapers and 5,000+ magazines
READ THE ENTIRE ISSUE
Winter 2019