Changing Direction
Classic Dirt Bike
|
Winter 2019
Sometimes a forced rethink pulls a project in a whole new direction.
Looking at this superb CR250 it is hard to believe that the initial idea was for something quite different from the race-ready 250 which USA star Ivan Tedesco was using to good effect at Farleigh Castle for Vets MXdN in September.
The bike's owner Stevie Denton told me: "I originally fancied building a CR with an XR500 engine in, so got a frame from the USA and quickly discovered an XR engine won't go into the frame without an awful lot of work. The frame isn't big enough at the lower end, so short of cutting off and remaking the whole engine cradle part of the frame, I had to have a rethink."
What he came up with was to produce a 250 which would be as good as a CR250 could be, using what was available to him. Actually Stevie said, "…what was lying around…"
So, what goes into a bike fit for superstars of MX to race? Well, quite a lot actually and time-wise it took several years' development to bring it to this stage. Nor is this the final stage, as development is ongoing and as we checked in with Stevie he told us the latest swinging arm prototype had just arrived and was soon to be fitted.
Okay, the starting point wasn't a complete bike, just the frame, which Stevie sourced in the USA. Building a bike up from bits isn't always an easy way to go, even if you are part of a company specializing in the type of bike you're creating. Maybe it gives you a slight advantage, but still.
"Next stage was to find a 250cc engine," says Stevie. This also came from the USA and is the same year as the frame. Once back at the company's base in North Wales it was fully stripped, had new bearings and seals throughout and a fair bit of tuning work was done to make it work as well as it could.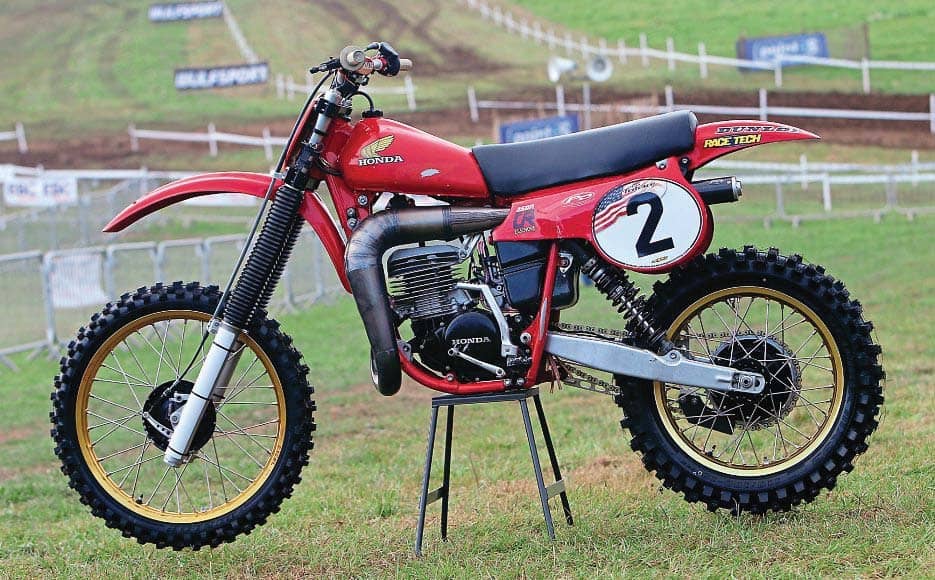 "There's a lot of porting work gone on, stuff that is specific to us," grins Stevie. This porting work is available to customers and helps boost the performance of the still standard bore and stroke engine. Not standard though is the liner on the barrel.
"Honda put a chrome plating on the bore," Stevie tells us, "but we have it replaced with a Nikasil coating. We've not gone the big-bore route as there's no need and other than our porting work, the plating and a Wiseco piston, it is pretty much 'Honda' inside."
The gearbox is standard too and five-speed as it would have been in 1980. Putting the power through to the chain is the job handled by a billet clutch which will soon be added to the company's inventory.
I asked if there's anything not '1980' on it. Stevie replied: "Well as the frame has been braced we wanted to put a strut from it to the top of the engine and that meant we needed to use a 1979 cylinder head." Honda fans will know the 1980 head doesn't have a way of fitting a head steady to it.
You can read up to 3 premium stories before you subscribe to Magzter GOLD
Log in, if you are already a subscriber
Get unlimited access to thousands of curated premium stories, newspapers and 5,000+ magazines
READ THE ENTIRE ISSUE
Winter 2019