Catalogue Correct
Classic Dirt Bike
|
Winter 2019
Sometimes the condition of a machine dictates what should happen to it.
I'm sure you're familiar with the scene, you're checking a bike over and thinking well, that's lived a life...then 1O4 look a bit closer and it becomes clear it may have been well used but it hasn't been hacked around Then an even closer inspection shows it's complete and undamaged, with all unobtainable pans still in place - at this stage it ores out for a 'catalog coma restoration.
Such was the scene with classic car restorer and MX racer Mark Gessey, when he was asked to have a look at this: S7 no KIM MX for Mains 2 vents racer Mel Pocock 'Originally I was supposed to be restoring the bike for Mel,' says Mark 'not that he's got any particular connection with it other than his dad used to race one As es the way of things time went on and Mark ended up buying the bake-off Mei and doing at himself.
Mark admits it is handy being able to do almost ever/thing in-house with only powder coating, shock gassing, and plating being sent out 'I have wasted contacts who I've dealt with for years and do a lot of work for the car side of things they're used to my requirements,' he says This nears there are few holdups and they know what he wants as regards work and there are no surprises
Mark only knows one way to do a job and that n the right way. so once the bike was his it was completely pulled open so every last bit could be inspected properly.
This inspection confirmed his initial thought that the tale was very tired and worn, but all that and original
"There are some things which are becoming hard to find, take the plastics, for instance, they're Acerbis originals made for X714 and I thank I found the last genuine new ones, except for the rear guard which is a pattern one." Mark goes on to say he's trying to commit Acerbts to produce older plasters as he's sure they'll have the molds bat they do not sum at the moment.
Once the bike was span and the frame checked over to make sure 3 was spot on. of it went with any other ancillary parts needing colour, to his regular powder coater Sussex Blast Craning. for that distinctive KTM colour to be applied.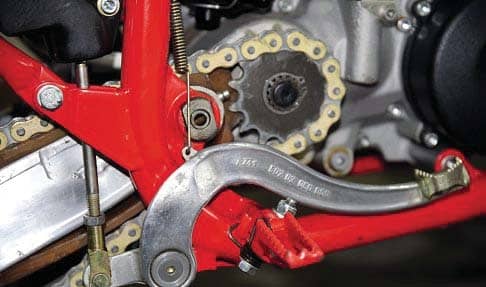 The swinging ann, being alloy was cleaned up using a process Mask follows for sit of the alLoy bits on a motorcycle."I have a fairly hi-tech parts washer which uses hot water and
detergent to degrease everything, then once it's been through there, off it goes for vapor blasting then if needed it can be polished."
This was the way the swinging atm and its linkages were dealt with Once the hazy*, were back then all-new beatings went in sad they could to fit the swinging Um and flame before the teat shock was refitted.
You can read up to 3 premium stories before you subscribe to Magzter GOLD
Log in, if you are already a subscriber
Get unlimited access to thousands of curated premium stories, newspapers and 5,000+ magazines
READ THE ENTIRE ISSUE
Winter 2019