'You Feel Like A Movie Star'
Darrin Alker loves how precisely his Lotus Esprit drives – so why on earth did he ask us to put him in a Ford Mustang for the day?
The Ford Mustang 289 we'll be using today sits proudly outside Essex-based Affordable Classics. Proprietor Roger Chinery is busy showing me around his workshop, an eclectic shrine to all things Blue Oval, when another white car pulls up next to it and Classic Cars reader Darrin Alker steps out. His Pearlescent White Lotus Esprit Turbo is futuristic looking, hand built, turbocharged – everything the everyman, mass-produced Ford isn't.
Intrigued, I immediately ask him why the Mustang is on his List. 'The Lotus has always been my dream car and I'm lucky enough to have one in my garage,' he explains. 'I always seem to end up with four-cylinder turbocharged engines and although I've driven a few V8s – Jaguar XKR, V8 Esprit and a Range Rover Ambulance – I've never had the pleasure of owning one. American ones in particular have a lovely sound to them and when you combine that with the looks, that's the reason it's on my List.
Fair play, a nice concise explanation; time to get this North American show on the road. We climb aboard, fix our lap belts and Darrin's eyebrows rise as he clocks the transmission tunnel.
'Wow, a manual gearbox, I wasn't expecting that. Americans don't usually do stick shifts, I thought all their early cars were autos.' It's a dogleg box too, just to add another factor to the pot and ensure he'll need to keep his wits about him. The small-block V8 fires with that definitive breathy thrum, he disengages the twist-release handbrake and we're off.
'You can feel the bottom-end grunt, even just pootling along like this,' he says, signalling right. We pull out on to the A1017 and with a car fast approaching the Mustang's rear end he floors the throttle. There's a surge of torque accompanied by a lazy growl, but our fellow road user is still right behind us. It's a 50mph road but that doesn't necessarily mean everyone sticks to it, and our day's kicked off in a distinctly rushed manner.
I point out we're taking the next right at the bottom of the hill, but Darrin leaves his braking and steering too late. It's comedy, almost bordering on tragedy, as we both slide left on our seats and the car leans heavily on its suspension. We make it with the slightest wiggle from the rear end as he corrects matters. Blimey, that was Thelma and Louise dramatic.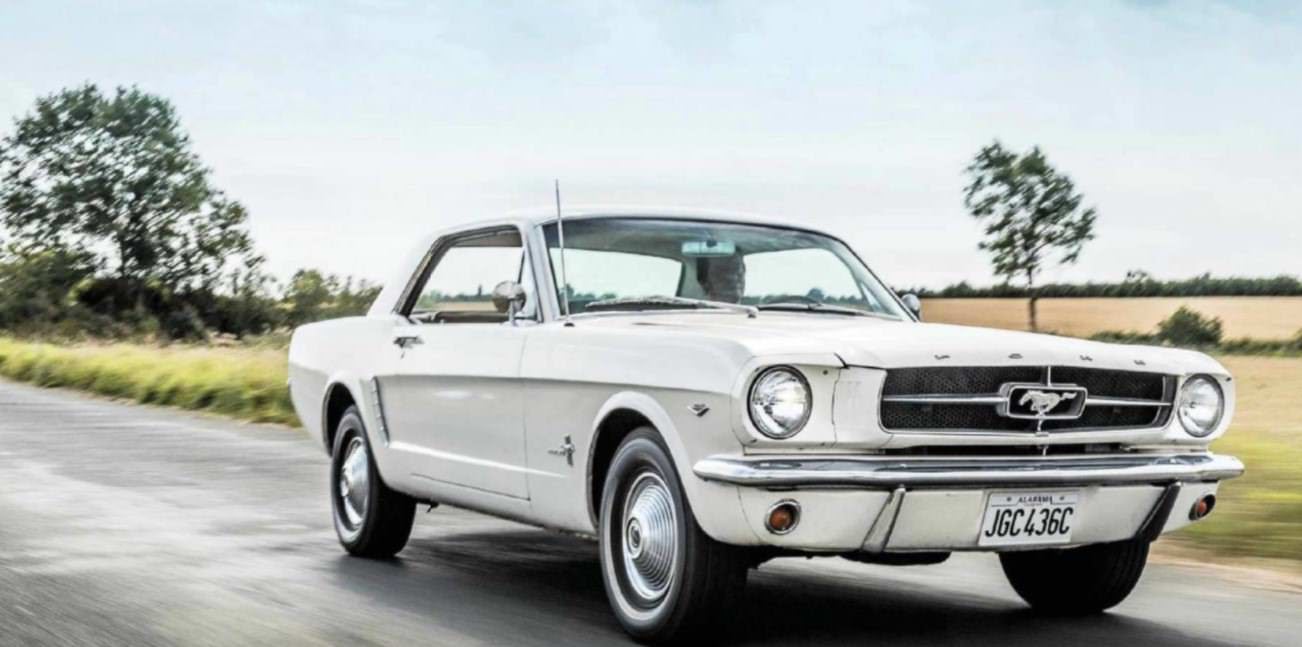 He brings the car to a stop 100 yards on. 'I could see the headline,' he says, shaking his head. 'Classic Cars reader writes dream car off on first corner. I applied the brakes and very little happened, I then tried to make the turn to find very little response from the steering; it keeled like a barge hit side-on by a massive wave.' Perhaps that's apt, given Darrin spent the early part of his career in the Royal Navy.
'I thought I took it relatively carefully. It was eventful... or should I say about the controls, uneventful,' he adds. 'I kept thinking it's not turning, please turn – any time now would be nice. They have a reputation for not going round corners and that was all summed up at the first time of asking.'
You can read upto 3 premium stories before you subscribe to Magzter GOLD
Log-in, if you are already a subscriber
Get unlimited access to thousands of curated premium stories and 5,000+ magazines
READ THE ENTIRE ISSUE
December 2017