'It's Like A Japanese Tardis'
Before buying an M635CSi, six-footer Steve Hough viewed several Datsun 240Zs, but never got to drive one. Today we put that right – and the first surprise is that there's room inside to spare
However much planning goes into one of our eader dream drive features, there's one element that we have zero control over. And if anyone's bucket list does include a thoroughly grey day in Grays, barely a container lorry's braking distance from Tilbury Docks on the Thames estuary, to be honest I'd probably ather not meet them anyway.
This issue's participant, Steve Hough, emains upbeat about the damp and gloom outside, though – which is no small relief. He also makes a reassuring point. 'As a former Caterham owner I'm used to a bit of weather.
'Anyway, I think it's easing,' he adds, peering out of the raised roller door at the rear of Vintage and Prestige Classic Cars' showroom. He may be on to something, too. Though the Radio 4 weather man has been very clear that we're unlikely to be including any clichéd 'rising sun' photos in today's shoot, the drizzle is definitely thinning. It's almost time to fire up the 240Z and head for the relative delights and hopefully quieter roads of Canvey Island.
But there's still time to finish our tea and explore Steve's motivation behind the inclusion of the sporty little Datsun on his wishlist. 'The 240Z's a car I've always had a thing for. Before buying my BMW recently I was torn between getting a classic with two or four seats. Top of the list for two-seaters was the Datsun 240Z – good to look at, rare but with good specialist support, and in today's market seemingly good value.
'I even looked at a few restored cars, including one at a northern dealer that had previously been owned by legendary racer Barrie "Whizzo" Williams. But despite all that I never got to drive one, which I wish I had. In the end, with a growing son in the family, I decided I wasn't going to use a two-seater car enough, so plumped for the four-seater BMW M635CSi.'
So it's time to put those missed driving opportunities right, and Steve is instantly impressed with one important factor designed into the Z with the American market firmly in mind. 'I'm six-foot-two and there's plenty of space in here, remarkable for what is actually quite a small car from the outside. It's rare that I have to pull a seat forward from its most rearward setting, but that's what I've just done. It feels very roomy around me too.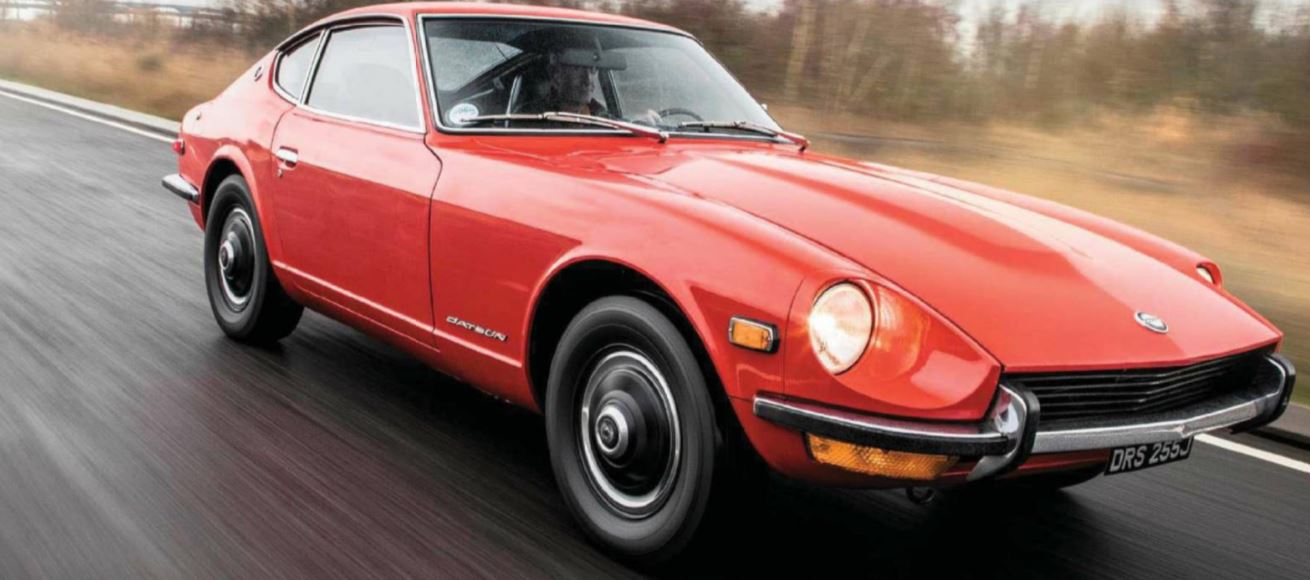 'But though I like the layout, it does look quite low-rent in here – perhaps austere is a better word – considering what these cost new, and it's quite tinny the way the door shuts with a clang rather than a thud. Why wasn't it more upmarket, smarter, or is this just of its time? Maybe it was just built to a price.' That's a fair observation – in Britain the 240Z most closely competed with the Reliant Scimitar GTE, and cost 50 per cent more than a Triumph TR6 back in the early Seventies. Against those measures it is lacking in the special touches we've been conditioned to expect in a premium product. Steve's finding plenty of positives, though. 'It's all well laid out and I love the deep-dish dials – very Alfa-ish – and the centre air vent that rolls shut to leave a chrome bar on display. It's all quite stylish for its day, don't you think? All this blackness reminds me of an E-type.'
You can read upto 3 premium stories before you subscribe to Magzter GOLD
Log-in, if you are already a subscriber
Get unlimited access to thousands of curated premium stories and 5,000+ magazines
READ THE ENTIRE ISSUE
April 2017