Solid State
Classic Car Mart
|
January 2020
Although a well-preserved Volvo 120 Series 'Amazon' makes a good choice as an occasional everyday classic driver, the range can be confusing. We play the numbers game and reveal some of the Amazon's main foibles.
Volvo's famous silver circle emblem with an almost vertical diagonal arrow pointing out to one side is actually the ancient Swedish symbol for iron and is meant to reinforce Volvo's reputation for producing strong and reliable cars.
Volvo's first international bestselling car to gain this enviable reputation was the 120 series, a model better known on its home turf as the Amazon. Introduced in 1956, the Volvo 'Amason' – or 120-series to give the car its official designation, was initially involved in a prelaunch name dispute with Kriedler, a motorbike manufacturer that was already using the 'Amason' name on a moped. Protracted negotiations resulted in the Volvo's name being changed slightly to Amazon for use in Sweden, while it was named simply the 120-series in export markets.
The new car shared a large number of components with the beetle-backed PV series and the conventionally engineered 120 featured a longitudinal four-cylinder engine driving a coil-sprung live rear axle. Initially available as a four-door saloon, the 120 was powered by a 1.6-litre B16A engine derived from the Volvo PV544. In 1958 the twin-carb B16B engine provided 85bhp and the 1778cc B18 engine introduced in 1961 was available in either 75 or 85bhp trim. At the same time the 122S model debuted the 90bhp B18D engine, subsequently uprated to 95 and then 100bhp and the arrival of a four-speed manual gearbox and lowered suspension made a huge difference to how the Amazon performed.
The 123GT was introduced in 1967 in two-door format only with the 115bhp 1778cc engine and in 1968 the swept volume of this powerplant was increased to 1998cc. In this guise the Amazon's power unit was now capable of pushing out 90bhp in the 121 or 118bhp in the 122S. A two-door 120-series had been available from 1962, alongside a practical five-door estate (Combi) and from 1969 the Amazon Sport was offered with standard front seatbelts – the first mass-produced car to offer this important safety feature. This, along with the 120's other carefully thought-out safety features, such as wrap round front and rear light clusters and designed-in crumple zones, helped associate the Volvo marque with passenger wellbeing as well as reliability and toughness.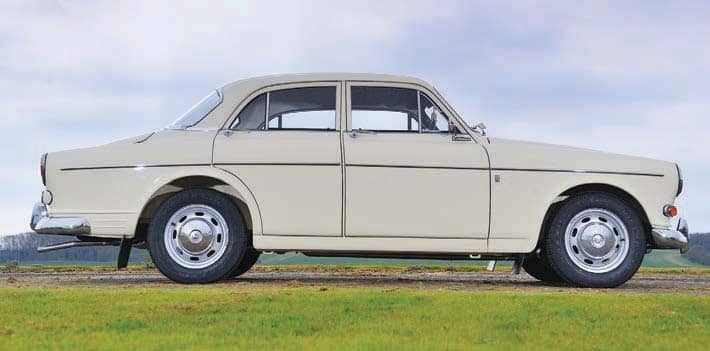 Compared to many of its contemporaries, the Volvo 122S performed exceptionally well in the handling and performance stakes. The Amazon's monocoque offered far more torsional strength than many of its similarly-priced competitors and a high level of factory-applied rust proofing helped play a huge part in this traditionally styled Volvo's longevity.
You can read up to 3 premium stories before you subscribe to Magzter GOLD
Log in, if you are already a subscriber
Get unlimited access to thousands of curated premium stories, newspapers and 5,000+ magazines
READ THE ENTIRE ISSUE
January 2020