ROUND-UP PRACTICAL ITALIAN CLASSICS
Classic Car Mart
|
December 2019
Hidden among the blue-chip exotics you can find a surprisingly interesting selection of practical classic Italian machinery that's cheap to buy and fun to own.
First off, let's discount anything wearing a Lamborghini, Maserati or Ferrari badge, as any of these will be well outside an average enthusiast's budget. Instead, we're concentrating on a selection of more practical machinery produced by the big three Italian volume manufacturers: Fiat, Alfa Romeo and Lancia. Of these, Fiat is recognized as the largest producer of vehicles in Italy and this long-established company can trace its roots back to 1899 and its first factory in Turin.
Alfa Romeo wasn't far behind and started to produce automobiles in Milan in 1911. A strong sporting heritage helped boost the marque's image, especially in the UK, and Alfa has been part of the Fiat group since 1986. Lancia was formed in 1906 and the company became part of the Fiat empire in 1969. Despite dominating the world rally scene for many years, the marque was unfortunately tarnished with issues relating to build quality and Lancia-badged cars are sadly no longer officially imported into the UK.
In 2014 Fiat joined up with Chrysler to form the Fiat Chrysler Automobile Group and over the last 50 years Fiat, Alfa Romeo and Lancia have produced an impressive range of cars catering for all tastes and budgets. Obviously there are far too many to cover in detail here, but the following line up covers what we think is an eclectic mix of what's available today when it comes to practical Italian classics.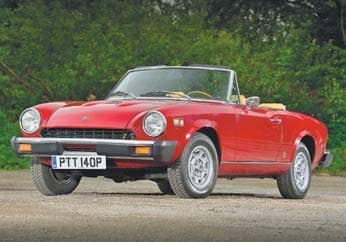 FIAT
500 (1957-75)
The 500's diminutive size may not have done it many favours in the practicality stakes, but the car was an important one for Fiat when it came on the scene in 1957. A rear-mounted 479cc air-cooled two-cylinder engine powered the 500 Nuova and in 1960 the 500D with a larger 499cc engine arrived on the scene. The 500L (for Lusso) was introduced in 1968 featuring a more interesting interior and the final incarnation of the 500 arrived in 1972 with the launch of the 500R, the initial standing for Rinnovata. In 1973 Fiat unleashed the squarer-looking 126 and this model was superseded by the water-cooled 704cc 126 BIS in 1987.
VALUES: The small but fun-to-drive 500 remains a firm favourite but good rust-free examples are expensive, so expect to pay up to £15,000 for a restored left-hooker repatriated from warmer climes. A Giardiniera estate offers a little bit more practicality and the best examples of this pint-sized wagon are currently valued at £10,000. The sporting 650cc Abarth remains the most desirable of the 500 line-up and a pristine original example will set a new owner back at least £20,000. This makes a top condition Fiat 126 far more affordable at between £3500- £5000 and buyers wanting something with a bit more elbow room could opt for a Fiat 800 for around £8000 or pod out an extra grand more for the 800's still stylish looking but rare Coupe sibling.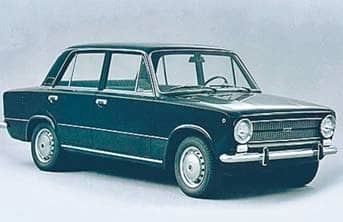 124 (1966-73)
The Fiat 124 was a clean-sheet design for Fiat and following its launch in 1966 the 124 won the European Car of the Year award. Fiat produced the 124 in several variants, including a four-door saloon, two-door Coupe, Estate and a drophead Spider. A variety of four-cylinder engines drove the 124's rear wheels and options included a front-mounted longitudinal 1197cc inline-four through to a DOHC 2-litre. In 1966 Fiat entered into an agreement with the Soviet Union to build the car in Russia and a version of the 124 produced at the VAZ plant wore a Zhiguli badge for the home market and the Lada 1200/1300 on the export market until 1987. The Fiat 124 was also produced in India as the Premier 118NE, Spain as the SEAT 124, Bulgaria as the Pirin-Fiat and Turkey as the Murat and Serçe.
VALUES: Although the 124 line-up includes an impressive range of models, surviving right-hand drive saloons are almost extinct but £3500-£5000 should be enough to bring a relatively rust-free left-hand-drive example to these shores. The good-looking Coupe is far more numerous and £16,000 should be enough to bag a really nice example. Pride of the 124 fleet has to be the drop-top Spider and depending on condition, a first-class example will cost anywhere between £12,000 and £20,000 – more for a convertible wearing a genuine Abarth badge.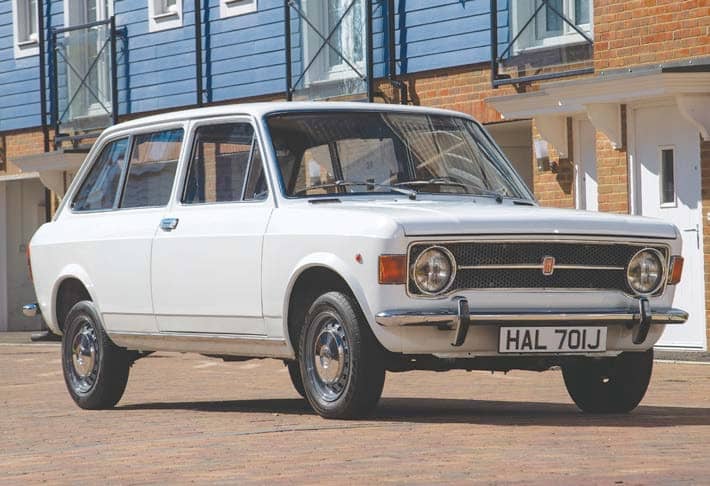 128 (1969-76)
The 128 was Fiat's first front-wheel-drive saloon and the company milked the fact in its marketing material that Enzo Ferrari used a 128 as his personal transport. Under the Fiat 128's bonnet was a brand new 1.1-litre engine mounted transversely in the engine bay and it featured an innovative clutch release mechanism that allowed the engine and gearbox to sit side-by-side so as not to share the same lubricant. Fiat produced a Coupe version of the Pininfarina-built 128 and production was licensed to several other manufacturers.
VALUES: The 128 is another Fiat that's now thin on the ground in the UK but trawling through the European classifieds should bag a show-stopping example of the interesting saloon for around £3500-£5000.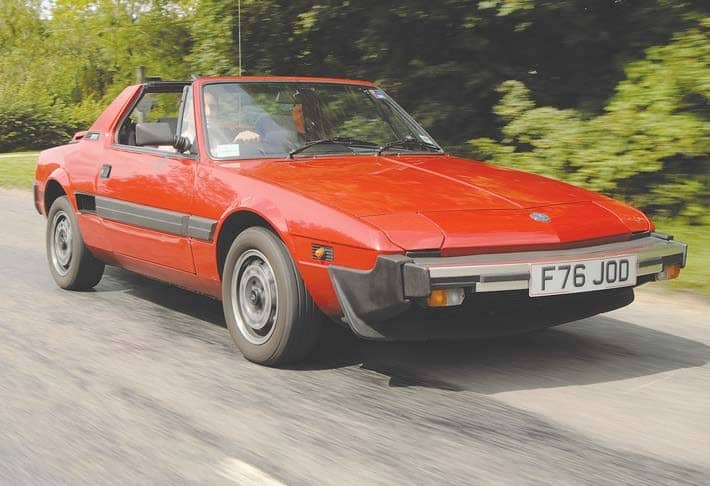 X1/9 (1972-89)
Designed by Bertone and produced from 1972 to 1982 by Fiat and then by Bertone until the end of production in 1989, the X1/9 replaced the 124 Spider and was powered by a version of the engine installed earlier in the front-wheel-drive 128. The X1/9's 1290cc OHC four-cylinder engine – later boosted to 1498cc – was located transversely behind the passenger compartment directly in front of the driven rear wheels. Rather than follow Fiat's naming style of using numbers, the X1/9 retained its development name and the first right-hand-drive versions started to arrive on these shores in 1976. In 1987 a makeover included the addition of wide-body mouldings plus a black finish to the area around the windscreen and door frames.
VALUES: Current prices don't really reflect how few of these capable mid-engined sports cars are left but the online classifieds are currently listing what appears to be a handful of decent looking examples starting at a fraction under £13,000. A basket case X1/9 at just over a grand may sound tempting but these cars rust badly and some parts aren't that easy to find, so our advice would be to steer clear.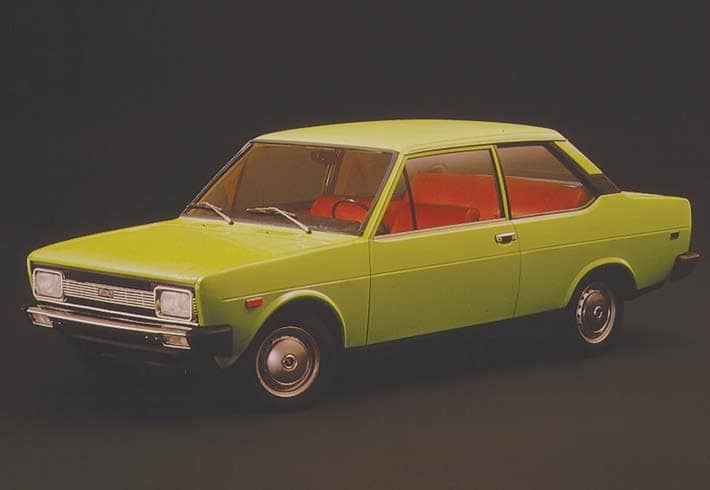 Mirafiori (1974-84)
Known also as the Fiat 131, the medium-sized Mirafiori directly replaced the 124 and was available as a two- and four-door saloon, as well as a five-door estate and a three-door panel van. The Mirafiori was offered with an impressive range of four-cylinder engines, ranging from a 1.3-litre petrol right through to a 2.5-litre naturally aspirated diesel. Front suspension comprised MacPherson struts, while an advanced rear set up featured a live rear axle kept in check by double unequal length trailing arms and a Panhard rod helping provide excellent road manners.
You can read up to 3 premium stories before you subscribe to Magzter GOLD
Log in, if you are already a subscriber
Get unlimited access to thousands of curated premium stories, newspapers and 5,000+ magazines
READ THE ENTIRE ISSUE
December 2019