Remain Cool
Chevy High Performance|March 2020
Mounting an affordable LS engine swap radiator and fan assembly
Heading into the heat of summer always brings up issues with cooling systems. Our latest venture is with an all-aluminum 5.3L LS engine swap backed by a TREMEC TKO-600 five-speed, and one of the last install duties is choosing a cooling system package.
We did our investigations and there are plenty of quality aluminum radiators and electric fan packages that bolt right in but are priced well into four figures. Our plan revolved around an affordable aluminum radiator with an attached shroud and, preferably, a pair of 11- or 12-inch fans. Buying a complete kit means the manufacturer does all the work for you. But this comes at a price. We didn't have $1,400, so that meant we had to do a little bit of the mounting work ourselves.
Perusing the Summit catalog, we discovered what Summit calls their Pro LS swap radiator. For our '67 Camaro, the radiator is a full aluminum crossflow design that is configured with both the inlet and the outlet hose connections on the passenger side to accommodate the LS engine. At first, we thought we could use dual fans, but the Camaro radiator's narrow core width of only 20 3/4-inches prevented that. Plus, there didn't appear to be a Summit shroud kit that would work.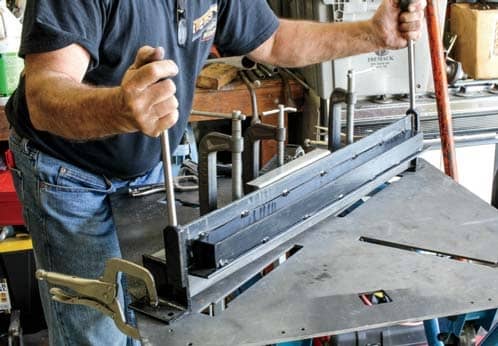 We did a little more searching and found an engine-driven shroud kit that offered what we needed. This shroud came with a large length of aluminum for the engine-driven fan that we didn't need, but more importantly, this shroud covered the entire Summit Pro LS radiator core, which was critical since we had to rely on a large, single fan. We did some measurements, and with our LS engine in its "stock" (not setback) location, the combination of the fan and the shroud depth still allowed sufficient clearance to the LS water pump.
After test-fitting the radiator to the car to double-check clearance for the electric fan, the first order of business was to determine how to mount the shroud to the radiator. We decided that if we fabricated a simple U-shaped bracket to fit over the top and bottom of the radiator this would create a vertical wall to attach the shroud to the radiator without clunky external brackets or long, ugly straps.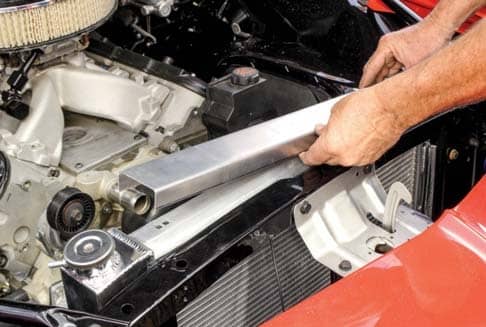 You can read up to 3 premium stories before you subscribe to Magzter GOLD
Log in, if you are already a subscriber
Get unlimited access to thousands of curated premium stories and 5,000+ magazines
READ THE ENTIRE ISSUE
March 2020