Letters Of Note// Hyundai Taps The Fast Part Of The Alphabet To Challenge The Honda Civic Type R With Its New Veloster N
Car and Driver
|
December 2018
You know an automaker is serious about performance when it stakes a claim on a piece of the alphabet.
Letters are fast, particularly once you move past frumpy B and lackadaisical H into the latter two-thirds, where M, R, and S transform mass-production ennui into factory-built adrenaline. That's exactly what we have here: two ordinary economy cars overengineered into track-capable front-wheel-drive hot hatches, brought to us by the letters N and R. Their speed, grip, and theatrics had us cackling like Elmo.

Born under the care of ex–BMW M bosses, Hyundai's nascent N division honors both Namyang—home to Hyundai's Korean R&D center—and the famed Nürburgring Nordschleife. The division's first export to the States, the three-door Veloster N comes bearing a turbocharged 2.0-liter inline-four, six-speed manual transmission, and powder-blue seatbelts. The Veloster N starts at roughly $28,000 and with 250 horsepower. However, potential buyers should consider the estimated $2000 Performance package on our test car mandatory equipment. It adds 25 horsepower, electronically adjustable dampers, an electronically controlled limited-slip differential, larger brakes, an active exhaust, and an upsize from 18- to 19-inch wheels. Beyond that, the options list looks similar to the Honda Civic Type R's, which is to say that you can choose from a limited selection of paint colors.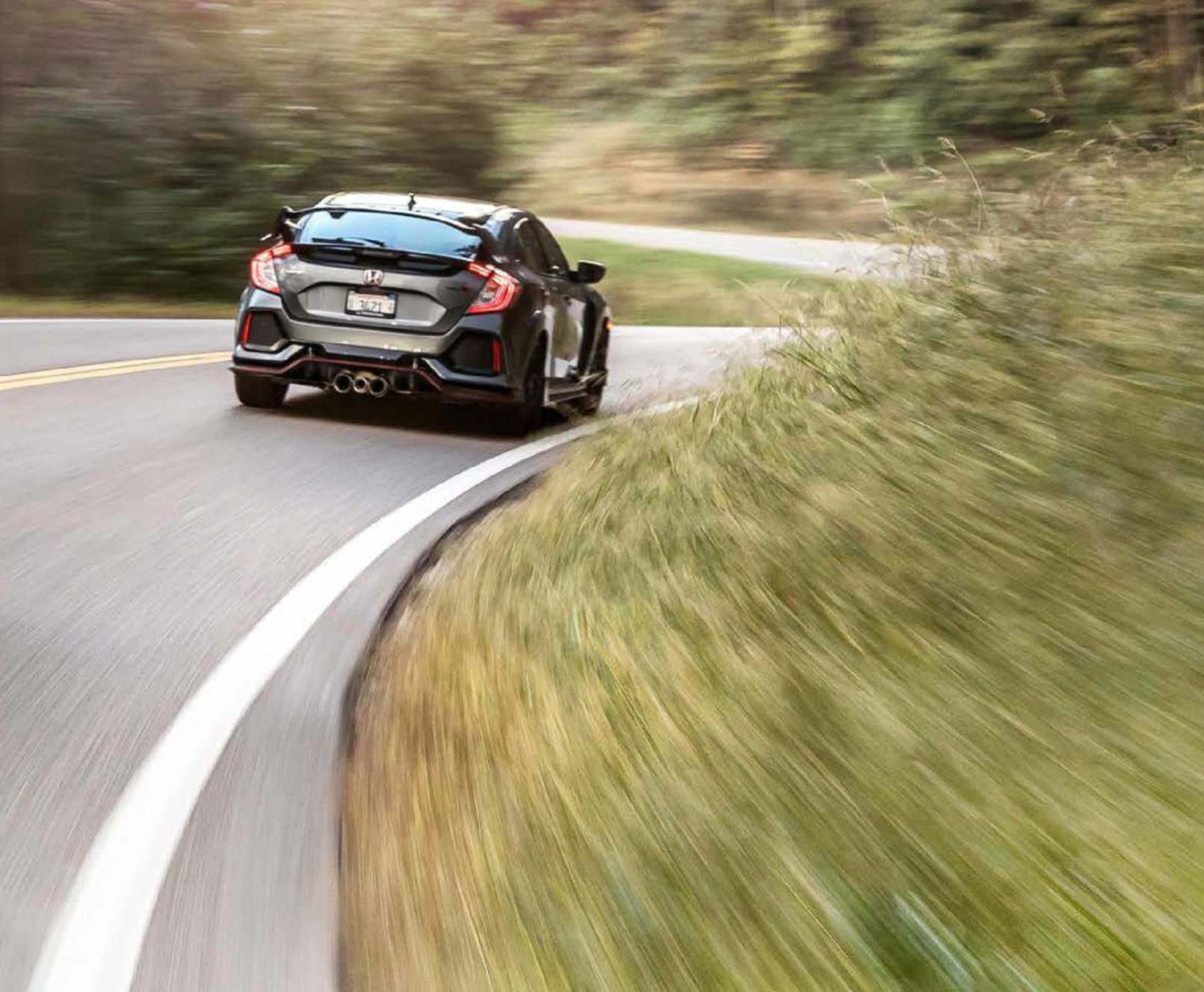 If it's going to win its first battle, the N division will have to beat Honda's Type R badge, which has a 26-year head start— though only a fleeting fraction of that run has elapsed in America. The Acura Integra that wore the badge here for a few years in the late 1990s and early 2000s still looms large in our minds, and the second car to carry the name on our soil, this Civic Type R, is steadily wearing a similar groove in our hippocampi. Around this time last year, the then-new Civic Type R toppled the all-wheel-drive Ford Focus RS, which itself had knocked out the Subaru WRX STI and the Volkswagen Golf R in an earlier comparison. The Civic Type R sells in a single $35,595 spec with a 306-hp turbo 2.0-liter inline-four channeled through a six-speed manual and a helical-gear limited-slip differential, all riding on electronically controlled dampers.
To keep weight and cost in check, both these cars forgo some of the luxuries you might expect in this price range. There are no sunroofs, no heated or powered seats, and the Veloster's touchscreen doesn't include navigation. (Both cars come with Android Auto and Apple CarPlay compatibility). This is fine by us. In the case of the Civic, we'd like to subtract from—rather than add to—the red-splashed cabin and the exterior festooned with overwrought styling elements to make it less of a four-wheeled caricature.
We evaluated this duo on Ohio's Windy Nine. These routes around Athens are a tangle of asphalt spaghetti spilled over farms, hills, and forests. But there are more than nine roads here worth exploring, and these cars couldn't be any better suited to the task.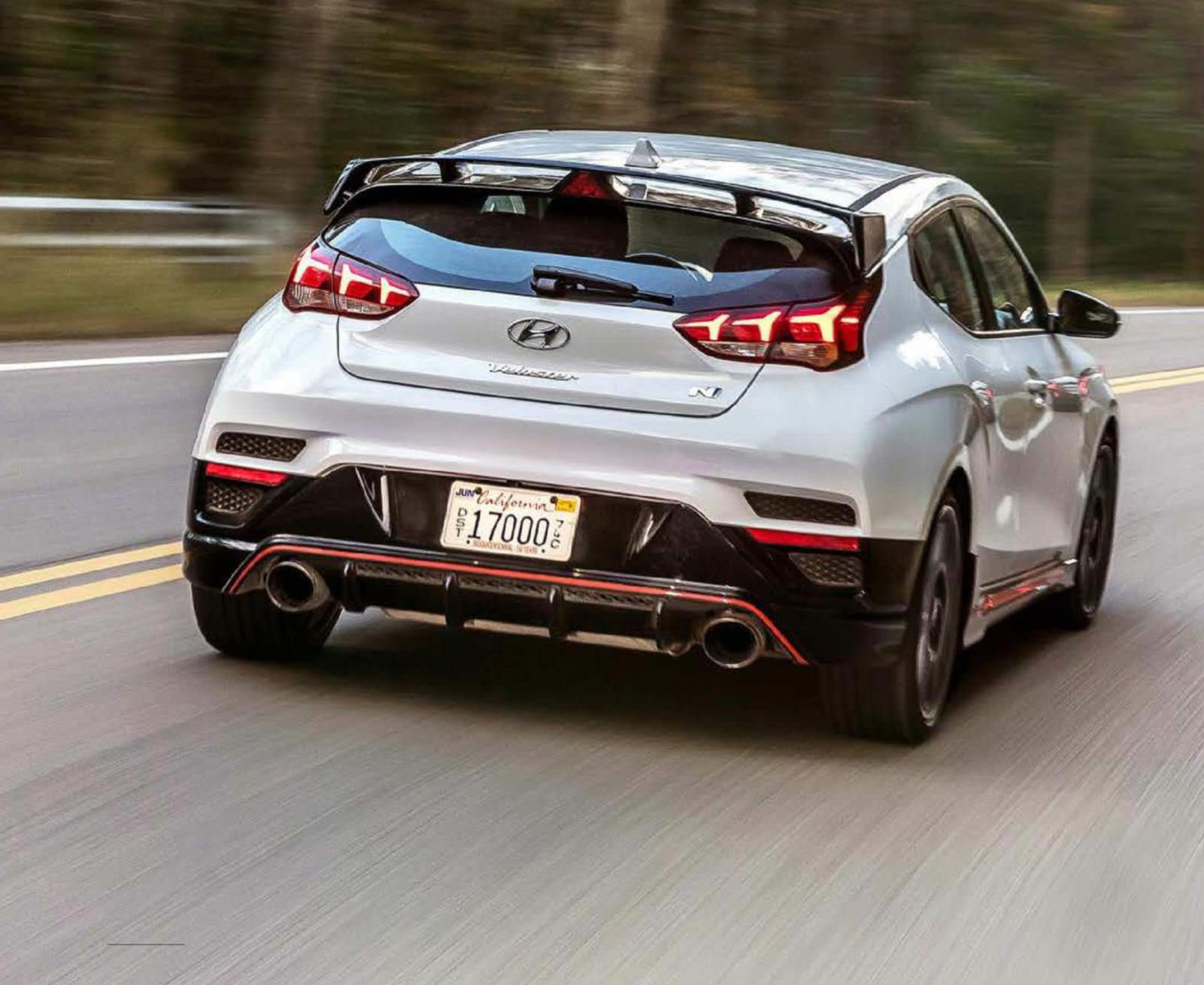 2. Hyundai Veloster N Performance Package
You can read up to 3 premium stories before you subscribe to Magzter GOLD
Log in, if you are already a subscriber
Get unlimited access to thousands of curated premium stories, newspapers and 5,000+ magazines
READ THE ENTIRE ISSUE
December 2018