THE ACCIDENTAL TERRORIST
Car India|May 2020
If you're used to 911 Turbos being soft and easy-going, time to just your expectations. This new one is a full-on supercar
WHEN GUSTL ACHLEITNER HANDED FRANK WALLISER THE keys to the chief engineer's office at Porsche last year, the DNA of the sports car family took an invisible step towards more extreme dynamics. that's what you get when you appoint a man whose CV features the 918 spyder and RS spyder, 919, and 911 RSR race cars. Previous turbos were, to an extent, aimed at graciously greyed gentlemen who enjoyed showing off in a prestigious piece of street furniture that made a statement about wealth and about not being ready for the retirement home. those silver foxes will still be drawn to this 992-generation 911 turbo s. But beneath the skin lurks a very different animal: raw, aggressive, more tactile, so much faster, and not as easy to drive at the limit.
At a glance, our test car looks like the predictable evolution of a well-established license to print money. the track has been extended once again, this time by 42 millimeters up front and 10 mm in the back, the adaptive wing-work is even more elaborate, the shiny multi-spoke wheels are shod with wider Pirelli P Zero rubber (255/35 Zr20 front, 315/30 Zr21 rear), and the fresh make-up includes matrix headlights as well as four fat tailpipes.
Well, this initial impression of modest evolution is thoroughly misleading. this is not a sugar daddy's boulevard cruiser or relaxed high-speed Gt. the new turbo is a hardcore sports car worthy of rs badging.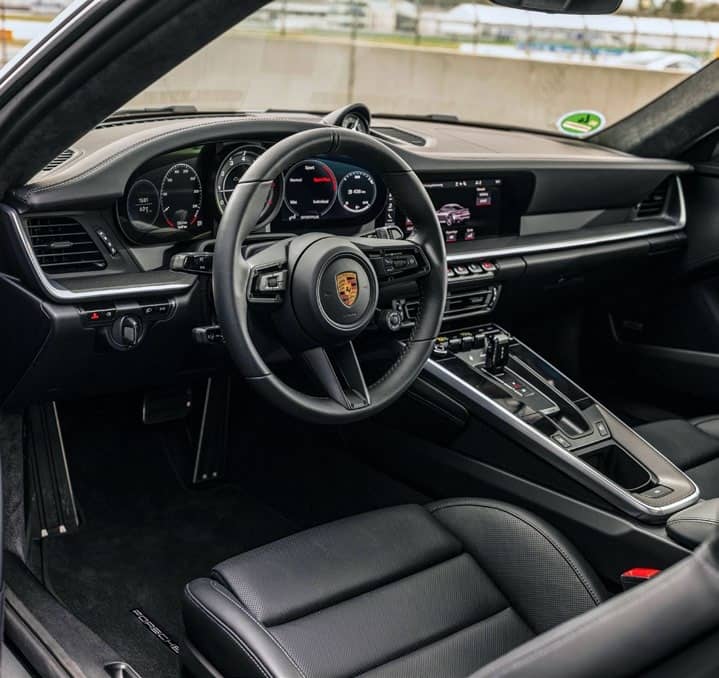 Did I say sports car? Make that supercar. Because this turbo can out-sprint the Ferrari F8 Tributo, leave the Aston Martin DBS Superleggera trailing in its dust, and give the Mclaren 720s a run for quite a bit less money. it's that good and in terms of value for money, it plays in a league of its own.
You can read up to 3 premium stories before you subscribe to Magzter GOLD
Log in, if you are already a subscriber
Get unlimited access to thousands of curated premium stories and 5,000+ magazines
READ THE ENTIRE ISSUE
May 2020