SOME BRIGHT SPARK
Car India|July 2020
Tiny, light, and brilliant, the original Mini was a flash of genius. On London's teeming streets, can its big, heavy, and now battery-electric successor bring the same small-car magic?
If you can remember the 1960s, you weren't really there, so they say ("they" being the operative word since, appropriately enough, nobody can quite remember who came up with that line first).
But Mini cannot — will not — forget the '60s. how can it, when the entire brand is built on (and in) the image of the original Austin Seven Mini? The Austin — and its morris mini-minor twin — were launched in 1959 and through the '60s came to embody that decade's penchant for style and the breaking down of class barriers. In perfect step with the explosion of pop culture, the cheeky mini is as symbolic of the '60s as Merseybeat, Twiggy, and the moon landings.
That was then, this is now, and a time-warp 1960 Austin seven is sitting on a West Kensington street, snuggled into a parking space opposite its latest modern equivalent — from which snakes a charging cable. The Mini species is starting a new chapter, making like Dylan in '65 and going electric. Has the Mini Electric hung on to its essential Mini-ness? Is it still more fun to drive than other everyday-usable cars, still more characterful than any mere machine has a right to be, and still engineered with a good pinch of ingenuity? No better way to find out than to drive it back-to-back with its source material on its old Swinging London stomping grounds.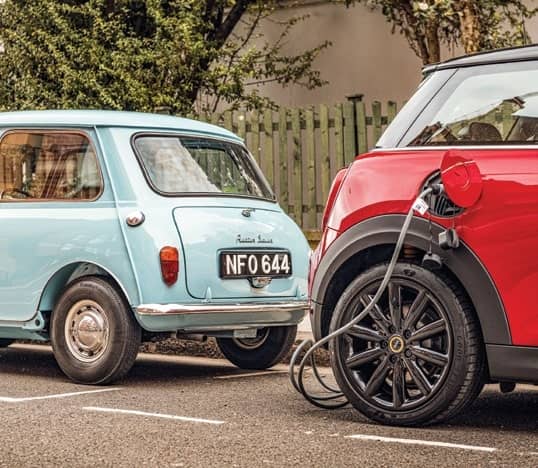 Zipping through the capital's streets to our rendezvous point with the classic mini earlier this morning, the mini electric certainly felt spirited. Like all-electric cars, an addictive snap-hit of instant torque is ever-ready to squirt you away from traffic lights and roundabouts and with 270 nm available from its BMW i3s-sourced motor, mini is marketing performance as a USP over other EV hatches.
While 0-100 km/h is a lively enough 7.3 seconds, it's 0-50 km/h that's the Mini Electric's party trick. A touch of torque steer, the faintest chirrup of wheelspin, and you've immediately exchanged here for there. Driven in a more orderly fashion, the throttle (all right, accelerator) map is cleverly, progressively calibrated and it's easy to drive with precision. Energy regeneration under deceleration is nicely judged too, enabling you to drive one-pedal style, barely touching the brakes.
The powertrain feels such a natural fit for the Mini you wonder how it took so long for an EV version to become a reality. Then you remember recent advances in battery technology. The more primitive mini e was leased in small numbers in a 2008 pilot scheme but it was heavy and compromised, losing its rear seats to make room for the batteries. This, the first productionized electric Mini, has funneled its running gear into the existing Mini hatch architecture: the battery is at-shape, arranged down the middle of the floorplan and under the rear seats, and the motor goes under the bonnet, utilising the engine bay's existing mounting points.
Helped by suspension architecture unchanged from regular pistons-'n'-cylinders mini hatches, the electric handles like a modern Mini, too. Which means it's capable of extravagant angles of lift-off oversteer, as scientific experiments on an empty roundabout on the way down to London the previous evening confirmed.
So, that's the fun box ticked. What about character? One of the mini electric's strengths — and a weakness to some — is that you can quickly forget it's electric. It feels normal. If you enjoy driving a regular Mini, you'll be right at home. If you don't, this isn't a paradigm shift to convert you.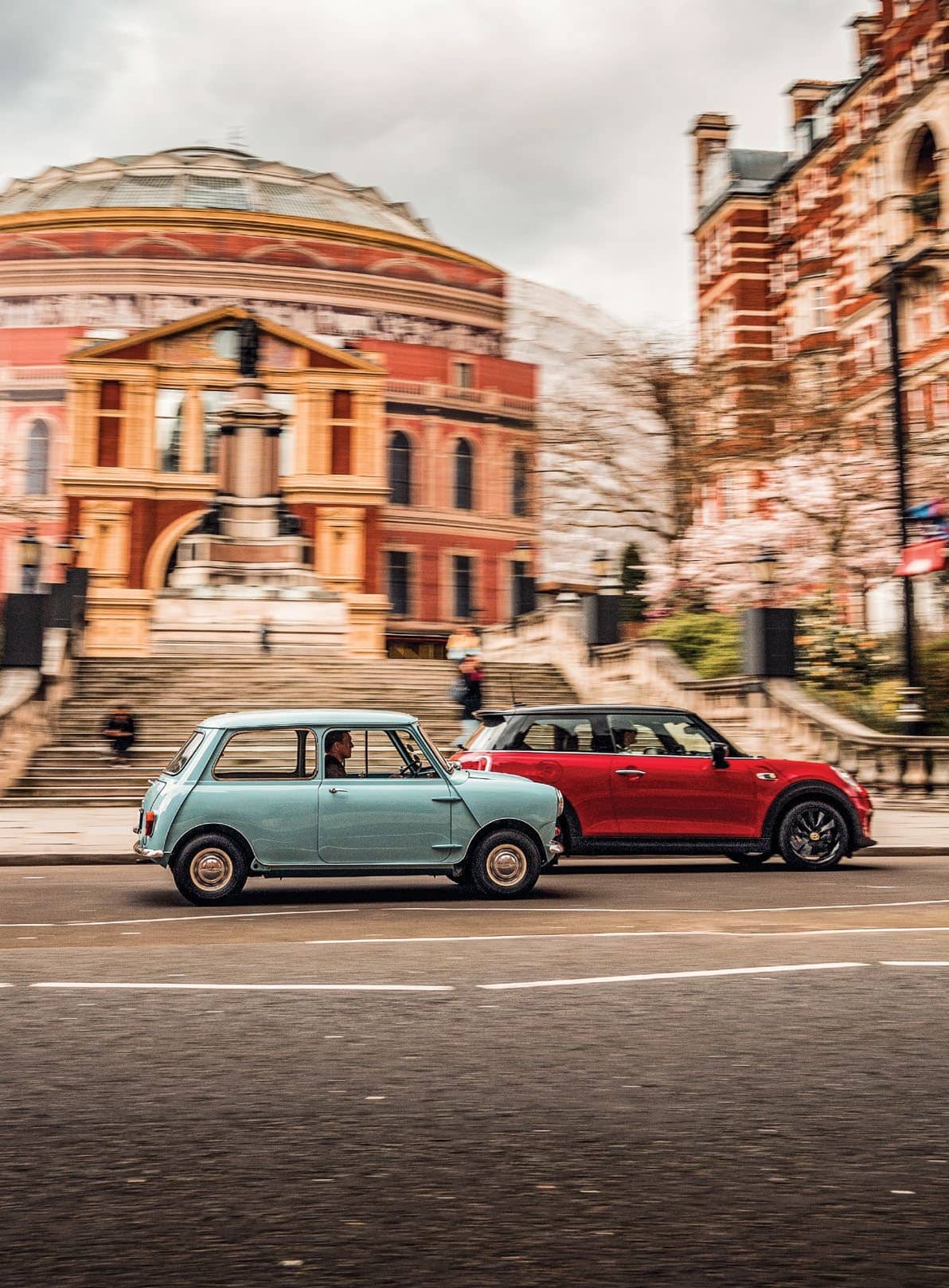 You can read up to 3 premium stories before you subscribe to Magzter GOLD
Log in, if you are already a subscriber
Get unlimited access to thousands of curated premium stories and 5,000+ magazines
READ THE ENTIRE ISSUE
July 2020