Asking the Earth
Car India|July 2020
Supercar speed, usability, and clean power; the Porsche Taycan and Tesla Model S promise it all. Which is best? And might a V8 BMW M5 or hybrid Polestar 1 be a better bet?
We're unleashing the taycan on a stretch of lightly trafficked and unrestricted autobahn — a sure-fire formula for a broad smile accompanied by a big, fat inner conflict. While the devil inside begs you to succumb to the electric Porsche's dynamic persuasions, the voice of reason urges you to back off. Because even at a relatively modest 200 km/h, the distance-to-empty display is in freefall. In the new automotive world order, if you want the pleasures of rapid progress, you must also come to terms with range anxiety and charge anxiety — the fear of running out and the fear of a long wait to recharge.
Or do you? Is it too soon to consider electrification an essential part of the mix? The BMW M5 represents the best of the old school. It (arguably irrelevantly) has a higher top speed than the Taycan and a superior range. Driven like you'd drive a petrol-fed turbo, Porsche's EV runs out of juice after about 210 km. In the hands of an equally ambitious driver, the BMW will do nearly double that distance. (Auto Zeitung measured energy consumption across a range of driving conditions to calculate ranges of 595 km for the M5 Comp, 417 for the Model S Performance, and 319 for the Taycan Turbo S.) Bunkering 60-plus litres of Shell's finest is a fiveminute routine, not a thumb-twiddling 20 minutes (the best you can hope for from the Porsche's many charging options).
Perhaps, the best answer for 2020 is a plug-in hybrid. The most advanced option at the performance saloon end of the market is the limited-edition Polestar 1, which has an electric-only range of a currently unrivalled 124 km, but also a giddy price: £139,000 (Rs 1.33 crore). The plan is to build 500 a year and 1,500 in total. The 1 combines a highly tuned 2.0-litre four-cylinder petrol engine from parent company Volvo with an electrified rear axle. Together, the two power sources generate supercar power. That's the good news. The bad news is that the thing's environmental credentials are less than water-tight.
And then there's the Tesla Model S — an answer that's been staring us in the face for eight years now. The inoffensive design has barely changed since June 2012 but the technology within has; the Model S evolving in leaps and bounds to make the competition look lame time and again.
This fully loaded 761-hp Taycan Turbo S comes with a sticker price of £160,000 (Rs 1.53 crore). That number is hard to swallow, especially when compared to a 571-hp Taycan 4S for £88k (Rs 84.5 lakh). Our Raven edition Model S, rated at 796 hp, would swipe £103k (Rs 99 lakh) off your bank account. If acceleration in a straight line is what matters most, the Tesla is the bang-per-buck winner. If driving pleasure is the decider, though, the key question is how much of Porsche's trademark dynamic excellence has made it into the Taycan Turbo S. If exclusivity is the number one priority, the hand-built 602-hp Polestar looks hard to beat. And if your conscience is untroubled by concerns over fossil fuels, the 625-hp M5 — £98k (Rs 94 lakh) in base trim — will be top of your list.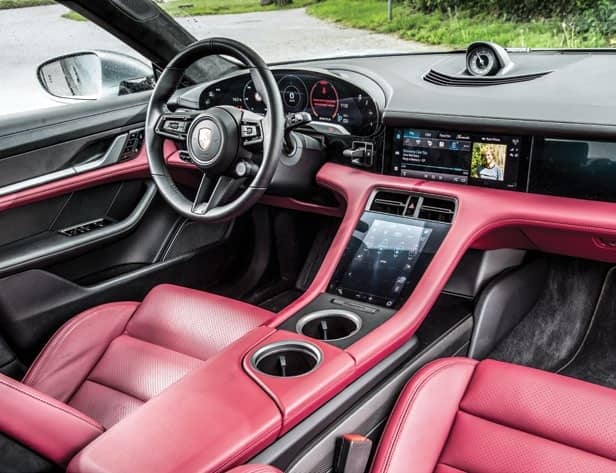 In convoy, flying along empty rural roads made emptier still by the news story of the year/decade/century, our convoy is as unlikely as it is impressive. Where we must slow before accelerating again, for tight corners and junctions, the two pure EVs are deeply impressive, their acceleration shocking. With Launch Control engaged, the Porsche will use its overboost capability to storm from 0 to 100 km/h in 2.8 seconds. But the Tesla, at least on its first run, can shave two-tenths off the Taycan's time. But in a way that's just odd when you grew up with combustion-engined cars, repeatability isn't always a given in a fast EV. The Taycan can stay on the bright side of 3.0 seconds 0-100 km/h for up to 10 consecutive attempts; the Model S simply can't manage that. The Tesla's Ludicrous mode is worth its weight in PR gold, but after repeated acceleration runs that gold turns out to be less than solid. Keep pushing it and it can overheat and even go into limp-home mode. (A recent software update addresses this issue.)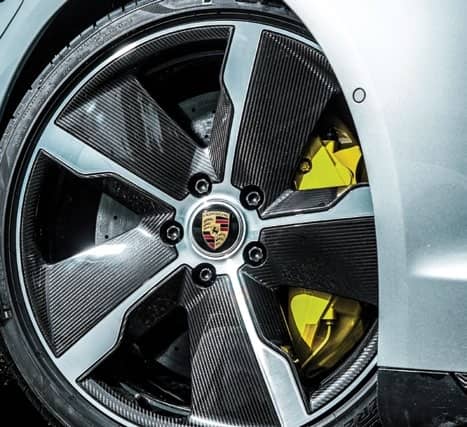 The BMW may look — and sound — old-fashioned in this company, but it's a very highly evolved old-fashioned car. On one straight stretch, the Tesla and Taycan off ahead fighting for EV supremacy, I couldn't care less that the BMW takes a full 3.3 seconds to go from 0 to 100 km/h. As it fires down the road, its musical V8 pulls your brain down into a great big vat of happy. Your eardrums and adrenal glands are just as well catered for. The Polestar? Caught between stools, it is neither EV fast (0-100 km/h takes 4.2 seconds) nor melodious like the M5.
You can read up to 3 premium stories before you subscribe to Magzter GOLD
Log in, if you are already a subscriber
Get unlimited access to thousands of curated premium stories and 5,000+ magazines
READ THE ENTIRE ISSUE
July 2020