Supreme Cutlass
A Son Falls in His Father's Footsteps, Building an Olds Cutlass for the Ages
Some kids want to grow up and be just like their dad. Pat Gorman was one of those youngsters who looked up to his good ol' pop for inspiration. It makes sense, as young Pat had a prodigious childhood, weaned on a steady diet of car shows, hot wheels, and muscle rides … courtesy of his father, Thomas. Dad's an Oldsmobile guy through and through, and Pat became addicted to the same GM brand that arrested his pop's attention during his own primal years of high school hot rod training.

It was around 11 years old that Pat remembers taking a big interest in his dad's favorite brand. "My father has had a '67 442 since before I was born, and although it's basically been in parts and pieces most of that time, I always thought it was one of the coolest cars I'd ever seen," Pat says. Even though there have been some good times and bad times with the Oldsmobiles in their lives, the marque still reigns supreme as the family's cherished GM brand.

One of the low points of their time practicing brand loyalty was the sad ending to Thomas' first Olds. "When my father was in his early teens he saved up his money working odd jobs to purchase his first car—a '70 Cutlass Supreme convertible. The day he got his driver's license the car unexpectedly burnt to the ground," Pat states. It was a total loss, but that didn't deter Thomas from sticking with the Olds marque.

In high school, Pat started doing odd jobs and hoarding his birthday money just to save up enough cash for his own project car. He searched high and low for his first ride but always found that the price was out of reach, so he buttoned-down and worked even harder, researching the local want ads, Internet sites, and swap-n-shops to find a deal. Still, his holy grail was still nowhere to be found.

Then Pat had some luck. While perusing on eBay one night a certain car caught his eye. "It was a '70 Oldsmobile Cutlass S, bathed in Astro Blue and built with a blue interior. The car was rough, but it was everything that I was looking for," Pat says. And as luck would have it, it was just 45 minutes from his house, however, there was still that friggin' asking price. "It was listed at $1,400; I only had a grand in my pocket," Pat remembers.

So then and there Pat started bargaining with the parents, hoping to raise the extra $400 he was short. Unfortunately, Pat's parents were unresponsive and decided not to loan him the money. "They said with Christmas and my birthday being so close that I would have to wait until then to get gift money," Pat says. He knew that would be a problem, as the car was advertised and could sell any day.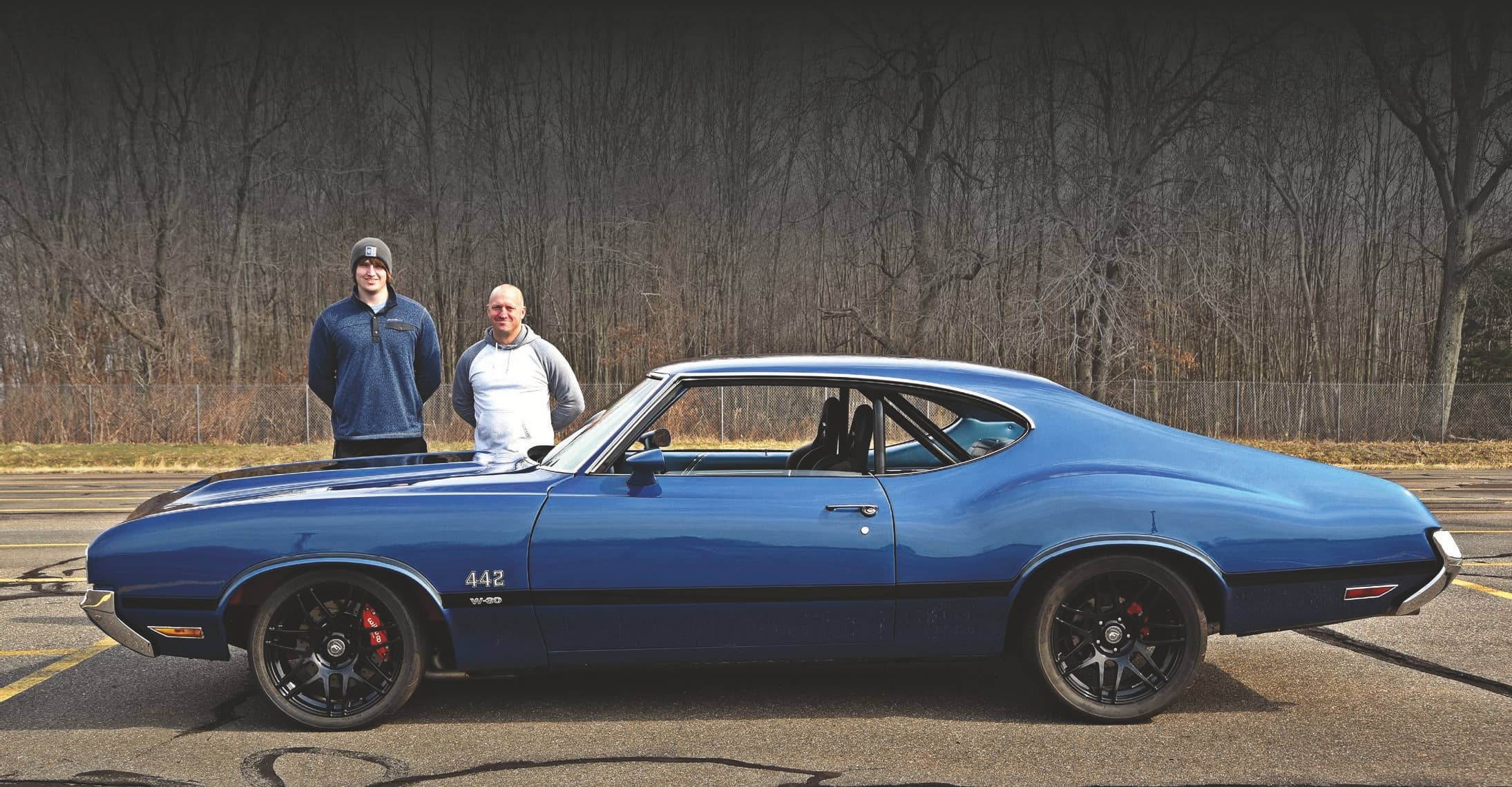 Pat checked back on the car daily to make sure it's For Sale status was still intact. Nevertheless, one day the car was listed as sold. "After that, I decided to take a break from looking at cars, and figured I'd wait until Christmas before resuming the hunt." It made sense as a possible infusion of needed cash might be wrapped under the tree.
You can read up to 3 premium stories before you subscribe to Magzter GOLD
Log in, if you are already a subscriber
Get unlimited access to thousands of curated premium stories, newspapers and 5,000+ magazines
READ THE ENTIRE ISSUE
December 2019