MICHAEL LECHTER PRESENTS TODAY'S TOP TEN FAVE PHOTOS
Born To Ride Florida
|
September 2020
EVERYBODY IN THE MOTORCYCLE SCENE KNOWS MICHAEL LICHTER.
He is without a doubt the world's best photographer of custom motorcycles and the biker lifestyle. His amazing and memorable images have been seen in Easyriders magazine for over 40 years and in many other periodicals and motorcycle-related books all over the planet.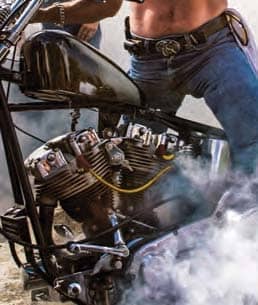 Mike will do absolutely anything to get a shot. I've seen him hang off the back of a speeding pickup truck to get just the right photo of a custom motorcycle as a pack of bikers roar down the highway right behind him. His photographic documentation of such renowned rallies as Sturgis, Laconia and Daytona are legendary as is his annual "Motorcycle as Art" museum show at the Buffalo Chip in Sturgis during the August Rally.
Born To Ride magazine is very proud to announce that Michael Lichter is lending his talents here to show you a personal pick of some of his favorite photographs in biker lifestyle history. Rather than try to nail Mike down to his all-time Top Ten favorites, we agreed that these represent and interesting collection of photos spanning many years of his amazing work. Call 'em Today's Top Ten.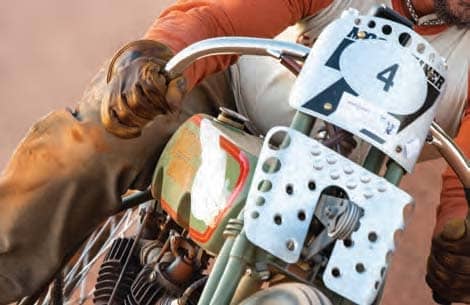 We spoke to Mike about this proud pick of moto memories from his studio in Boulder, Colorado. He was working on his all-new website that features incredible galleries of his work through the decades. I mentioned that looking at his photos reminds me of images I had seen depicting the cowboys, gunfighters and Native American Chiefs of old. Here was the biker lifestyle captured in all its grungy glory by a discerning eye. Images locked in time of an age when human beings were wild enough to throw a fossil-fuel motor between their legs and roar around on two wheels. Future generations will no doubt look back at us and think that bikers were crazy.
Mike told me that he had very similar feelings when he was putting together this year's "Motorcycles as Art" show in Sturgis. The collection was called "Heavy Mettle" and his curator's statement in part reads:
Since I bought my first Harley in 1977, custom motorcycles have become immensely popular and evolved considerably, as has the culture surrounding them. It was once thought of as something for outlaws and renegades, but by the mid-1980s, perceptions started to change, and it became not only socially acceptable to pull up all clad in leather looking tough on a big Harley, it became cool! Motorcycle gatherings grew in number, as did their attendance, and for better or worse, they became more organized and commercial through the 1990s and early 2000s. The days when "we just pulled over to the side of the road, and after a little partying we'd sleep where we fell" as Sonny Barger, a past president of the Oakland Hells Angels wrote, seemed to disappear in seemingly direct correlation to the attention biking was receiving on television.
You can read up to 3 premium stories before you subscribe to Magzter GOLD
Log in, if you are already a subscriber
Get unlimited access to thousands of curated premium stories, newspapers and 5,000+ magazines
READ THE ENTIRE ISSUE
September 2020