The MotoGP Round-Up 16 August - Austria
You have to be kidding me!
I'd like to bring you a race report from the Austrian Moto3 race, but the problem is that there were probably about 600 overtakes within the top 10 alone, never mind the rest of the field! The lead changed about 400 times and, at one point, there was only second covering the top 15! That's all the points-paying positions within a second of each other.
Given the fuss we made and are still making about Brad Binder, it is only fair that we make a similar fuss about his brother, Darryn. Starting 22nd, he blitzed his way up to the front of the field and, if my memory serves me correct, ran (roughly) 3rd, 2nd, 1st, 2nd, 3rd, 2nd, 1st, 4th, 5th, 6th, 5th, 8th, 7th, 6th, 5th, 3rd, 2nd, 4th, 5th (skip a few laps of more of the same) before crossing the line 4th, which actually turned into 5th when he got a penalty for exceeding track limits, applied after the race had finished. But the fact that he managed to finish was one feather in his cap and that he finished so well, another.
If there is one thing that is certain in this world, it is that Moto3 will always provide the most ridiculously insane entertainment and this race was no exception. At more than one point, riders were entering the braking zone for a corner about 7 or 8 abreast, no one - not the riders nor those of us watching - had any idea who would come out where on the exit of the corner. It was mesmerising stuff and continued right to the flag.
So, big respect to Darryn Binder. He might have a reputation as a crasher but there is certainly more to the story than what we see on the screens. My impression is that, were Darryn to be given the equipment his talent so obviously deserves and not have to compromise every race weekend, then we would see the real talent shine through. After all, there were plenty of riders who started ahead of him (and behind) in Spielberg who got nowhere near his level of achievement in that race.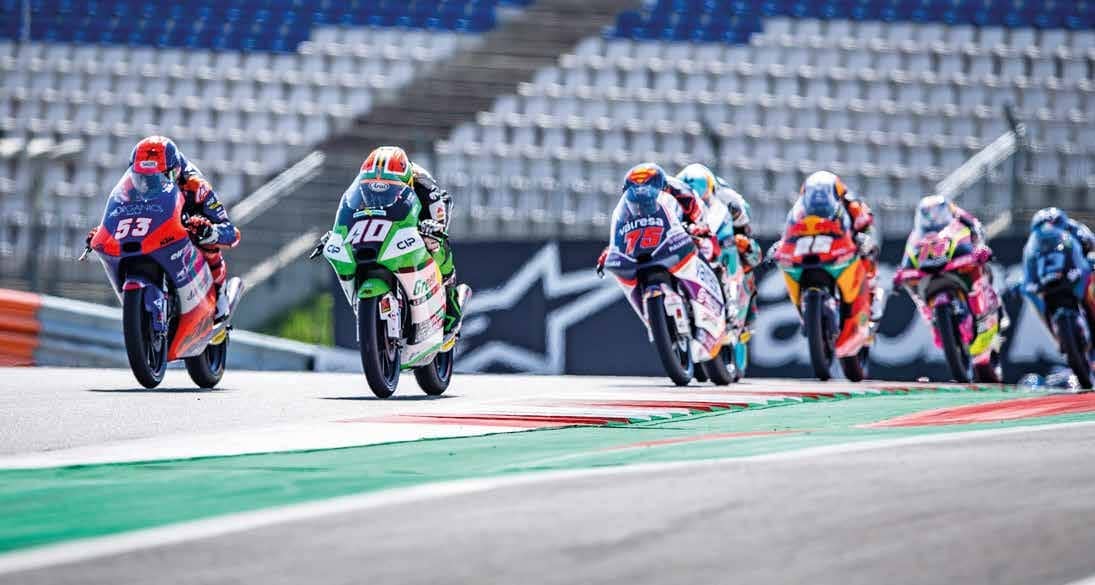 MotoGP; Austria
You can read up to 3 premium stories before you subscribe to Magzter GOLD
Log in, if you are already a subscriber
Get unlimited access to thousands of curated premium stories, newspapers and 5,000+ magazines
READ THE ENTIRE ISSUE
September 2020