THE MOTOGP ROUND-UP -23 AUGUST - AUSTRIA TWO :HOW MAD CAN IT GET?
I'm loathe to say that this season has been interesting because of the absence of Marc Marquez, but it's a difficult assumption to refute. Without his presence, have those who would have measured their performance against him seized the opportunity to occupy the top dog position, leading to an escalation in self-belief, were it even needed?
The question has to be asked, however, would we have been spared the drama that has unfolded before our eyes over the past two weeks if Marquez was there? Was everyone pushing that much harder in the absence of the King?
If Austria One wasn't dramatic enough for us, Austria Two gave us more of the same which was scarcely believable. No-one - not the teams, the riders nor the spectators - could or would have believed that racing could have got any more dramatic second time around in Spielberg. But it did!
Yet again, the drama unfolded without serious injury to anyone which, if you witnessed what happened, is a miracle in itself. As serious as the incident was, it was, this time, no fault of the track, unless you count the demand placed on brakes as the track's fault, which noone is. The simple truth of the matter is that the Yamahas lack straight line speed, to counter which they brake later into the corners.
Brembo is certainly not to blame as they brought stronger equipment to the party knowing this, which Viñales didn't use, saying that it didn't give him the feel that he needed. We cannot read anything into the fact that all the other Yamaha riders chose the uprated calipers; as a rider, you plough your own furrow and work with the data from your last race. Viñales' data told him he would be all right running the 'standard' set up.
Of course, one could question Viñales' decision to carry on racing when he knew had a problem with his brakes. We all know that racers are made of different stuff, but a large part of that stuff is a keen appraisal of the circumstances, which has to take precedence over the desire to win at all costs. Doesn't always work like that, though!
So, for the second race in a row, we had a two-part race. Not only that, but - and I'll reiterate; without Marquez, there is a refreshing uncertainty to proceedings - it was another race where one really didn't have a clue who was going to come out on top. Yes, Espargaro P was on pole (KTM's first, with Nakagami and Mir alongside him) and, after last week's race, he was angry enough to prove that he could win, knowing that he had the pace. Who would have bet against it? As has happened in every race this season, however, the rule book was completely ripped up, much to our, the viewers', benefit. As was proven when the flag dropped. We are truly in a golden age of racing, with five manufacturers absolutely capable of winning; I'm not sure when that last happened, if ever! I may be biased - and I'm not sure why - but the sight of a Suzuki streaking away at the head of the field filled me with immense joy; maybe I like the underdog; maybe I just like the fact that Suzuki has come to the party and made the racing more interesting by being good enough to fight at the sharp end of the grid. In saying that, I'm certainly not forgetting KTM; their success also fills me with joy and not solely because Brad Binder is reaping the fruits of their success. If MotoGP starts to resemble Moto3 in terms of the closeness of the racing, who are we to complain?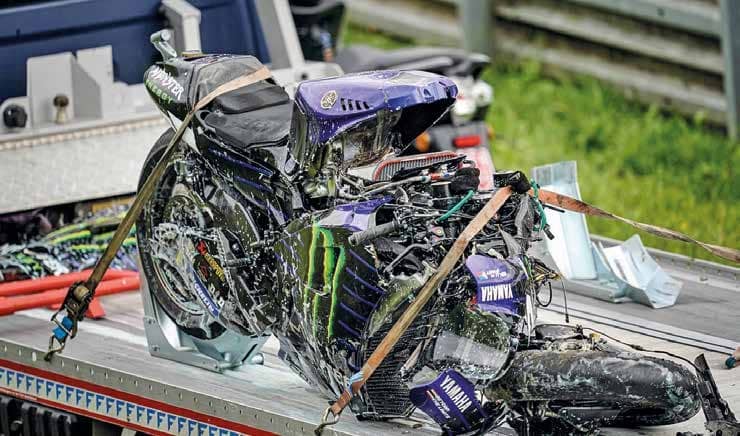 The race got off to a predictable start, with Mir, Miller, Nakagami and Espargaro P making the running at the front. Binder was looking comfortable in 8th, while the Petronas Yamahas looked to be struggling down the field, while the factory Yamahas were faring little better.
Mir was simply disappearing at the front, with Nakagami and Miller squabbling over second and Binder up to sixth. Viñales was having problems with his brakes but continued, which turned out to be a big mistake. A few laps later, while braking heavily for turn one, he suddenly decided to abandon ship at well over 200km/h, his brakes having failed completely. Luckily he slid to a stop safely but the bike carried on to slam into the air fence, disintegrate and catch fire. Cue the red flag for the second race in a row.
Watching the replay was completely terrifying; Viñales had a split second to decide what to do; how you practice throwing yourself off a bike at that speed, I do not know. It could have ended really badly for him.
You can read up to 3 premium stories before you subscribe to Magzter GOLD
Log in, if you are already a subscriber
Get unlimited access to thousands of curated premium stories, newspapers and 5,000+ magazines
READ THE ENTIRE ISSUE
October 2020