THE GARIEP DAM TOUR
"In days gone by, when De Aar was a 'full-steam-ahead' kind of town, the locomotive drivers would yank their whistles late at night as they approached the Karoo settlement. Each driver would have his own signature tune, and his family living in the town would know it well. They'd set out the supper dishes the minute that whistle went off." (Karoo Keepsakes; Chris Marais and Julienne du Toit; MLM Publishers; Cradock; 2009)
In homage to the locomotive drivers mentioned above, but mostly out of sheer joy from finally getting off the hellishly corrugated dirt track (particularly the last 20 km) from Victoria West, I toot my own tune of jubilation as I hit the tar streets outside the De Aar Country Club.
Having ridden hard to get here to meet my mate, Jaco Loots, on time at the Olive Schreiner Restaurant, I hastily consult my cell's GPS to direct me there as quickly as possible. At the same time I notice a message from Jaco saying he's running about an hour late, so I amble over to the local Midas and search the shelves for any sort of 'mechanic-in-a-can' solution that might help the KLR's cold-starting problems.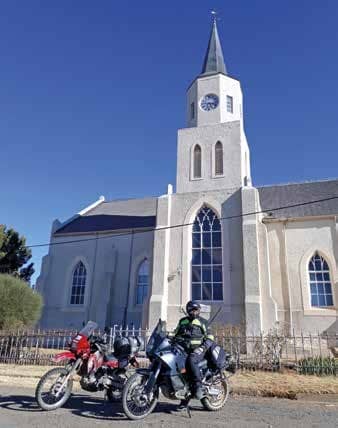 Armed with various fuel and valve cleaner additives I make for the restaurant eager to get out of the cold and restore body, mind and soul with some additives of my own. Soon I'm wallowing in a well-padded Morris chair, sipping good filter coffee and munching my way through the best cheese and tomato tramezzini I've ever tasted. "Howzit Yster, glad you could make it, boet!"
Apart from running late, Jaco's GPS had led him on a wild goose chase around De Aar, before I eventually lassoed him with a What's App location pin.
Coming in from his farm in the south-east near Nieu Bethesda, Jaco had ridden the R398 to Richmond and then the R348 to De Aar, both good gravel roads worth experiencing.
Noticing how smug and replete I'm looking, Jaco orders the same menu items and we catch up on his farm and family life while enjoying our food and the sedate atmosphere of this old Victorian Building. It was here that Town Clerk, Samuel Cronwright and wife, Olive Schreiner lived for nine years (1907-1913). It was also here she rewrote 'Woman and Labour', the original manuscript having being destroyed by British soldiers when they burnt all the papers in her temporarily vacated Johannesburg study, due to her proBoer sentiments.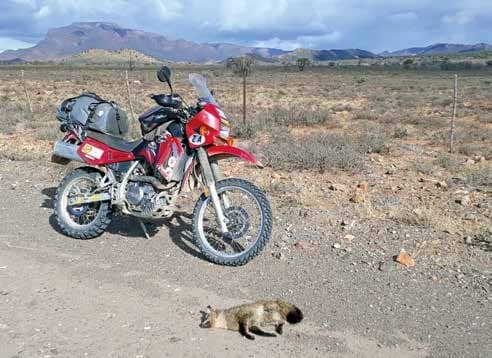 There are many remarkable things about Schreiner, her writing ability (Story of an African Farm was seen as the first great novel out of SA); her anti-racist stance; her pro-Boer and anti-British imperialist views; her strong feminist beliefs and many other avant gardes positions embodied in her strident social commentaries.
Unfortunately her lone voice was not enough to sway the comfortable yet unsustainable status quo enjoyed by the white men who controlled the politics and social machinations of that era. If only she could have joined forces with the likes of John X Merriman, the enlightened and progressive governor of the Cape pre-Union (1910), and others, SA may well be a much more integrated and egalitarian society than it is today. But she was the spearhead of a budding vanguard of equality driven movements that still thrive today, certainly a legacy to be proud of.
Our routing to the town of Gariep Dam (+-195km) is through Philipstown; Colesberg and Norvalspont, the latter detour inserted only this morning when my hosts at Melton Wold told me that the Covid-19 interprovincial constabulary sit under the bridge at the N1 entrance to the town. With my permit I'm not worried about myself, but Jaco would be breaking out of the Eastern Cape for no legitimate reason, so we err on the side of caution.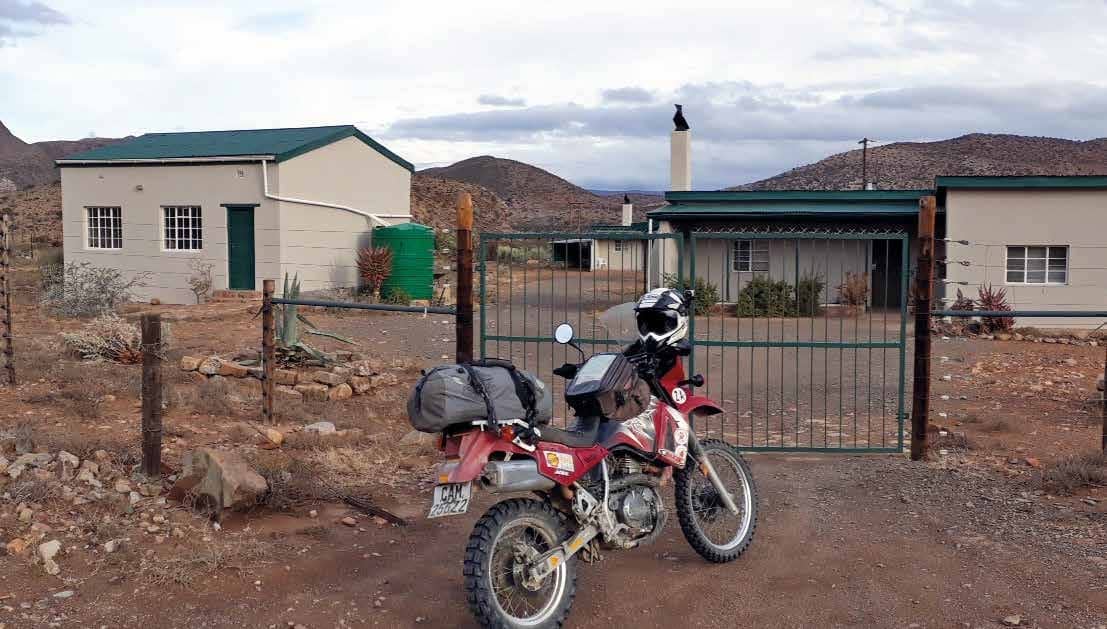 Instead of taking the perfectly good tar road (R48) to our first waypoint, I lead us on a gravel dogleg route (R398) to Houtkraal, after which we will turn east towards Philipstown. It's a decision I rue after the first few kilometres as this gravel highway has been pummelled into a corrugated minefield that sees the two of us wishing we were riding hovercrafts and not heavily laden adventure bikes. To add to our challenges, when the corrugations relent they are replaced by belts of thick sand, which make us think of our enervating Kalahari trip together. But when an ambulance drives past us I thank God for small mercies, knowing that medical help is only a satellite message away.
Thankfully, the promised right turn materialises after the designated 15 km and the new dirt track turn outs to be a much less-travelled route which leads us through shrub covered koppies, breaking the dun landscape into more scenic veld segments. I'm sorry when it comes to and end and mentally file away the track I see leading north to Kraankuil, just before we re-join the tarred R48 into Philipstown.
An ex colleague of mine in the ad business grew up in the little town we roll into a few minutes later. Donet's folks ran the hotel here in the 1970s and whenever I pass through, send her a photo to reminisce over. Even though the town has been declining steadily for the last ten years or so, it's deteriorated more rapidly in the last year.
The town's buildings and streets, particularly off the main road, are in such poor condition I battle to find a we preserved landmark Donet might remember. We settle on the NG Church, which thankfully looks reasonably maintained, and I WhatsApp her a "Guess where I am?" photo.
You can read up to 3 premium stories before you subscribe to Magzter GOLD
Log in, if you are already a subscriber
Get unlimited access to thousands of curated premium stories, newspapers and 5,000+ magazines
READ THE ENTIRE ISSUE
October 2020