SALE OF THE CENTURY
GIANCARLO MORBIDELLI'S COLLECTION
The passing of Italian industrialist, engineer, motorcycle designer, race-winning team owner and all-round motorcycle enthusiast, Giancarlo Morbidelli, marks the end of an era in so many ways. It is doubtful we'll see the likes of him again but he leaves an indelible mark on motorcycling. We'll tell his story in next month's issue of Bike SA for it is one worth telling.
For now, however, and for those with the wherewithal to indulge their passion, Morbidelli's motorcycle collection, until recently housed in the Museo Morbidelli in Pesaro, Italy, is going up for auction in England on the 25-26th April. Alan Cathcart has the details.
Giancarlo Morbidelli's passion for motorcycles and a life-long collecting impulse led him to open the Museo Morbidelli in the former Morbidelli factory in Pesaro, Italy. In 1999 he opened the doors to the public, and although Italian sport and racing machinery took pride of place, naturally headed by the outstanding display of Morbidelli race bikes, the 350-strong collection represented bikes from all over the world, including several prototypes and other one-offs.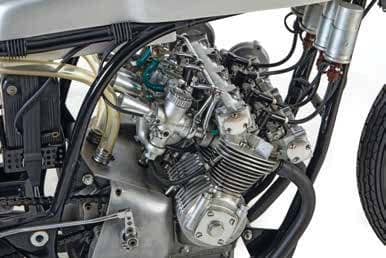 The closure of the Museo Morbidelli and the liquidation of the collection was necessitated by the simple reason that Giancarlo created it personally, and was responsible for overseeing its existence almost single-handedly. With the Pesaro city authorities either unable or unwilling to assist with its maintenance after his death, and indeed continuing to levy crippling annual property taxes for the facility even after it closed to the public over a year ago, the Morbidelli family felt they had no option but to close the Museum, and dispose of the contents.
You can read upto 3 premium stories before you subscribe to Magzter GOLD
Log-in, if you are already a subscriber
Get unlimited access to thousands of curated premium stories and 5,000+ magazines
READ THE ENTIRE ISSUE
March 2020