Lightweight Bikes: Light On The Pocket Big On Fun
Bigger is better. Speed is everything. Fast is sexy. Only a top-of-the-range bike can generate envy; only the best is desirable.
Or is the opposite true; that greatness can come in small packages? There is an unhealthy obsession with size and power in motorcycling, whether it be adventure bikes or superbikes or whatever; the idea that a small bike can offer as much as a 1000+cc monster is widely dismissed.
But what about those among us for whom a big bike is not an option? Maybe we have no need for something with so much power or size. Maybe we have no need to be able to ride from one end of the country to another in a single day. Maybe we have no need to break the lap record at a track day. Maybe all we need to do is get to work and back. Maybe we've just started to ride and need to ease our way into it. Maybe all we can afford is a small bike.
That's fine but does it also mean that the bikes we ride have to be dull and uninteresting? Not in my book and, on the evidence of this month's riding, also not in the books of many of the manufacturers.
We are very quick to convince ourselves that we really need the biggest and fastest we can afford; that should we turn up on a 'small' bike, we'll be ridiculed; that we do actually have the talent to tame and control 100bhp or (much) more. Maybe some of us do but in reality, those with the real talent could easily be just as fast around track with 80bhp and light weight as someone on a 200bhp 'heavyweight'.
In all this, I am not dismissing the pleasure to be had in appreciating the technical tour-de-force that is the modern superbike or big adventure bike or the thrill and rush that is available at the merest twist of the throttle or the mile-eating comfort. But none that changes the fact that we don't actually need any of it to have fun on a motorcycle.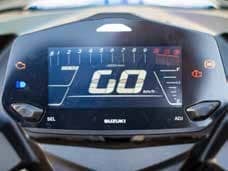 Another argument could be that any motorcycle that needs all the electronics to reign in the power or weight to actually make them rideable is a bit of a silly situation and nowhere is this more applicable than in adventure bikes. The electronics needed to make a BMW 1250 GS Adventure anything but an accident waiting to happen on a dirt trail are as necessary as they are impressive but surely you could do just as much off-road on a 310GS, whilst being able to pick it up should you fall, which you are less likely to do because it is so much easier to handle.
Right, that's me climbing down off my soap box; I just had to get that off my chest and introduce the rationale behind this month's test bikes. Not that any is needed, however. All four bikes tested here can stand on their own merits with no justification needed. As it is my intention for Bike SA to talk to every rider - young, old, new or experienced - then a test such as this was long overdue.
If all of us old and experienced motorcyclists take a moment to think back to when we started riding, how many of us will remember that we had the best fun on our first bikes, whether it was a 50cc, two-stroke fizz-bomb or a 125cc plodder. Yes, I know we were new to the thrills of riding and freedom that it enabled but that is exactly the point; a motorcycle has never stopped giving us those thrills and that sense of freedom but maybe we have convinced ourselves that to have the same fun as we get more experienced, we have to go faster and further?
Well, I hope this extended test will help the scales of age and cynicism fall from our eyes whilst letting the new riders among you realise that there is a world of fun (and practicality, if that is your reason for riding) out there and the bikes that provide it don't have be boring.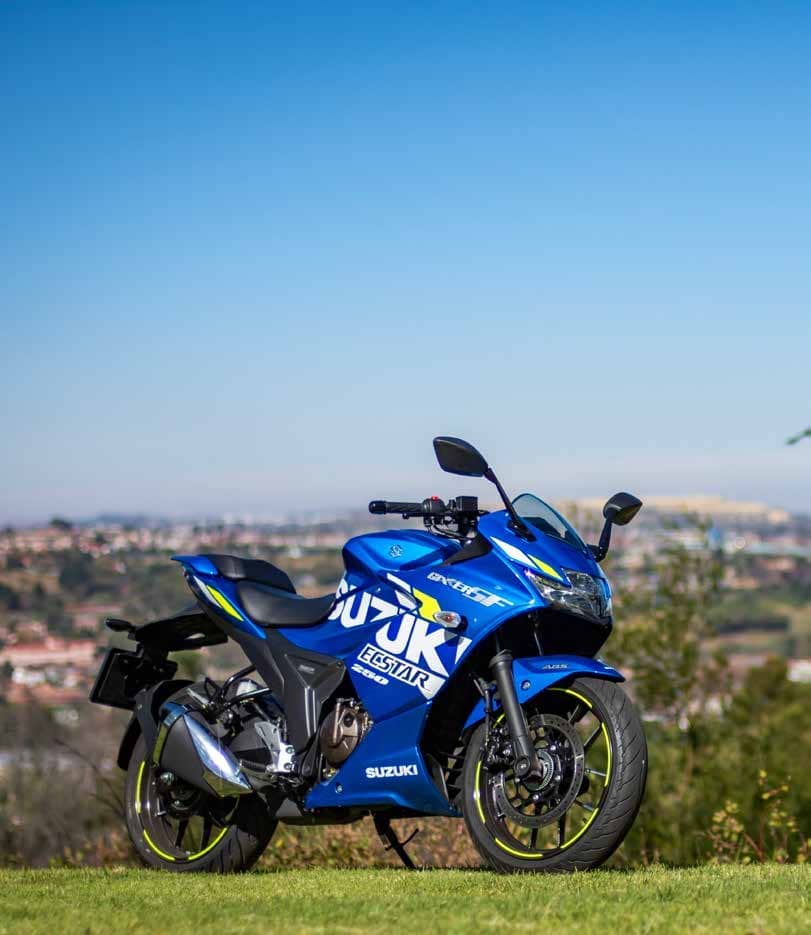 Round 1; The Baby Sports Bike; Suzuki Gixxer SF250
If the role of the Suzuki Gixxer SF250 is to attract young buyers, then its styling alone has that covered. It truly is a scaled-down superbike. In fact, from a few metres away, it could quite easily be a 600; there is nothing to suggest it couldn't be and that is a big attraction. I know that saying that flies in the face of everything I just said above - that we shouldn't need to go big to have fun - but I never said we shouldn't have aspirations!
Whilst it looks fabulous, there is no doubt that it is physically small, which is certainly not a bad thing. Unless you're a lanky git like me! Mind you, whilst I knew I looked ungainly while riding it, it didn't feel too small for me; I never felt cramped and could lie flat behind the screen with no problem, a position that enables you to squeeze every last drop of speed out of it and makes you feel like a proper racer, even if you are only travelling at a maximum of 153km/h, which is a very respectful top speed for a 250.
The engine is a little jewel. 249cc, 26.5bhp @ 9,300rpm, 29Nm @ 7,300rpm, four valves, overhead camshaft. With the lack of fins on the cylinder, it appears to be water cooled but it is, in fact, oil-cooled; the radiator mounted at the front is actually an oversized oil cooler. The lack of water-cooling does make for simplicity and less weight so it is a clever bit of thinking on Suzuki's part. What you can also guarantee is that the engine, in typical Suzuki fashion, is going to be bulletproof, even if ridden flat out everywhere, all the time.
All up weight is 160kg, with a fuel capacity of 12 litres. That means that, with 40km/l available, it's as cheap to run as it is to buy - a smidge under R50,000. Now, for those of you with long memories, dreaming of when your first bike cost R36.50, that might sound like a lot for a 250 but the fact of the matter is that this is now an inexpensive price for a brand-new bike. Buy it with finance and your total monthly costs are likely to be less than the fuel bill alone for a car.
And no equivalent car could possibly have as much charm or offer so much fun. I do believe I have said it before, but there is something appealing about using every ounce of a bike's performance and still being within one's personal limits nor being completely antisocial and dangerous to other road users.
Riding the Gixxer this way is still exhilarating, if in a mild way. But the important thing to realise here is that you don't have to screw the knackers off the SF250 for it to perform decently. It really does have a bit of grunt. Yes, I know that 30Nm isn't 160Nm, but what I'm trying to say is that, taken for what it is, there's nothing wrong with the performance.
If the style of the bike as a whole is great, then it is matched by the quality. It has the same quality of fit and finish as the GSX-R1000, whilst looking, as I mentioned, just like a 600. There's nothing wrong with the equipment levels, either; ABS and fuel injection, digital dashboard, LED lights front and rear, alloy wheels running tubeless tyres, 6-speed gearbox.
You can read up to 3 premium stories before you subscribe to Magzter GOLD
Log in, if you are already a subscriber
Get unlimited access to thousands of curated premium stories, newspapers and 5,000+ magazines
READ THE ENTIRE ISSUE
October 2020