LIKE FATHER, LIKE SON
KENNY ROBERTS JNR'S 2000 SUZUKI RGV500 XR89
EXCLUSIVE TRACK TEST OF 2000 500CC WORLD CHAMPION KENNY ROBERTS JNR'S SUZUKI RGV500 XR89, THE LAST SUZUKI TO DATE TO WIN GRAND PRIX RACING'S PREMIER CLASS TITLE
The chance to test the newly crowned 500cc World champion's bike at Phillip Island two days after the season-ending Australian GP, came almost exactly one year to the day after I'd last ridden the RGV500 Suzuki in XR89 guise at Jerez - a tighter track than the fast, daunting Down Under circuit. In Spain, I'd discovered the bike's crucial advantage its sweet steering and refined handling. However, the ability to cut inside the opposition and hold a tight line in a slower bend that I discovered at Jerez was one thing - but the fast, flowing Phillip Island track posed a different kind of exam: was the Suzuki's agility and poise in changing direction in tight turns only obtained at the cost of high speed instability, which might compromise its performance on faster tracks? Twenty-five laps of the Island later, I had my answer - as well as a vivid lesson in the phenomenal levels of skill needed to ride a final evolution 500GP two-stroke round a high speed circuit like this at competitive speeds.
Whereas in the past when testing factory Superbikes at Phillip Island I'd always been able to get on the pace reasonably quickly, and cut a qualifying time for the World Superbike race held at the same circuit, I'll readily hold my hand up and admit that trying to do the same thing with the lighter, equally powerful and infinitely better braked RGV500 Suzuki presented a much steeper learning curve, that took some time to even attempt to master.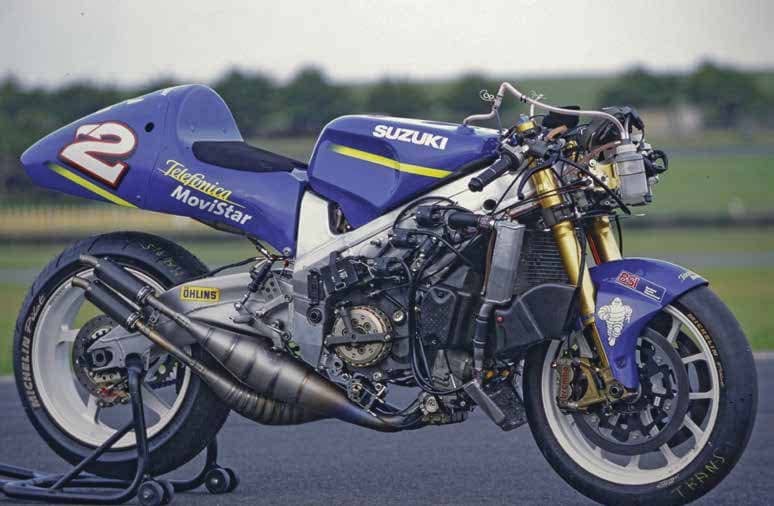 The difference to a Superbike was all in the weight - or, strictly speaking, in the powerto-weight ratio, meaning that everything seemed to happen that much faster, even if the two very different kinds of bikes were then level-pegging for the outright lap record around the Australian GP circuit. On a 162kg Superbike you at least had the impression of being more or less in charge, and above all to employ its more controllable combination of engine braking and steel discs with more assurance when stopping from high speed, compared to the 132kg stroker's all-or-nothing carbon composite brakes and minimal engine braking. But on the RGV500, even though its 300 km/h-plus top speed was actually slower than several factory Superbikes, it just got there that much quicker, and in doing so made it even more crucial to pick exactly the right line practically instinctively through the successive fast bends abounding at Phillip Island, because the optimum line got dramatically narrowed so fast under such explosive acceleration, so you had that much less time, let alone room, to make corrections.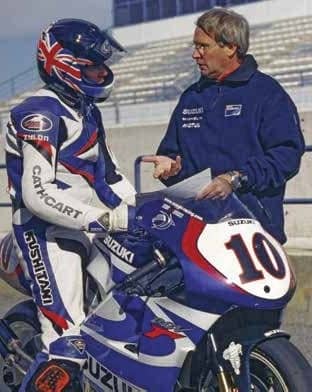 You can read up to 3 premium stories before you subscribe to Magzter GOLD
Log in, if you are already a subscriber
Get unlimited access to thousands of curated premium stories, newspapers and 5,000+ magazines
READ THE ENTIRE ISSUE
March 2020