Gone But Not Forgotten - Part 1 The Vincent
Bike SA|May 2020
I intend this to be an infrequent series on a selection of the hundreds of motorcycle manufacturers that have long since disappeared, whether they had been in production a year or two or a few decades. Some possibly deserved to wither and die, while some were very successful but still went out of business; some have faded from memory but many are remembered. They are all part of the rich tapestry of the history motorcycling.
Phil Vincent's family owned a cattle ranch in Argentina but, in 1908, his mother travelled to England for his birth so he would have UK citizenship. He started his education in Argentina but returned to England to continue his schooling. Whilst at Harrow School, he had a bout of illness that forced him into the sanatorium for three weeks. The boredom was alleviated by a friend who was there at the same time. The friend was a motorcycle enthusiast and they talked about nothing else day after day and, as is the way of young boys, Phil Vincent found himself captivated by them.
In 1924, he bought his first bike - a BSA - and, in 1925, he designed his first motorcycle (17 years old, remember!). In 1926 he went up to Cambridge to read Mechanical Sciences but, with permission from his father, suspended his studies in 1927 to concentrate on building his first motorcycle, the Vincent Special. In 1928 he registered a patent for his own cantilevered, twin-spring rear suspension. His first bike utilised this rear suspension attached to a frame of his own design, the rest of the components being proprietary; 350cc M.A.G. engine, Royal Enfield brakes and Webb forks.
In the meantime, Howard R Davies, founder of HRD motorcycles, and winner of the 1924 Isle of Man Senior TT, was in financial difficulties. Phil Vincent, having formed his own company with a family friend, bought the trademark, goodwill and remaining spares of the HRD company in 1928 for £450.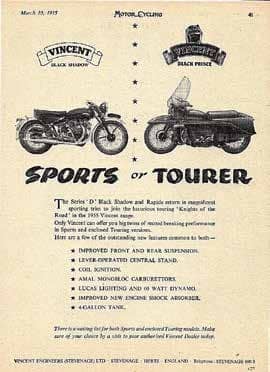 The first HRD-Vincent appeared in 1928, utilising J.A.P. or Rudge single-cylinder engines in a chassis designed by Vincent. They were well made and sold reasonably well. A disastrous 1934 TT, where all three bikes entered failed to finish due to engine problems, prompted Vincent, along with Australian engineer Phil Irving, who had joined the company in 1931, to design and build their own engines.
You can read up to 3 premium stories before you subscribe to Magzter GOLD
Log in, if you are already a subscriber
Get unlimited access to thousands of curated premium stories and 5,000+ magazines
READ THE ENTIRE ISSUE
May 2020