Giancarlo Morbidelli - AN APPRECIATION
Bike SA|May 2020
Last month, we published Alan Cathcart's story about the sale of Giancarlo Morbidelli's incredible motorcycle collection. As we went to press with that issue, news came through of the death of the man himself, after a long illness, at the age of 85. Here, Alan pays tribute to the remarkable life-story of one of motorcycling's greats.
85-year old Giancarlo Morbidelli's life story is a rags-to-riches saga worthy of Hollywood. One of the several self-made men from humble backgrounds who in the 1960s-70s powered Italy's postWW2 resurgence from derelict battleground to thriving economy, Morbidelli was born in 1934 into a poor family living off the soil in the Marche region of Italy. He began work at 16 as an apprentice fitter in a factory repairing woodworking machinery for the furniture industry, one of the two engineering specialties of what became his home town of Pesaro, on the Adriatic Coast south of Rimini. The other? Motorcycles – it's the home of Benelli.
This helps explain Giancarlo Morbidelli's passion for motorcycle sport which he pursued from a very young age, even after starting his own machine tool company in the late '50s with working capital of just 30,000 lire (then about $40/£15).
As a relief from the punishing days spent building Morbidelli Woodworking Machines into the global industry leader it had become by the 1980s, he used his technical skills after-hours to tune locally-built Benelli and MotoBi bikes with some success.
In 1997, Morbidelli sold the machine firm to a rival company who moved production to a new purpose-built facility outside the city of Pesaro. This left Giancarlo himself with the previous inner-city factory site, which he then converted into a motorcycle museum that opened to the public in 1999, displaying over 350 bikes dating from 1904, including a complete array of Morbidelli GP racers.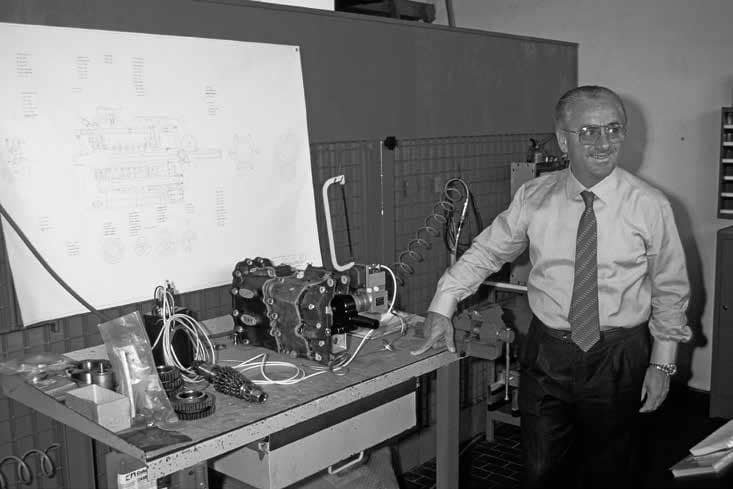 But, there is so much more to Morbidelli the man than a museum bearing his name. For, like many a race fan, Giancarlo's ambition was always to go racing with a bike bearing his own name. Yet, the results when he did so were spectacularly successful - especially given the relatively modest nature of his homespun team. After sponsoring the local MotoBi factory's race team in the mid-'60s, Morbidelli constructed his first two-stroke racebike in 1967 using the crankcase and gearbox of a 50cc Benelli, but with his own cylinder. That led to his designing and constructing the first complete Morbidelli 50cc GP racer in 1969, and this and all the other sky blue and white rotary-valve racers carrying the Morbidelli name were entirely constructed in a corner of their creator's Pesaro woodworking machinery factory, even down to the wooden patterns used to make the engine castings. As an accomplished self-taught engineer, Giancarlo did much of the design work himself when time permitted, while hiring freelance designers such as first Franco Ringhini, and then JÅ'rg Müller to take overall charge of the projects.
There's a (true) story of how the boss of Kawasaki's race team visited the Morbidelli pit to congratulate him, after Mario Lega had defeated the Green Meanies to win the 1977 World 250GP title on the Pesaro-built bike. And how many engineering staff do you have in your race department, Mr. Morbidelli? asked the Japanese executive politely. Well, normally there's three of us, unless I'm there, when it's four, answered the man whose home-built Grand Prix racer had just defeated the might of Japan Inc. to win the 250cc World crown.....
You can read up to 3 premium stories before you subscribe to Magzter GOLD
Log in, if you are already a subscriber
Get unlimited access to thousands of curated premium stories and 5,000+ magazines
READ THE ENTIRE ISSUE
May 2020