Ducati Diavel 1260 s Road Test Wicked Is Wonderful
Ducati's introduction of the aptly-named Diavel powercruiser back in 2011 represented an unexpected visit to the Dark Side for many dedicated ducatisti, who at first sight scorned what they saw as the famed Italian sportbike manufacturer's attempt to cash in on the rampant global Cruiser cult.
But that was before they rode it, at which point it became evident that, in living up to its name (the Italian word for devil, Diavolo, mutates to Diavel in the distinctive dialect of Bologna, Ducati's home town), this was one of the most successful examples of two-wheeled original thought to hit the marketplace this century. It was a completely new take on real world riding, a blend of Superbike performance and Custom cool that was totally irrational, and gloriously addictive. And thanks to the introduction of the updated 2019 remake of the model, it still is.
For the Diavel's enjoyed undoubted commercial success, with 70,000 examples sold so far since production began eight years ago. But unlike with some other new Ducati models, sales of this dark-side desmo didn't boom initially, only to fall away in succeeding years, but have instead flatlined year after year as more converts to the cause switched to this devil in disguise that's essentially two bikes in one – now, as then.
For the Diavel 1260 S on which I spent a glorious early summer day scooting around the Apennine Mountains south of Bologna along such legendary roads as the Raticosa and Futa Passes, is the very devil of a performance cruiser. Indeed, more than ever, it's a devil in disguise that's essentially two bikes in one. It looks like a powercruiser, replete with macho muscularity thanks to its revised uberbutch Superhero styling which designer Giovanni Antonacci says was indeed inspired by Marvel Comics characters. It still retains the fat 240/45 ZR17 Diablo Rosso III rear tyre specially made for the Diavel by Pirelli, mounted on an eightinch rim, and the imposing yet relaxed riding stance delivered by the pulled-back handlebar and mid-mounted footrests positioned right beneath the rider – so, further forward than on other Ducatis. But it also has the performance of a Superbike, with electrifying acceleration complemented by improbably agile handling, despite that huge rear tyre, all delivered to the sound of thunder emanating from its mighty V-twin engine's exhaust system, now rerouted to end in a pair of stubby cans exiting race-spec style beneath your right foot.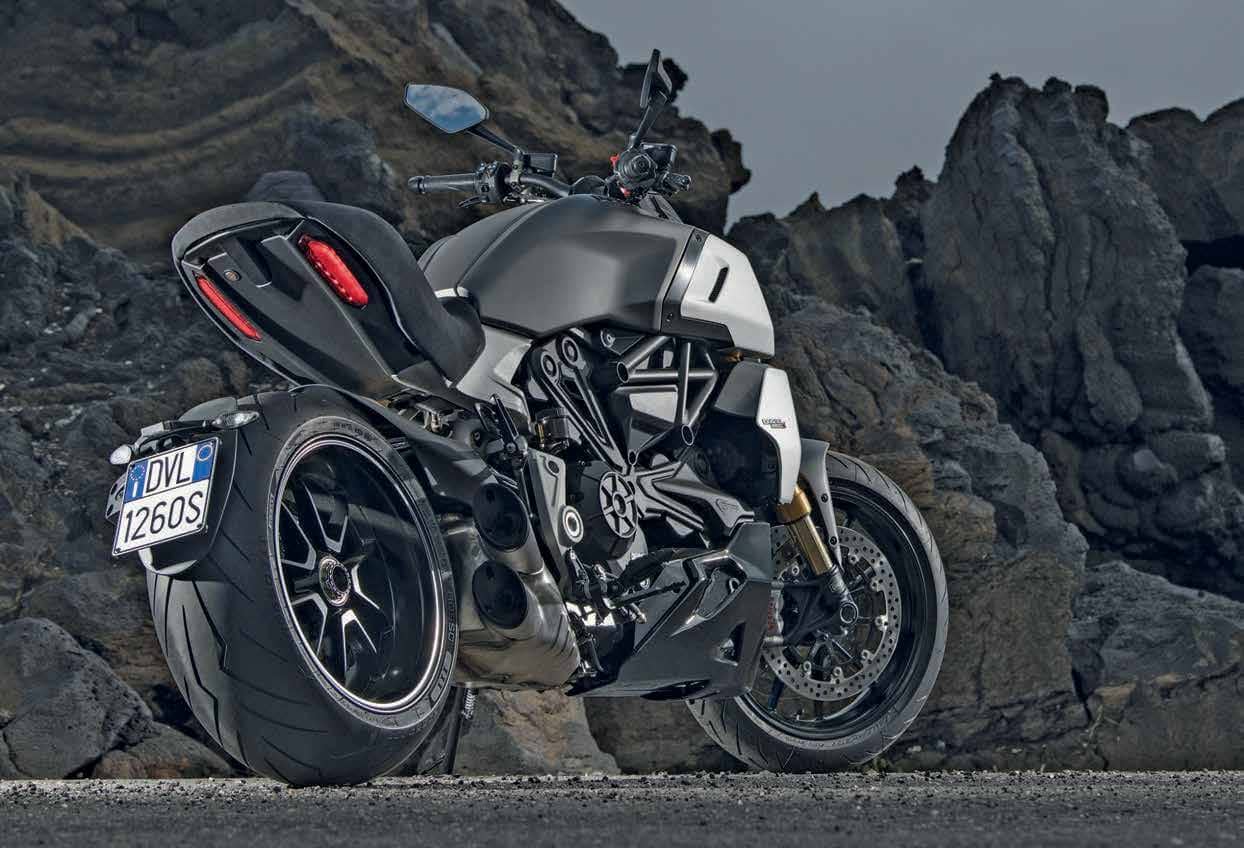 Back in 2015, having established that the words 'Ducati' and 'Cruiser' were not mutually exclusive in terms of the marketplace, it was almost inevitable that Italy's largest sporting brand should expand its Custom range and move even further into left field with the debut at that year's Milan Show of the XDiavel – an even more chilled-out crossover model combining on the one hand a true American-style feet-forward cruiser capable of being ridden with what Ducati catchily termed "low speed excitement", with on the other all the performance technology expected from any Ducati. To power this, Ducati's engineers led by Eugenio Gherardi cubed up the engine so as to enhance low-speed and midrange torque, by stroking the original Diavel's DS/dual-spark version of Ducati's liquid-cooled dohc eight-valve desmo 90º V-twin Testastretta DVT engine to enlarge it from 1198cc to 1262 cc via 106 x 71.5 mm dimensions, compared to 106 x 67.9 mm previously. In Euro 4 compliant guise, the XDiavel produced 156 bhp at 9,500 rpm, with peak torque of 129Nm/95ftlb/13.1kgm delivered at just 5,000 rpm – much lower than any other Ducati model sharing the same engine package, but ideal for a cruiser. But now, this X-Diavel version of the Testastretta DVT engine equipped with variable cam timing has now been adopted for the more mainstream 2019 Diavel 1260, but with chaintype final drive rather than the X-version's belt. It has however been retuned to give slightly more power, with 159 bhp (117 kW) at the same 9,500 rpm mark, and exactly the same maximum torque, but peaking 2,000 revs lower at 7,500 rpm. Thanks to a variable valve timing system which now acts continuously on both intake and exhaust camshafts, rather than only switching between two different settings like before, the engine adjusts power delivery to suit riding conditions, meaning it's extremely smooth at low revs, while assertively sporty at high rpm. Fuelling is performed via a Bosch EFI and elliptical throttle bodies equivalent to 56mm diameter, and managed via a full RBW/Rideby-Wire system delivering a choice of three riding modes, Urban, Touring and Sport. These all make the same power and torque, just delivered differently – VERY differently. The same six-speed transmission as on the X-Diavel is retained, but on the 1260 S version costing €22,990 in Italy incl. 22% local tax, versus the stock 1260's €19,990 all in, Ducati's DQS two-way powershifter is included as standard to allow clutchless shifting up and down the gearbox. The Diavel 1260 is available only in Sandstone Grey with a black frame, while the Diavel 1260 S offers two colour options: Thrilling Black & Dark Stealth (so, two contrasting blacks with different finishes, with a red frame), and Sandstone Grey with a black frame.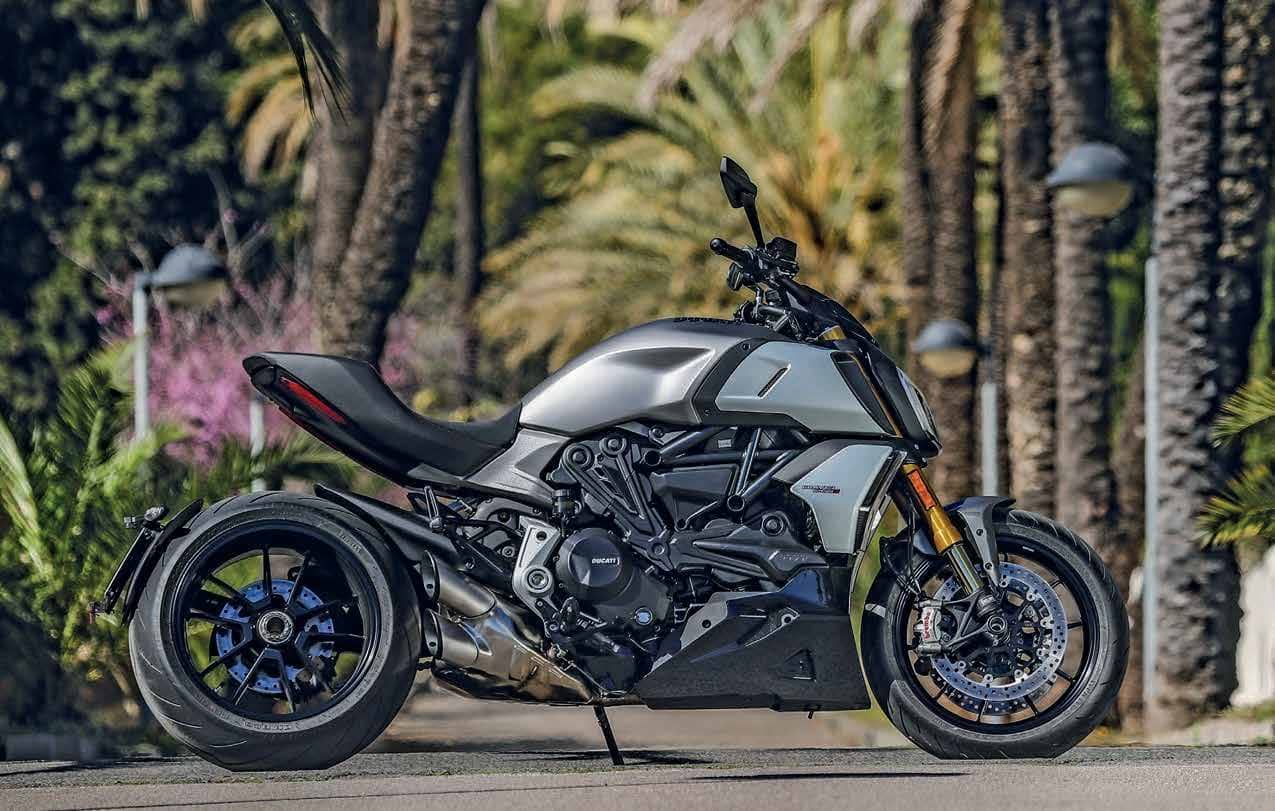 You can read up to 3 premium stories before you subscribe to Magzter GOLD
Log in, if you are already a subscriber
Get unlimited access to thousands of curated premium stories, newspapers and 5,000+ magazines
READ THE ENTIRE ISSUE
August 2019