BMW R1250GS On The Aspoestertjie Rally 2020
Bike SA|May 2020
Verneukpan is an alien and inhospitable place. This massive barren wasteland, approximately 50km west to east and 20km north to south, is home to nothing.
Temperatures regularly exceed 40°C. Mercurial mirages shimmer the horizons and the reflection of sunlight off the white surface of the pan is blinding. It's a legendary destination for adventure bikers. I first rode to Verneukpan in January 2008 and again in August 2010. After a decade hiatus I was looking forward to returning to the pan in 2020. The Kenhardt Hotel was our bivouac for the weekend and the venue for the 21st annual Poetic Rally. 2020 was the Aspoestertjie Rally – that's Afrikaans for Cinderella. About thirty hard riding men from across the country descended on Kenhardt with the express intention of riding the pan and drinking some beer in the desert. Let's get it on!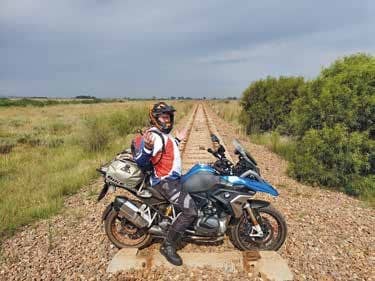 On Thursday morning at 07:45 Jason and I met at the Sasol garage on the Potchefstroom road southwest of Soweto. Jason was riding his BMW R1200GS Adventure and I was riding a new BMW R1250GS. Before 08:00 we were into the first dirt of the day, the dirt highway past Lens and Syferfontein, two bikers errant in search of adventure. We rode 15km of excellent dirt at speed as we found our mojos and by the time we hooked right onto tar towards Westonaria we were grinning like apes in our helmets. This was gonna be a good day in the saddle. We rode through the veld on the southern side of the N12 until we reached the entrance to Libanon Mine. It's been many years since I rode those mine lands but memory served me well and soon we were through the labyrinth of mine buildings and into the grasslands on the northern side of the mine. There was an irresistible photo opportunity where ancient infrastructure was being demolished and a lone ore tower still stood above the devastation like a last remaining tooth in a beggar's beak. The grassy track leading to the Westonaria – Carletonville railway line was barely discernible and it was clear we were the first vehicles in many months to traverse that veld. When we got to the railway line it was absent. The rail bed and sleepers were still there but the rails were gone. Difficult to know if Transnet harvested the rails or if thieves stole an entire railway line for scrap metal. But one thing is certain, no train will ever run to Westonaria again.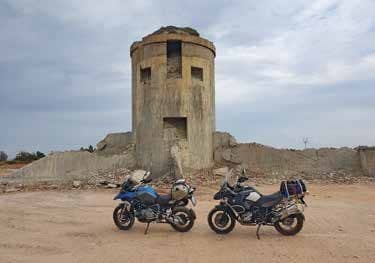 You can read up to 3 premium stories before you subscribe to Magzter GOLD
Log in, if you are already a subscriber
Get unlimited access to thousands of curated premium stories and 5,000+ magazines
READ THE ENTIRE ISSUE
May 2020