ApriliaTuono V4 1100RR
Bike SA|May 2020
It is easy to run out of superlatives very quickly when writing or talking about the genus motorcycle in all its modern forms. We have reached such an unprecedented pinnacle in design, technology, performance, dynamics, reliability, variety, and any other measurable parameter, both physical and aesthetic, that the only criticism one can make is often purely subjective.
The only questions that are left concern how far we have yet to travel in some, if not all of the above categories. Some of those questions are being answered in ways we couldn't have imagined not so long ago - the inexorable rise of the electric-powered motorcycle and even self-riding motorcycles.
As long as the designers take a firm grasp of the realisation that motorcycle transportation should be one thing and one thing only before it is anything else; fun. Keep giving us that and we will forgive many things.
Before we look too far ahead, however, let us sit back and rejoice in where we are, because, boy, are there some unbelievable motorcycles coming out of the factories.
Those who are ignorant of motorcycles will simply see something with two wheels and will not recognise the subtle variations. We, who live and breathe motorcycles, on the other hand, see the these differences not as subtle but as vast chasms, giving each type of bike its own distinct set of personality traits.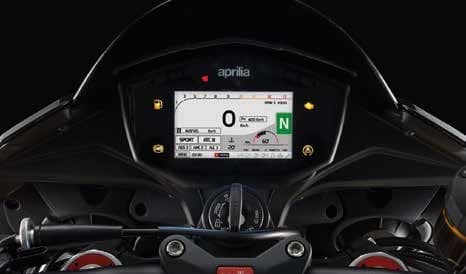 Some bikes are totally focussed on being one thing. Others play a more diverse role. And yet more take a concept and round off the edges slightly, giving it a broader appeal. The best of these do so without losing any of the essence of the original and the results are often bloody brilliant!
Which brings me neatly to the subject of this rambling introduction; the Aprilia Tuono V4 1100RR. If I were pressed to think of one word to describe it, it would be 'insanity.' But one word never is enough, is it? To 'insanity', I would have to add 'mind-blowing', 'intoxicating', 'wicked', 'addictive', 'a good substitute for sex' and 'not necessarily conducive to a healthy motorcycle licence'.
What it is, of course, is the naked version of the RSV4 superbike. That in itself is a recommendation but the Tuono has a character all of its own. Naturally it is more usable in an everyday sense than the RSV but that doesn't necessarily mean that it is softer or any less mad.
You can read up to 3 premium stories before you subscribe to Magzter GOLD
Log in, if you are already a subscriber
Get unlimited access to thousands of curated premium stories and 5,000+ magazines
READ THE ENTIRE ISSUE
May 2020