Reality Bytes
HOW CLOSE IS A PROFESSIONAL RACING SIMULATOR TO THE REAL THING? WE SENT OUR PRO DRIVER TO FORD'S PERFORMANCE TECHNICAL CENTER TO FIND OUT
MOTOR SPORTS FANS, driving enthusiasts, and video game players have heard a lot in recent years about the realism of racing games and simulators. But just how valuable are these digital codes as training tools to top-level professional race car drivers, teams, and engineers? Ford recently offered us a chance to find out.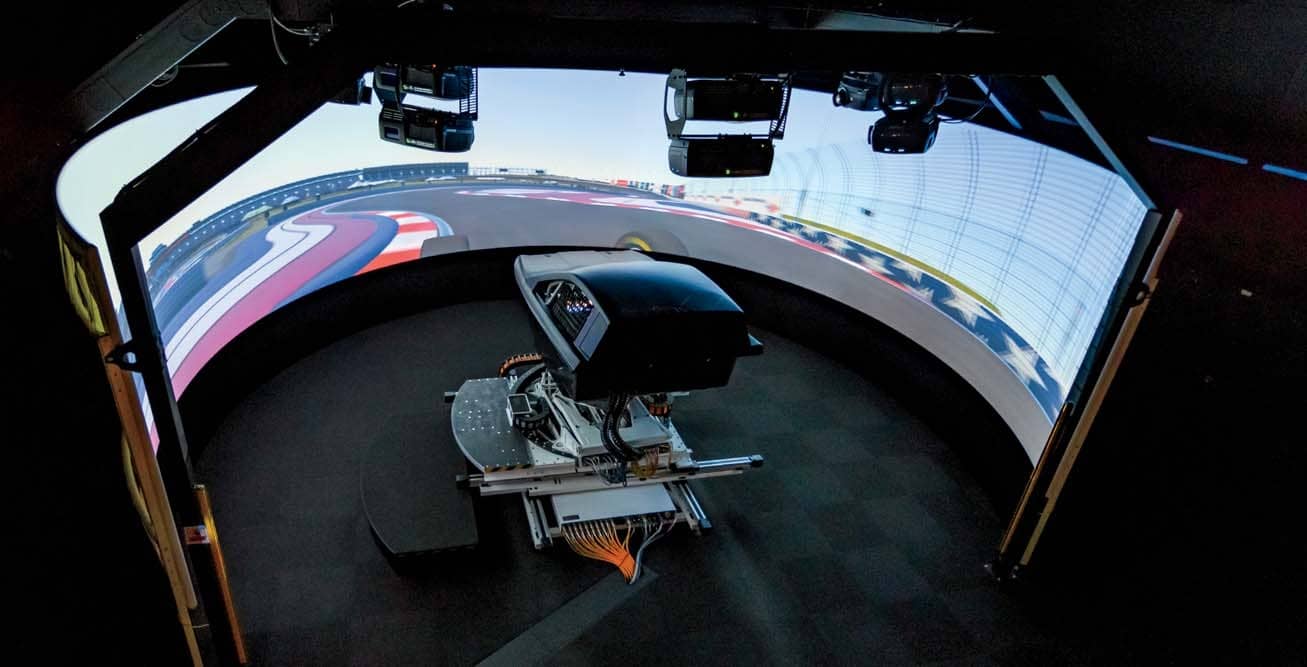 In 2014, the Blue Oval opened its Ford Performance Technical Center in Concord, North Carolina, to help the company with its race car development programs. Conveniently, 2014 coincided with the beginning of the Ford GT's successful "Road to Le Mans" effort that won the GTLM class at the 2016 24-hour endurance classic, with drivers Sébastien Bourdais, Joey Hand, and Dirk Müller.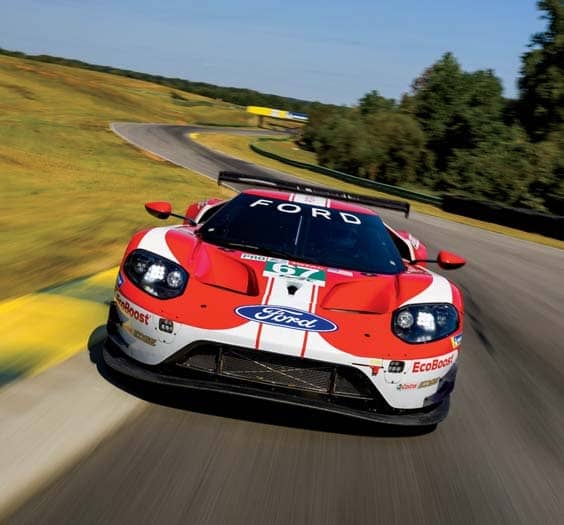 The tech center originally featured an advanced immersive simulator from Ansible Motion, a professional simulator manufacturer. Advanced simulators are well suited to aerodynamic and suspension research, both of which are technical areas central to Ford as it aims to continue to win races in the pro series it participates in: NASCAR, sports cars, and the NHRA.
Around 2016, the center installed a second, even more advanced "real-world 3-D driving" simulator. Engineers set about connecting the two sims so Ford's drivers could "race" each other, and more. For instance, NASCAR drivers can compare car setups in real time, draft each other, and even figure out dirty-air drafting issues and techniques. It came as a bit of a surprise to learn that Ford's three competing NASCAR teams work together on the sims and also share data. Another nugget: The real race cars use a Motec system for storing all on-track data, so one of the tech center's engineers came up with a way to make the simulators give them a Motec file, which allows them to compare on-track data directly to simulator data.
Indeed, just as video game enthusiasts have seen an almost exponential improvement in so many areas over the past decade—3-D, graphics, response timing, realism, virtual reality, and the overall immersion of playing—professional simulators have followed the same steep improvement curve. For Ford, the addition of the second simulator also opened the door to production vehicle development, with engineers now using the machines three to four days per week. For both racing and road cars, simulators help to save time and money. Need to test a small suspension design change? Just program the change into the sim software, "drive" it on the car, and within a couple of hours you'll know if it gives the desired effect.
But how do these things actually drive? And are they exceptionally realistic? Ford loaded up the virtual version of Virginia International Raceway on the first simulator so we could find out.
You can read upto 3 premium stories before you subscribe to Magzter GOLD
Log-in, if you are already a subscriber
Get unlimited access to thousands of curated premium stories and 5,000+ magazines
READ THE ENTIRE ISSUE
February 2020