India's Clean Power Revolution
Auto Components India
|
August 2020
Bloomberg Philanthropies, in partnership with BloombergNEF released a report on India's Clean Power Revolution. The report outlines the current successes and future potential of India's clean energy economy.
India is emerging as the numero uno market for clean energy investment. According to BloombergNEF's Climatescope, the country has taken centrestage with declarations of ambitious renewable energy goals of 175 GW by 2022 and 450 GW by 2030 (a combination of solar, wind, biomass and small hydro). These ambitous targets are said to be backed by supportive government policies, openness to investors and the sheer volume of renewables auctioned in recent years. Lessons from India's competitive clean energy auction market and overall progress could be benchmarked by other economies looking to achieve a green recovery according to Antha N. Williams, Global Head of Environmental Programs, Bloomberg Philanthropies. Afterall, green recovery is believed to have the potential to maximise economic, health and environmental benefits. The report is an attempt to outline investment in clean energy that has the potential to help increase energy access and supply and create jobs besides improving climate and air quality.
India's expected growth in power demand till 2030 is estimated to be 80 per cent, and a flexible power system needs to be put in place. It calls for better coordination on land issues to ensure grid availability matches the commisioning of new projects. The financial health and resiliency of power distribution companies are required to be improved to enhance investor confidence. Coals role in the mix will continue to drop despite rising power demand. Here retiring old coal plants will improve utilisation rates of coal fleets and significantly reduce CO2 emissions. As per the report, new clean power generation will enable India to avoid 499 million tonne of emissions a year by 2030. While challenges remain to be addressed, the renewable energy transition is expected to serve transitioning economies.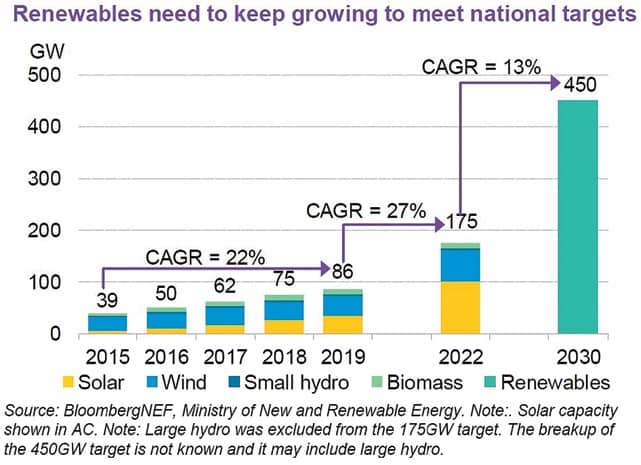 Demand v/s Supply
Power demand in India grew by 50 per cent in the last decade. Electricity consumption rose from 851 Twh in 2010 to 1285 Twh in 2019 at a CAGR of 4.7 per cent. India, notably, has become the world's third largest consumer behind China and the United States. Domestic and industrial consumers combined, constitute 56 per cent of this demand. In comparison, supply deficit narrowed from 79 Twh in 2010 to six Twh in 2019. A result of rapid expansion of generation capacity, transmission and distribution infrastructure. Interestingly, installed capacity has seen diversification though coal continues to dominate. To service the anticipated demand supply capacity has been doubled as per a statistic. India's net power generation capacity has been increased by 212 GW with 42 per cent of it coming from renewable energy sources. The report attributes this jump in capacity to falling technology costs. Solar is at the heart of this growth, it is claimed.
You can read up to 3 premium stories before you subscribe to Magzter GOLD
Log in, if you are already a subscriber
Get unlimited access to thousands of curated premium stories, newspapers and 5,000+ magazines
READ THE ENTIRE ISSUE
August 2020