Marrakesh Express
American Car
|
February 2017
A poor choice of colour can ruin even the most beautiful custom, but sometimes, a brave choice can make it more beautiful than you could ever have expected.
Sometimes, someone will tip me off about a car that really needs featuring. This was a case in point – Matt called me, telling me of a truck that I should really take a look at. What colour is it? "It's brown." What, you mean rusty, patina, rat-rod style? "No, it's brown. You've got to see it." Hmm, I have a mental picture here, and right now it's more Radiator Springs than Oakland Roadster Show – I can't say I'm sold on the idea, but I've never had any reason not to trust Matt's amazing eye before, so I asked him to send me a photo. He did. My jaw hit the deck. I dribbled like busted guttering for a while. Then I told Matt to go for it. Straight away. Nothing brown has any right to look this breathtaking.
This stunning '55 Chevy 3100 belongs to Fraser Hambleton, who lives in Yorkshire. "I never set out to buy a truck," says Fraser. "I went to the NEC Classic Car Show with my 10-year old son, Kristian, back in 2015, to bid on an Eleanor Mustang that was in the Silver stone auction. It wasn't all it had been made out to be, and we were a bit disappointed. There was a convertible Jensen Interceptor there, too – my first car was an Interceptor, I bought it when I was 16 and put a lot of work into it – but that went for way too much money, and then there was a KTM X-Bow, and that also went for too much money. We left the auction, feeling pretty despondent, and thought we'd visit the last hall as we hadn't been there yet.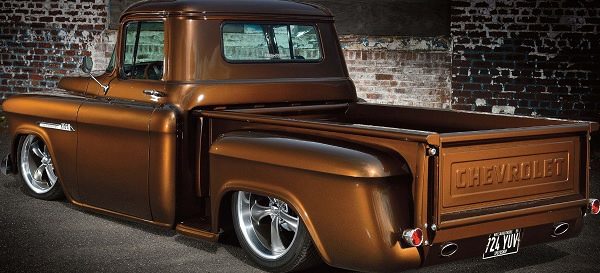 You can read up to 3 premium stories before you subscribe to Magzter GOLD
Log in, if you are already a subscriber
Get unlimited access to thousands of curated premium stories, newspapers and 5,000+ magazines
READ THE ENTIRE ISSUE
February 2017