FORD RANGER RAPTOR
Ultimate version of Ford's market-leading double-cab has more power and highly specialised suspension but isn't classed as a commercial vehicle.
We don't get many vehicles in on test that people stop us to ask about. But even before the Raptor arrived at our office, we knew it was going to attract attention.
There are quite a few Ranger drivers based on our business park. Every single one of them who saw one of us climb out of it came over to ask what it was like, as did a few others too. The petrol heads from around the place who know what we do for a living had all asked when we were going to have one on test, too.
Safe to say, the Ford Ranger Raptor has caught people's imagination, with its race-bred image and new, range-topping engine. Yet with 210bhp, it's well short of being the most powerful truck on the market – by something like 20%, in fact, thanks to the Merc X-Class and Volkswagen Tiguan.
It's about more than just raw power, though. The Raptor's styling is sensational – you don't realise how much bigger and more imposing it is than a standard Ranger until you see them together, but it really is a whole different truck to look at.
This comes from a bigger wheels and tyres, a wider track and taller springs. Much has been made of the Raptor's Fox suspension, and we'll get on to this later, but for now we'll just comment on the kerbside appeal it gives the vehicle – which is lots.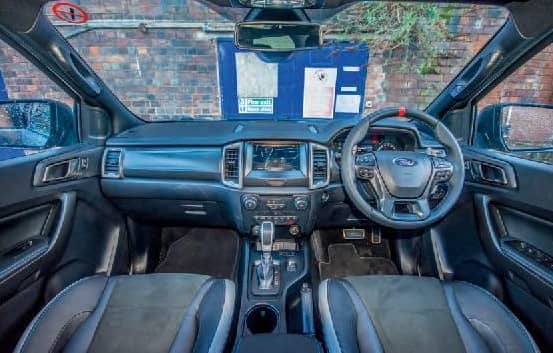 'Lots' is also the word for the amount of money the Raptor costs. At £48,785 OTR including the VAT, it's not the most expensive truck you can buy – however the top-spec versions of the Isuzu D-Max, Volkswagen Amarok and Mercedes X-Class that hover around the same price point all have one thing in common that the Raptor doesn't – namely that you can get your VAT back on them. The problem is that the Raptor's payload is less than 1000kg, which means that being a five-seater, it's not classed as a commercial vehicle.
CABIN AND PRACTICALITY
The Raptor has a few upgrades to call its own inside, but mainly its cabin is that of a Ranger Wildtrak. Which is to say that it's very good. Its dash is clearly laid out and
Above: There are a few extra touches, like blue stitching on the sports-styled seats and a centre marker on the steering wheel, but by and large the Raptor's cabin is pretty similar to that of any other high-spec Ranger model. Which is to say it's very good indeed. Build and material quality are both excellent, and equipment levels are as high as it gets – as is the driving position, which is absolutely masterful executed in good quality materials, and it's very well put together with almost no groans, creaks or unwanted movement in the fixtures and fittings.
You can read up to 3 premium stories before you subscribe to Magzter GOLD
Log in, if you are already a subscriber
Get unlimited access to thousands of curated premium stories, newspapers and 5,000+ magazines
READ THE ENTIRE ISSUE
April 2020