DEMOGRAPHICS
With more and more modified Ford Rangers and Jeep Wranglers appearing at the top end of the off-road scene, you might be forgiven for thinking no-one is doing it with Land Rover Defenders any more. But while 90s and 110s have indeed been redefined by their galloping values, they're still right at the heart of the UK off-road scene – as very ably demonstrated by this slick new demo truck from Terrafirma, and of course its cool Union Jack artwork
Over the last few years, we've seen a steady drop-off in the number of Land Rover Defenders being used for off-road projects. People who would once have built one almost by default have been turning to the Jeep Wrangler or Ford Ranger instead, as Defender values have continued to go up and up to the point where they're just too valuable to risk trashing.
But there's life in the old dog yet. The Defender has turned into more and more of a classic since it went out of production, and the advent of the new one doesn't appear to have changed that, but quality builds are still being done. And the aftermarket which supplies the parts for those builds is still thriving.
Indeed, said aftermarket continues to develop new products at a relentless pace. And this 2010 Defender 110 2.4 TDCi is a very good example of that – as well as being pretty tidy evidence of the fact that people are still building them the way they ought to be built.
Having started life in the service of the Military Police, the 110 came to Terrafirma last year as a standard-spec truck with a good, well known history – just what you want if you can't be starting with a brand new one. Which, obviously, you can't when they stopped making them four years ago. Since then, it has been turned into a self-propelled advert and a calling card that illustrates what the company is all about. 'It shows people what
The 110's suspension is a tick-list of all the good stuff, with +2" springs and 8-way adjustable remote-reservoir dampers mounted in tubular towers. Caster corrected front radius arms compensate for the effects of the lift, while cranked trailing links add articulation at the back – something that's also aided by relocation cones all round they can do using our products,' says Terrafirma boss Eddie Priscott. 'We want to offer accessories that they haven't seen before – things that move the game forward, so that if they buy from us their Land Rover will have something their mates' don't.'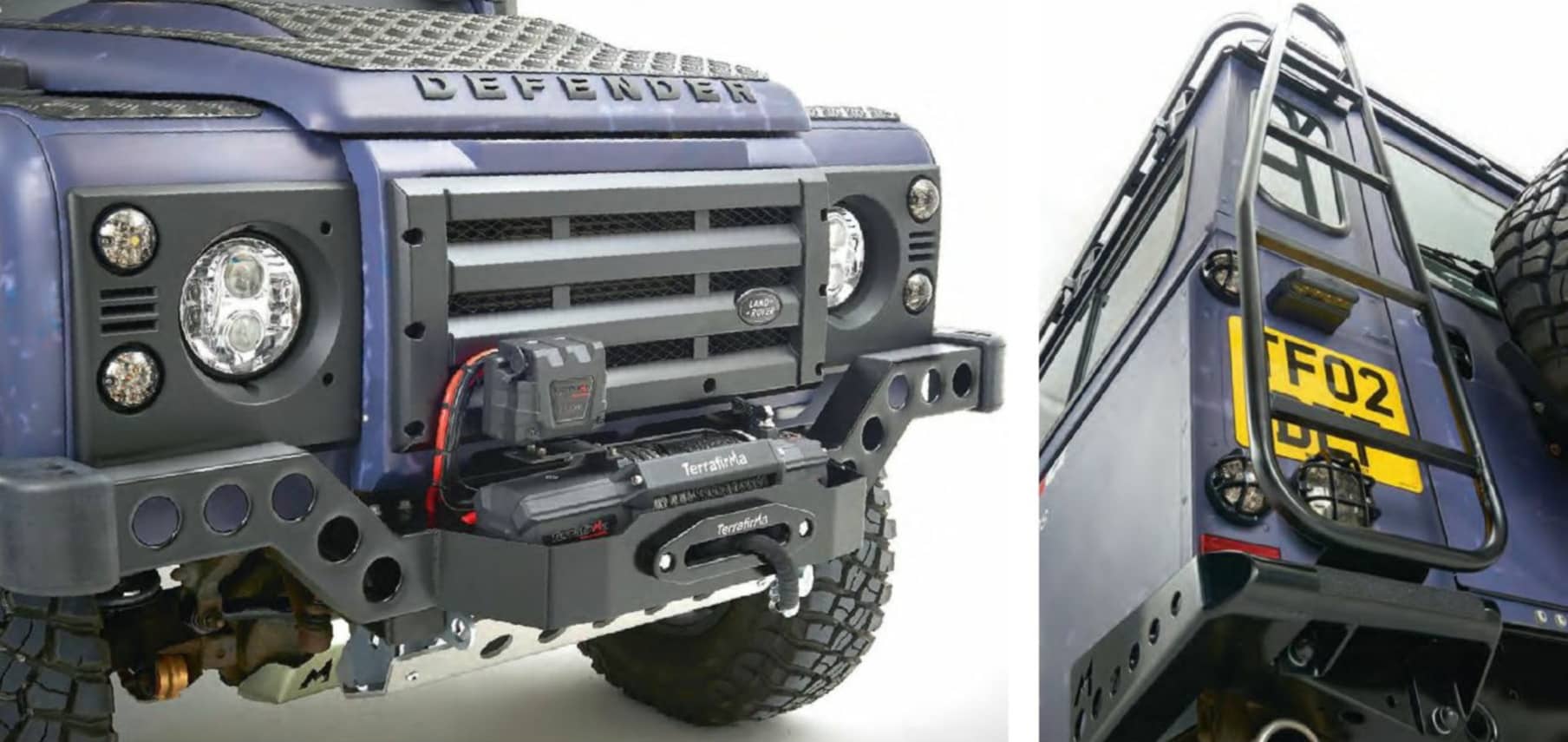 But let's start with something your mates might have – but this 110 doesn't. One of our closest off-roading acquaintances spent a small fortune a couple of years ago to become the owner of a TDCi Defender with a lavish suite of performance upgrades fitted in-house by a very well established tuner. On the way home from picking it up, its dashboard lit up like a Christmas tree, and a few months later he'd had enough and got rid.
Eddie knows all about this stuff – which is why, despite what you might expect, engine-wise at least you're looking at a stock 'un. He says he would only tune a Defender to make it more economical, but that seems a bit futile when adding a roof rack and snorkel is going to drop its fuel consumption into the teens anyway. Add in the barrage of electronic issues and dash warning lights you hear about so frequently, and he's been happy to leave well alone.
In other areas, it's a very different story. And while the aim hasn't been to turn the 110 into the ultimate off-road weapon, its ability has definitely been enhanced.
They're the kind of enhancements that don't come at the expense of a vehicle's on-road ability, which is something you hear a lot. Sometimes as an excuse for doing it a bit half-heartedly, but in this case it's the opposite – the mods have been chosen with thought, and carried out to the highest standard possible.
You can read up to 3 premium stories before you subscribe to Magzter GOLD
Log in, if you are already a subscriber
Get unlimited access to thousands of curated premium stories, newspapers and 5,000+ magazines
READ THE ENTIRE ISSUE
April 2020