RAPTOR VS RUBICON - FACTORY FIGHT CARD
4x4 Magazine Australia
|
November 2019
SHOWROOM-STOCK 4X4s DON'T COME MORE CAPABLE THAN THE RANGER RAPTOR AND WRANGLER RUBICON, BUT WHICH ONE IS KING OF THE HILL?
BEFORE YOU turn away muttering, "idiots, why compare a ute with a wagon", consider this: both of these 4x4s will set you back the high-side of $70K on road; both are super capable off-road yet are also loaded with luxury, convenience and safety kit, and both are conceived for recreational buyers. The only other showroom stock 4x4s this capable off-road, the LandCruiser 70 and the Mercedes G-Wagen, are significantly more commercial or service in origin and presentation.
Both Raptor and Rubicon also have hightech powertrains with small-capacity turbodiesel engines and automatic gearboxes with more ratios than you would have thought possible a few years back – 18, in fact, between the two of them.
Significantly, they are also factory 'customs', both a good deal removed from the bread-and-butter models in their respective model line-ups. And in both cases the factory 'modifications' are aimed at making a more capable off-road-focused 4x4, not necessarily a better on- and off-road vehicle.
The Raptor is also the reigning 4X4 Of The Year and this all-new Rubicon may well be the next 4X4OTY; although, that's a contest that won't be decided until the end of the year.
In the meantime, is it Raptor or Rubicon that wins this bout?
RAPTOR
SUSPENDED IN HEAVEN
Serious chassis re-engineering, not extra power, is the ford ranger raptor's killer punch.
THE RANGER Raptor was conceived by Ford Australia off the back of the success in the USA of the F150 Raptor, a desert-racing-inspired factory custom version of Ford's hugely popular F150 Pick-Up. With help from Ford Performance, Ford's global high-performance division, the Ranger Raptor was then locally developed off the back of the Ranger ute, which just happens to be largely Australian designed and developed anyway.
If it wasn't for the phenomenal sales success of the Ranger in Australia, where it now has even toppled the longterm best-selling Hilux, the Raptor may not have got off the ground. Fortunately it did, as serious factory customs like the Raptor don't come along too often.
POWERTRAIN
FOR A 'hero' ute it may come as a surprise that the Raptor uses a standard Ranger powertrain, aside from a lower axle ratio to compensate for the taller tyres. That means the same 2.0-litre four-cylinder bi-turbo diesel and 10-speed auto you'll find in XLT and Wildtrak Ranger models that's offered alongside the long-serving 3.2litre five-cylinder turbo-diesel.
Still, this 'little' high-tech 2.0-litre diesel, with its sequential bi-turbo arrangement, is refined, smooth and punchy. The bi-turbo arrangement makes the engine more flexible, with a solid 500Nm available from just 1750rpm and peak power (157kW) not arriving until 3750rpm, both bigger numbers than the 3.2 and achieved over a wider engine speed range.
Pressed to give its all, it actually sounds more like a bigger diesel than a small diesel, with quite a deep throaty voice. At the same time it also spins through the revs quickly as you'd expect of a smaller engine, helped in this by the relatively close ratios of its 10-speed automatic.
In most part the 10-speed automatic does its job largely undetected with smooth, seamless and timely shifts, but it can sometimes be a little indecisive in picking what gear it wants, and it can produce the odd rough shift.
Side by side, the Raptor just pegs the slightly less powerful but lighter Rubicon, but there's not much in it. More noticeable and perhaps more significant is the Raptor's engine is a little smoother and more refined, and generally doesn't sound or feel as 'diesel-like' as the Rubicon's engine.
ON-ROAD RIDE AND HANDLING
WHAT makes the Raptor special isn't its engine but its chassis, which has been totally re-engineered from that of a standard Ranger. And while the idea behind that was to make a better offroad vehicle, the 'new' chassis actually works brilliantly on-road – the rougher the better.
You can put this down to the extra suspension travel, some 30 percent all round, that soaks up bumps beautifully.
Coils springs at the rear, replacing the Ranger's leaf springs, and bespoke Fox-brand racing-technology bypass dampers (the rears have 'piggy-back' reservoirs) contribute to the compliance and control. Longer A-arms up front and a different axle housing at the rear widen the stance (by 150mm) to compensate stability-wise for extra ride height. Finally, the rear axle is laterally located by a sophisticated Watt's link, a far superior arrangement in terms of chassis control – there's no rear bump steer compared to the commonly used, cheap, simple but dynamically flawed Panhard rod.
The Raptor then tops all this off with nicely weighted electric power steering with lots of feel. All this puts it well ahead of the Rubicon in terms of on-road finesse and poise.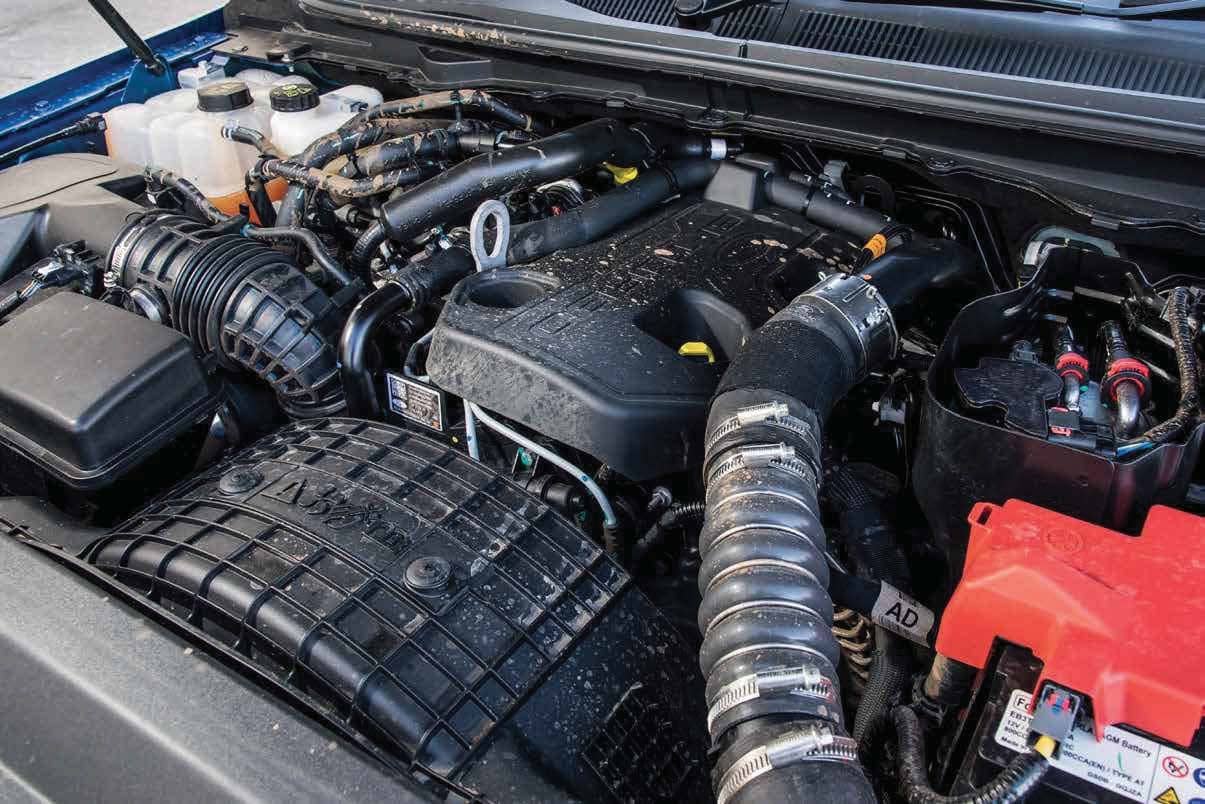 OFF-ROAD
HEAD off-road in the Raptor and the lofty ground clearance and BFGoodrich LT285/70R17 K02 All Terrains, which surprisingly blunt the Raptor's on-road dynamics very little, become your best friends. The longer suspension travel is welcome, too, as is the extra underbody protection. Compared to most showroom-stock 4x4s, the Raptor feels unbreakable; although, with the engine's air intake under the bonnet lip a snorkel would be good insurance even if Ford claims an 850mm wading depth. Four heavy-duty recovery hooks are also a nice touch.
You can read up to 3 premium stories before you subscribe to Magzter GOLD
Log in, if you are already a subscriber
Get unlimited access to thousands of curated premium stories, newspapers and 5,000+ magazines
READ THE ENTIRE ISSUE
November 2019