Spied At Expo
4-Wheel & Off-Road|February 2020
New Products & Gift Ideas From Off Road Expo 2019
THERE ARE A LOT OF DIFFERENT SEGMENTS AMONG OFF-ROAD enthusiasts. Some like to go fast in the desert, some like to go slow in the rocks, some like to go camping in remote places, and some just want the off-road look without all of the dirt. We can appreciate most of those off-road disciplines, and nowhere else are there more trucks on display and more parts that appeal to all of them than at Off-Road Expo.
Held at the Fairplex in Pomona, California, since its inception about 15 years ago, the show has always been about all things off-road. This year was no different, with equal parts rock crawler-rock crawler, desert trucks, UTVs, and Overlanders all on display. Aside from appealing to the off-road masses, Off-Road Expo is only about a month before the SEMA show and thus also an excellent venue to get a sneak peek at many products that will make their official debut in Las Vegas.
We strolled the hallways of the biggest Off-Road Expo in recent memory on the hunt for cool stuff to check out. There was the expected first wave of what will be a mountain of products for the Jeep Gladiator, but there was also plenty of other stuff to check out for all of the different makes, models, and niches. What follows is part of new products, part gift ideas, and a good chunk of what cool and drool-worthy in the world of off-road.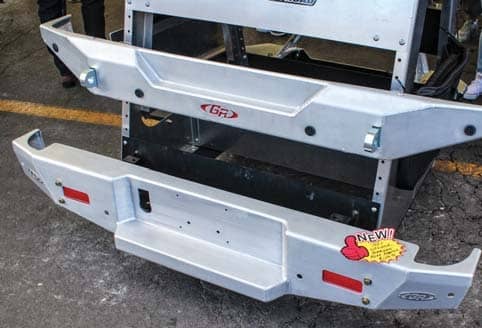 1 GEN-RIGHT ALUMINUM REAR BUMPER FOR JEEP GLADIATOR
WHAT IT DOES: Protects the rear of your shiny new and expensive JT truck without adding a bunch of weight. The company offers a front bumper to match and similar components for the JL.
WHY WE LOVE IT: Gladiators are the hot new thing in the Jeep market, and it's great to see how quickly companies are bringing out cool new products. We also love the lightweight protection that aluminum bumpers offer, and this one looks pretty cool, too.
WHAT IT COSTS (RETAIL): $1,099
WHERE TO GET IT: Gen-Right, 805.584.8635, genright.com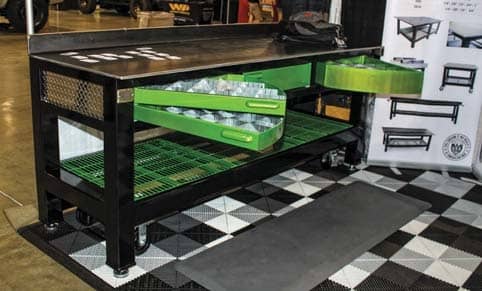 2 BADASS SD WORKBENCH
WHAT IT DOES: Gives you a sturdy horizontal surface to work on stuff, plus a lot of storage. In addition to the base workbench, the company offers all kinds of options, from the different drawers and top configurations to casters, wire mesh shelves, powder coating, and much more.
WHY WE LOVE IT: Most of the time workbenches are ugly homebuilt affairs that are stained with rust and dirt. This is a professional grade workbench that would look right at home in a clean, well-organized shop space. Plus from all of the sizes and options the company offers, it looks as though Badass would build you anything you want. The pivoting drawers are pretty cool, too.
WHAT IT COSTS (RETAIL): Starting at $2,750
WHERE TO GET IT: Badass Workbench, 866.547.1123, badassworkbench.us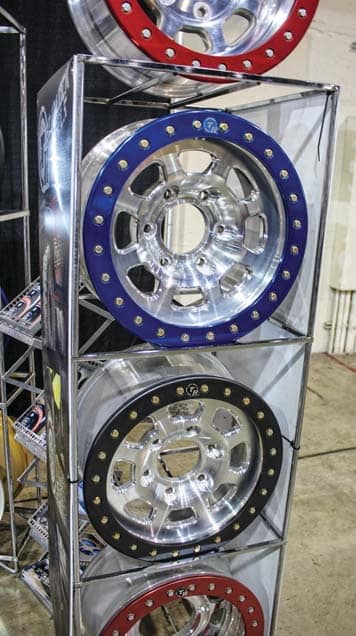 3 TRAIL-READY FORGED ALUMINUM BEADLOCK WHEELS
WHAT IT DOES: Proven Beadlock technology that is now available with the superior strength of a forged aluminum wheel. A variety of different anodized colors for the lock rings are also available. The current size available is 17x8.5.
WHY WE LOVE IT: These wheels were initially developed for desert racing and have seen thousands of brutal miles under everything from trophy trucks to Ultra 4 cars. The company recently expanded its offerings with additional wheel bolt patterns and production capacity to reduce lead times. Double-bead locks are also available.
WHAT IT COSTS (RETAIL): $889
WHERE TO GET IT: TrailReady Beadlock Wheels, 425.353.6776, trbeadlocks.com
4 SEEDEVIL LED BALOON LIGHT
WHAT IT DOES: Provides a quick and convenient way to add an impressive amount of light to an area using LED technology, so power consumption is kept to a minimum. It also collapses into a very small package so it's easy to pack away.
WHY WE LOVE IT: These things put out an impressive amount of light without any of the glare that comes with ordinary light fixtures. It's an awesome way to light up a campsite, a remote pit, a backyard barbecue, and much more. Tripods are available, but it would be just as easy to hang it from a tree or just toss on top of a vehicle.
WHAT IT COSTS (RETAIL): Starting at $325
WHERE TO GET IT: SeeDevil, 877.659.5476, seedevil.com
5 MILESTAR PATAGONIA X/T TIRES
WHAT IT DOES: Milestar's latest offering in a growing line of light truck tires, according to the company the Patagonia X/T is an (Xtreme All-Terrain) offers a three-ply sidewall, aggressive face and shoulder tread, and a quiet ride while delivering a 40,000- mile warranty.
You can read upto 3 premium stories before you subscribe to Magzter GOLD
Log-in, if you are already a subscriber
Get unlimited access to thousands of curated premium stories and 5,000+ magazines
READ THE ENTIRE ISSUE
February 2020