Painting At The Bottom Of The World
Cape Town-based artist YVONNE ANKERMAN has been fortunate enough to be invited to work as Resident Artist on the passenger ship 'MS Expedition'. Her job involves travelling to remote but fascinating destinations while presenting art workshops, power point lectures, working as a nature guide and driving a Zodiac power boat. Her first trip was to West Africa (featured in Issue 19); and recently she visited Antarctica. Here she shares a few snippets from her journal...
Antarctica, the big white continent, so majestic, mysterious, remote and so different to everything I had known in the past! Never, in my wildest dreams, would I have thought that I would be given the opportunity to work and paint in this pristine wilderness.
THE DRAKE PASSAGE:
My first day at work. I am still groggy from my 36hr travel from Cape Town to Ushuaia, a quaint harbour town on the southern tip of Argentina, where I have joined the ship. The Expedition Leader informs me that we will not be leaving today as the weather forecast predicts hurricane force winds to sweep through the Drake Passage. I am pleased to hear the Captain knows what he is doing!
This is the infamous Drake Passage - known as either the "Drake Shake", or the "Drake Lake", depending on the wind and height of the waves. There is no other way to reach the Antarctica Peninsular, we have to cross the Drake, a 800km stretch of open ocean. So with two crossings per trip, I will be traversing the Drake often, over the next eight weeks.
A few hours later, all the passengers have boarded, my art supplies are neatly stored and the ship is preparing to leave. What happened to the hurricane force winds, I ask myself? The Captain informs us that we can travel safely to the east of the bad weather and miss the worst. I must admit, I am nervous, but so the journey starts.
Other than nine meter waves at times, it is a smooth crossing. On board there will be many informative lectures by Geologists, Ornithologists and Historians. I am excited to see so many sea birds, including Albatross, gliding just above the cresting waves, in the wake of the ship. My first journey to Antarctica has begun, there is no turning back now!!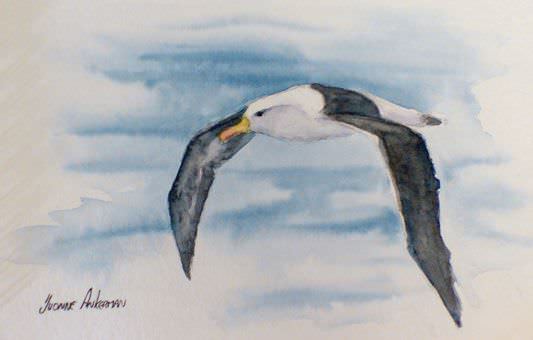 SOUTH SHETLAND ISLANDS: PENGUIN ISLAND
We have arrived at the South Shetland Islands earlier than expected and it is a gloriously sunny afternoon as we head for the shore. Wow! My first Chinstrap Penguins, so comical with the little stripe under their chins; they are slightly smaller than the African Penguins back home. The Antarctic Fur Seals are another story all together. I walk past them "with confidence" and give them "some space", as is prescribed to us by the Expedition Leader. These guys are known to charge towards people, especially in breeding season. Safety first!
Continue Reading with Magzter GOLD
Log-in, if you are already a subscriber
Get unlimited access to thousands of curated premium stories and 5,000+ magazines
READ THE ENTIRE ISSUE
Issue 25