Dream House
Poets & Writers Magazine|November - December 2019
IN HER NEW BOOK, IN THE DREAM HOUSE, CARMEN MARIA MACHADO REIMAGINES THE MEMOIR FORM BY EXAMINING HER PERSONAL STORY OF DOMESTIC ABUSE USING DIFFERENT NARRATIVE TROPES AND SHINES NEW LIGHT ON THE HISTORY AND REALITY OF ABUSE IN QUEER RELATIONSHIPS.
FOR some writers the line between fantasy and reality is so fluid, they are able to uncover the poignant truths that can be found in that fringe space in between. This borderland is the realm of fantasy and horror writers like Shirley Jackson and magical realists like Jorge Luis Borges, two inspirations for Carmen Maria Machado, the author best known for her debut collection of speculative short stories, Her Body and Other Parties.

Magical realism, or nonrealism, is also fertile ground in which to write about ideas and identities that are generally muted or oppressed in dominant society. In a piece in the Atlantic that appeared shortly after her first book was published by Graywolf Press in 2017, Machado, a queer woman of Cuban descent, said nonrealism is a way of insisting on something different. "It's a way to tap into aspects of being a woman that can be surreal or somehow liminal—certain experiences that can feel, even, like horror," she said. "It allows you to defamiliarize certain topics like sexual violence that some people might unfortunately dismiss as 'oh, just another story about rape.' Nonrealism makes room for mythic expressions of the female experience and I think can be a way to satisfy the hunger for narratives in which women have rich inner lives."

Machado's stories often feature women suffering violence in relationships or simply exploring love and sex amid the collapse of society in which communal and interpersonal horrors blend together. Readers found love, sex, queerness, violence, and dystopia throughout Her Body and Other Parties, which the New York Times included in its "New Vanguard" list of fifteen books by women that are shaping the way we read and write fiction in the twenty-first century. "There is abundant, utterly hypnotic invention in these stories," wrote New York Times critic Parul Sehgal, "but it's the psychological realism at their core, their depictions of the everyday violence visited upon women, that gives them their otherworldly power."

Despite being rejected by close to thirty publishers both large and small before Graywolf offered it a home, the book went on to be named a finalist for the 2017 National Book Award in Fiction—and won the Bard Fiction Prize, the Lambda Literary Award for Lesbian Fiction, a Brooklyn Public Library Literary Prize, a Shirley Jackson Award, and the National Book Critics Circle's John Leonard Prize.

But even before her debut publication, Machado had become a critical voice in the literary world. Her short stories and essays were appearing in literary journals and mainstream publications, spreading truths about the realities of being a woman of color, a fat woman, a queer woman, or just a woman in general, in the United States today.

Her new book, In the Dream House, released in November by Graywolf, is a memoir about Machado's abusive relationship with a charismatic but volatile woman she met while she was a graduate student at the Iowa Writers' Workshop. The woman, who is never named, was living in Iowa City while applying to MFA programs, and after she enrolls at Indiana University in Bloomington, Machado drives from Iowa City to Bloomington every other week to visit her for the next year. Readers follow their relationship from its enchanting start through the first shocking moments of violence and then watch as the abuse escalates. There are many reasons that Machado—and those around her—struggle to identify the relationship as abusive: The violence was primarily emotional, it was a smaller person abusing a larger one, and it involved two women.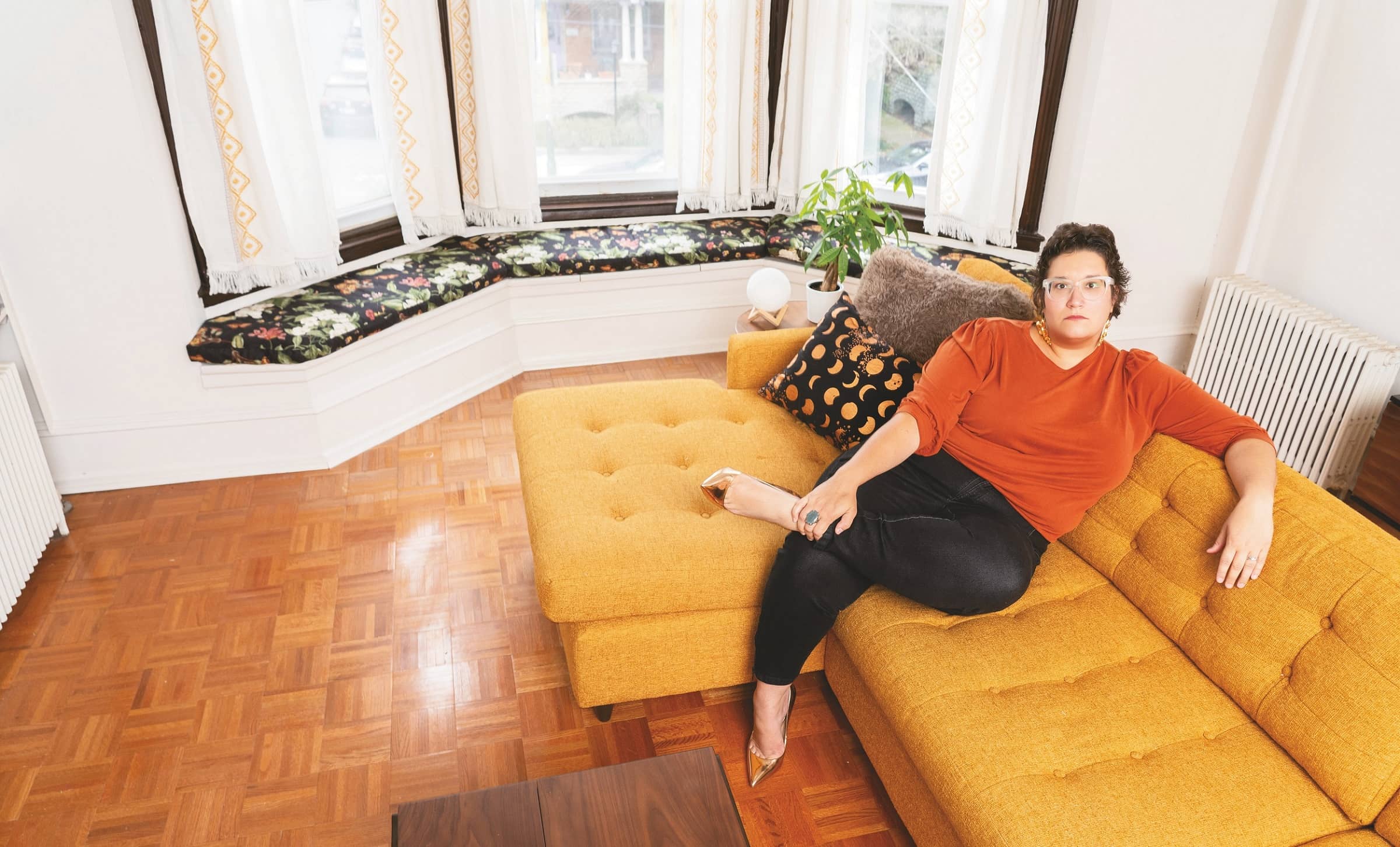 Throughout In the Dream House, Machado uses literary and cultural themes to make sense of her own story as well as the more general ways we think about domestic violence—and queer domestic violence in particular. The memoir is composed mostly of one- to five-page miniature chapters with titles like "Dream House as Plot Twist" and "Dream House as 9 Thornton Square," a reference to the site of a murder in the Ingrid Bergman film that birthed the term gaslighting. Machado uses these themes to both tell her story and simultaneously critique it. Some chapters read like literary essays, weaving together the personal and the scholarly while drawing from sources such as Kerry Lobel's Naming the Violence: Speaking Out About Lesbian Battering and case studies found in law journals. But Machado also analyzes her own story like a piece of fiction, using footnotes to connect narrative moments to specific entries in the Aarne-Thompson Uther Classification of Folk Tales as well as Stith Thompson's Motif-Index of Folk-Literature—a massive six-volume catalogue of motifs found throughout folklore. For example, the simple sentence "Midnight comes" is linked (via footnote) to the motif "Taboo: doing thing after sunset (nightfall)."
Like many a survivor's story, the memoir is written years after the end of the relationship. Time aids Machado's perspective, as does the author's current, much healthier relationship with her wife, Val Howlett, who appears in the memoir in a surprising way. Machado, who teaches writing classes at the University of Pennsylvania, including one on speculative fiction, spoke to me by phone from Philadelphia, where she and Howlett live.
In your new memoir you frame your own story using common tropes and themes found throughout literature. What did these themes allow you to tap into?
You can read upto 3 premium stories before you subscribe to Magzter GOLD
Log-in, if you are already a subscriber
Get unlimited access to thousands of curated premium stories and 5,000+ magazines
READ THE ENTIRE ISSUE
November - December 2019