Affordable Full Frame Cameras
Photography week
|
July 16, 2020
The best DSLR and mirrorless cameras for going full-frame while keeping your costs down
There are two big attractions in moving up from a crop-sensor camera to a full-frame system. First up, depth of field is more dependent on actual focal length, rather than the 'effective' focal length with a crop factor applied; the upshot is that you can get a tighter depth of field to blur backgrounds and make the main part of a scene stand out, ideal for portraiture and still lifes.
The other big bonus is that, if you stick to a modest megapixel count, the photosites (equating to pixels) on a full-frame image sensor are likely to be significantly larger than those on an APS-C or Micro Four Thirds sensor. This greater light-gathering potential generally equates to much cleaner image quality and far less image noise when you need to bump up your ISO. You also get greater retention of fine detail and texture, as there's less need for the image processor to smooth out the appearance of image noise.
The downside is that full-frame cameras can be very expensive, even more so if you need to change all of your lenses as well. If you're a Canon or Nikon user you might already have some compatible lenses, which can be used if you upgrade to a budget-friendly full-frame DSLR or mirrorless camera of the same make.
If you upgrade from a DSLR to a mirrorless camera, you'll need a mount adapter. The budget-friendly Canon EOS RP isn't available in the UK as a 'body only' item, and comes complete with either an EF-EOS R mount adaptor or a kit zoom lens.
Here, we compare affordable full-frame cameras from Nikon and Canon in DSLR and mirrorless form. Let's take a closer look at the contenders...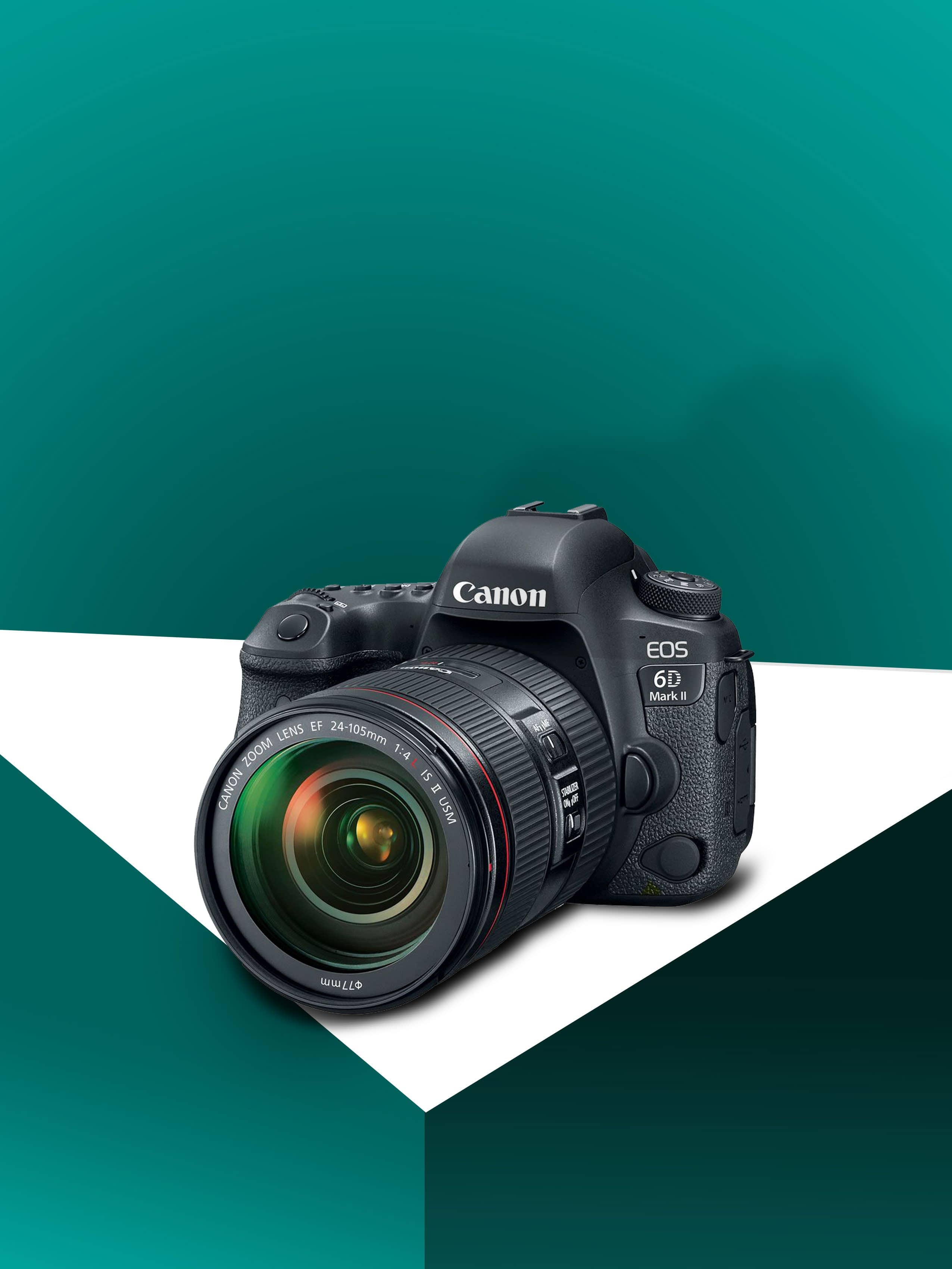 FRONT
The pentaprism viewfinder is bright and clear, but unlike those of all of the other cameras in the group, it only gives 98% coverage of the image frame
Canon EOS 6D Mark II
A highly versatile DSLR, the 6D II is a major upgrade over the original
Still going strong after three years, the 6D Mark II is reasonably compact for a full-frame DSLR and offers great handling. Plentiful direct access buttons and dials ensure that you can quickly get at all the important settings for creative shooting, while for delving deeper into settings Canon's Quick menu system is intuitive, and works a treat with the rear touchscreen. The weather-sealed construction is robust but fairly lightweight for a DSLR; even so, the camera is significantly chunkier and heavier than Canon's mirrorless EOS RP.
One of the major upgrades over the original 6D is that the Mark II has a much improved 45-point autofocus system. Moreover, all of the points are cross-type, are able to resolve detail in both horizontal and vertical planes, and 27 of them work at apertures as narrow as f/8. Better still, the Mark II features a Dual Pixel AF image sensor, enabling hybrid phase/contrast-detection autofocus in Live View stills shooting and video capture. As such, sensor-based autofocus is much faster and less prone to hunting.
Live View and movie capture benefit from the upgrade to a vari-angle touchscreen, and the newer model also adds Digital Movie IS, which enables electronic image stabilization when shooting movies. However, movie resolution tops out at 1080p, so there's no 4K UHD capability other than when you're shooting in timelapse mode.
Autofocus and metering are consistently accurate, while auto white balance gives a subtle and attractive warmth. Image noise is suppressed very well, even at very high ISOs, and the maximum burst rate is a nippy 6.5fps. Battery life is very good, with around 1,200 shots from a fully charged battery.
You can read up to 3 premium stories before you subscribe to Magzter GOLD
Log in, if you are already a subscriber
Get unlimited access to thousands of curated premium stories, newspapers and 5,000+ magazines
READ THE ENTIRE ISSUE
July 16, 2020