Singing the Praise
Native American Art Magazine
|
April - May 2020
A new exhibition at Chicago's Field Museum presents works by contemporary artists who were inspired by the museum's historic collection.
CHICAGO, IL
In early 2019 I was asked to be the co-curator of Apsáalooke Women and Warriors by Apsáalooke scholar Nina Sanders. At this point I had only been at the Field Museum for about nine months as a postdoctoral researcher for the renovation and reimaging of the museum's Native American Hall. I was assigned the curatorial duty of contemporary art curator, a completely new territory for me, considering my background in history and anthropology. Though I was a fan and follower of many wonderfully talented artists on social media I was a tad concerned that I could do the job justice. However, after I expressed my worry to Sanders, she simply replied, "You got this."
Together we created a roster of artists that embodied the Apsáalooke spirit of art and creativity, ultimately reaching out to Bethany Yellowtail, Birdie Real Bird, Della Bighair Stump, Elias Not Afraid, Kevin Red Star, Ben Pease, Del Curfman, Allen Knows His Gun, Adam Sings in the Timber, and Mona Medicine Crow.
However, one important aspect of Apsáalooke culture to know is that no one sings their own praises. To do so could bring harm to you and your family. This explains why one of the greatest honors an Apsáalooke person can receive is through the celebration of their accomplishments by someone in their community. Keeping this concept in mind, we selected male artists, who were not only raised by independent, strong and dynamic women, but who have chosen to honor their mothers, grandmothers, sisters, aunties and cousins through their artwork. This theme ultimately became the structure of the exhibition.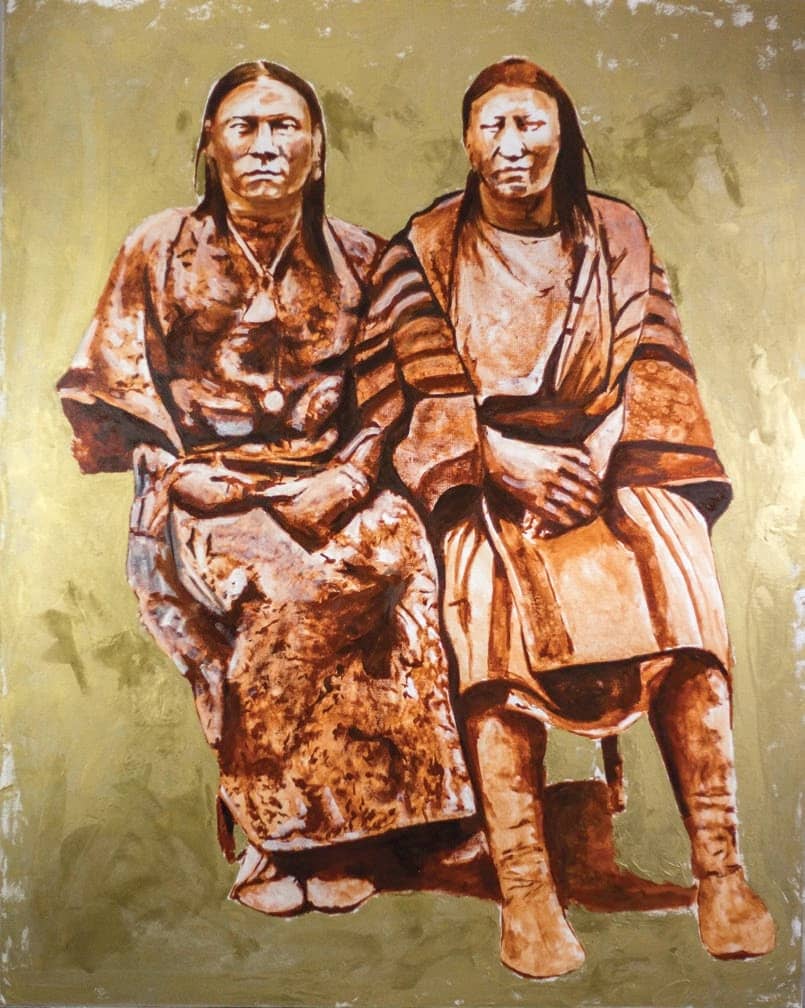 To give everyone the opportunity to commemorate this essential message, we asked each artist to come to the Field Museum to spend time in the Apsáalooke collection to be inspired to create new work. Sanders and I hoped that by examining the collection, the artist could create new works that demonstrated just how much the past influenced their contemporary world. We also anticipated that they would unearth never-before-seen patterns or techniques so that they could revitalize them for the exhibition. Although not all of the artists we worked with could make it to the museum last winter, their work is still indicative of the exhibitions' mission in celebrating Apsáalooke culture and traditions, including recognizing the role of batee, or two-spirited people by a painting done by Curfman. This piece not only challenges Western concepts of gender, but also encapsulates Curfman's goal of inspiring non-Native audiences to learn about the many people who have helped the Apsáalooke prosper. For those that did get a chance to view the collection, I think it is safe to say the experience was life changing.
I will never forget the moment in February 2019 when I first met Apsáalooke/Northern Cheyenne fashion designer Yellowtail. Having followed her on social media, the fangirl in me could not calm down. So, as we walked into the Field Museum's collections space, two floors below the museum's ground level, I intently focused on not tripping over myself. I eventually regained my composure upon the opening of a cabinet that housed a war shirt collected by the museum in the early 1900s. It is important to note that war shirts were not typically worn by a man into battle. Rather women made them to celebrate a man's achievements; which explains why these shirts are decorated with beautiful beads and patterns.
You can read up to 3 premium stories before you subscribe to Magzter GOLD
Log in, if you are already a subscriber
Get unlimited access to thousands of curated premium stories, newspapers and 5,000+ magazines
READ THE ENTIRE ISSUE
April - May 2020