LASTING IMPRESSIONS
Native American Art Magazine
|
August - September 2020
Figural design motifs give expression to Zuni inlay jewelry.
Many interesting advances took place in Native American jewelry making during the mid-20th century. The 1950s and 1960s were a period of renewed experimentation, boosted by the replacement of the gasoline blowtorch with a more precise and safer acetylene torch and more plentiful sheet silver and wire. By the 1970s, a would-be "boom" in Indian jewelry creation produced a wider market for both conventional and innovative designs. These three decades of social change offered new opportunities for stylistic variations.
One of the most significant developments between 1950 and 1980 was the adoption of figural (animal and human) design motifs. Pre-1945 Pueblo jewelry offered surface decoration that was essentially abstract or organic-themed. Steer heads on silverwork and carved leaves, birds and fetish animals appeared in the 1920s and 1930s. Commercial Indian jewelry of that time used derivative figural designs. When carvers and jewelry makers in Zuni Pueblo began shaping figural images in earnest after 1945, their work signaled a large shift in visual depiction from earlier decades. In many ways, however, Zuni was the obvious place for innovation and changing representations.
Zuni is the westernmost Pueblo in New Mexico, not far from the Arizona border. Historically, its inhabitants received a number of unwelcome visitors, from Spanish conquistadors making their entrada into the Southwest to prying anthropologists in the late 19th century. Matilda and James Stevenson arrived in 1879; Matilda was a prototype of the fictional Amelia Peabody complete with parasol. They were joined by fellow anthropologist Frank Hamilton Cushing (18571900) who famously "went Native" and upon returning East sold out his hosts' private rituals. Cushing is loathed at Zuni to this day. Talented artist Phil Hughte created a pictorial cartoon series, A Zuni Artist Looks at Frank Hamilton Cushing (1994), marked by a wry sense of humor much like that of Ricardo Caté.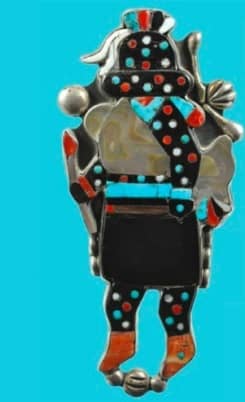 One of Cushing's most enduring contributions to the start of figural representation at Zuni was an illustration he made for a report to the Smithsonian's Bureau of Ethnology. He drew a reproduction of a shrine of the Bow Priests. On the top area of the shrine was a depiction of the Zuni deity Atchialatopa, or Knifewing. Cushing labeled this sacred being a god of war, but this figure also possessed a more complicated role as a warrior in folk tales. Knifewing had both monstrous and beneficial attributes, and was associated with animal spirits. A number of Zuni smiths told John Adair that once a Knifewing design was rendered in silver, it lost all religious significance.
Zuni's best-known and most industrious Indian trader, C.G. Wallace (1898-1993), was so taken with the figure that he reproduced it on his business stationery. Horace Iule (1901-1978) is credited with being the first smith to create a silver Knifewing for decorative purposes in the late 1920s. Fellow artist Juan Dedios (1882-1944) was also known for his renderings of the Knifewing in the 1930s. This image was a breakthrough of sorts in terms of figural designs. Nevertheless, other such representations remained scarce until after World War II.
By the 1950s, numerous Zuni silversmiths and lapidaries were creating the Knifewing in a "traditional" manner. Most of their inlay jewelry was fashioned as dual pin/pendants. In an unsigned design, probably the work of Alonzo Hustito, known for adding framing silverwork, we can see one interesting variation on the bird-human figure of a Knifewing. This piece is identifiable by its conventional flint edged wings, terraced skycap and squatting pose inlaid in jet, coral, turquoise and shell. The Knifewing and another mythological figure, Rainbow Man, are still the best known and most regularly formed Zuni figural designs in the marketplace.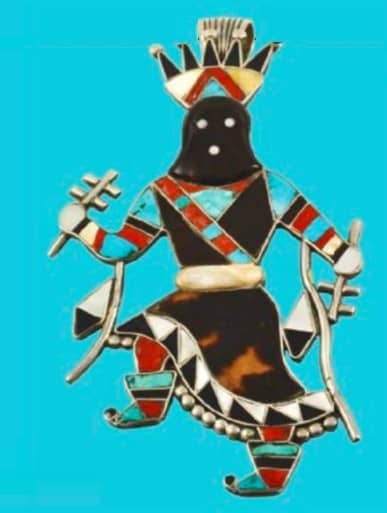 You can read up to 3 premium stories before you subscribe to Magzter GOLD
Log in, if you are already a subscriber
Get unlimited access to thousands of curated premium stories, newspapers and 5,000+ magazines
READ THE ENTIRE ISSUE
August - September 2020