IT'S A MYSTERY
Native American Art Magazine|April - May 2020
A 140- to 150-year-old Navajo transitional blanket may have been intentionally woven to form sacred symbols when folded in certain ways. Or perhaps it's simply a nice weaving.
One thing about art which is always predictable, and that is a person's reaction to art is never predictable. This is because art, no matter the form, can touch someone's soul while another person just doesn't get it. Case in point: a beautiful yet rather unusual Navajo weaving which truly defies predictability on so many levels. To some, it's intriguing, colorful, and interesting. To others, including the former owners and current owner, this piece holds a hidden message of healing and culture, which they believe is coming through loud and clear.
First, the basic facts, which everyone agrees with: This Navajo blanket is considered late classic/early transitional, likely from the early 1870s, with hand-spun warp threads and hand-carded, hand-spun Churro wool, 79 by 51 inches. The colors, indigo blue, and the red Saxony plied yarn remain brilliant as the very asymmetrical pattern meanders across a white field. It's also in excellent condition.
Where this blanket was until the 1980s is really not known at this time. That was when it came to the attention of the late Andrew Nagen, who worked in partnership with Ray Dewey, a consultant and collector, and co-founder of Dewey Galleries Ltd & the Santa Fe Gallery Association in Santa Fe. They held it off the market for a few months, keeping it in their private collection, but finally made it available, and it was quickly snatched up.
"This piece was very unusual, and I was sort of tempted to just keep it, because I had never seen anything quite like it," Dewey remembers. "The use of the amount of indigo in it is interesting, because that's a very precious, rare dye at that time."
The design as well was something he never forgot. "It appears to have a border, but it is floating in the white field. It's not attached to the sides or the ends, like many regional rugs were coming years later."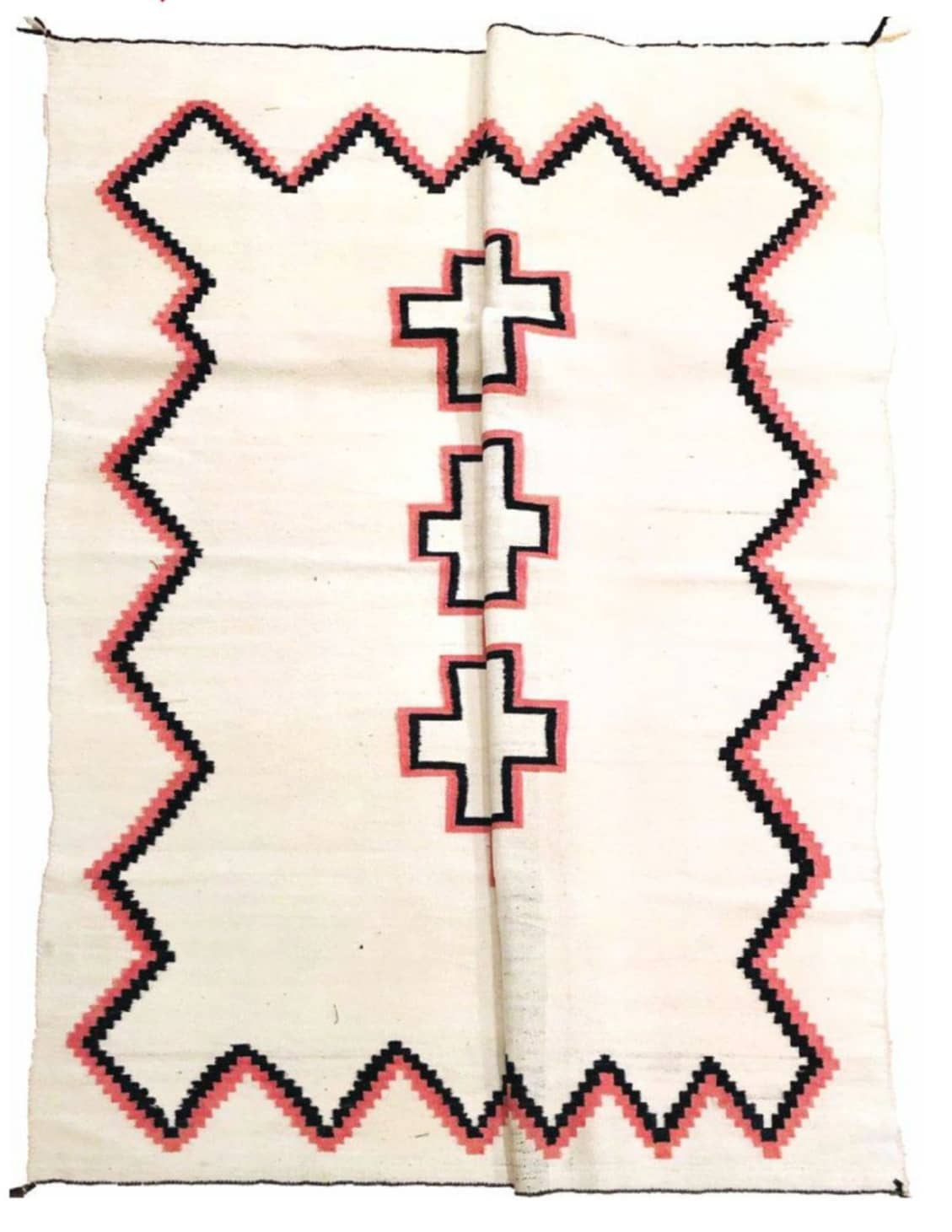 "I have not seen anything like it before," says the next owner, Steve Getzwiller of Nizhoni Ranch Gallery. "That's what attracted it to me in the first place…it was a really unusual design."
So, the non-traditional blanket with unusual design remained with Steve and Gail Getzwiller in their Sonoita, Arizona, gallery until that day a little over a year ago when a collector from Minnesota stopped in. She had recently started collecting Navajo weavings and has a fondness for transitional-era pieces. (For this story, she asked for her name to be withheld).
"The sort of transitional, which could be pretty wild in colors, I love," she says. "I think it's sort of like French Impressionism to me. It's like they're (the weavers) just really breaking out and doing what they wanted, rather than doing what people told them."
"I'm a very thorough buyer," the collector says. "And this piece was so abstract it was just not attractive to me, when I went in and bought my first two pieces. But…I don't know what it was, but I woke up and thought, 'I've got to find out if it's still available and buy it.'"
You can read up to 3 premium stories before you subscribe to Magzter GOLD
Log in, if you are already a subscriber
Get unlimited access to thousands of curated premium stories and 5,000+ magazines
READ THE ENTIRE ISSUE
April - May 2020