Yu Maeda
JUXTAPOZ|Summer 2020
The Balance of East and West
For decades, Americans, especially artists, have had a unique curiosity (well, an obsession) with Japanese culture. From comics to fashion, ceramics to underground art, Japan has set the standard for passionate, intricate, creative expression. So imagine our surprise when Japanese-born, Los Angeles-based painter Yu Maeda revealed that it was his move to the US that awakened him to the unique art language of his homeland. Nurtured on American cartoons, music and iconography, Maeda now focuses his work on more traditional Japanese imagery, balancing the flavors of East and West as he savors an exhilarating journey into the world of fine art.
Before a massive warehouse fire destroyed their space in downtown Los Angeles, Superchief Gallery's Bill Dunleavy sat down with Maeda to discuss the equilibrium in his work, from American horror movies to the Japanese Shinto religion, to individualism and the excitement of returning home to make a new body of work.
Bill Dunleavy: Where are you from originally, and what brought you to the US?
Yu Maeda: I was born in Kumamoto Prefecture, which is in the south of Japan. After learning design at Kyoto University of Art, I worked in Tokyo for seven years as a commercial animator. Eventually, I got tired of making that kind of work and taking the client's instructions, and I wanted to create a job for myself.
At the time, I was doing some illustration and doodles for fun and wanted to draw pictures more seriously. I figured I'd quit my job, make a big life change, and try to make it work. I have always been into American film and culture, so I decided to relocate to the US.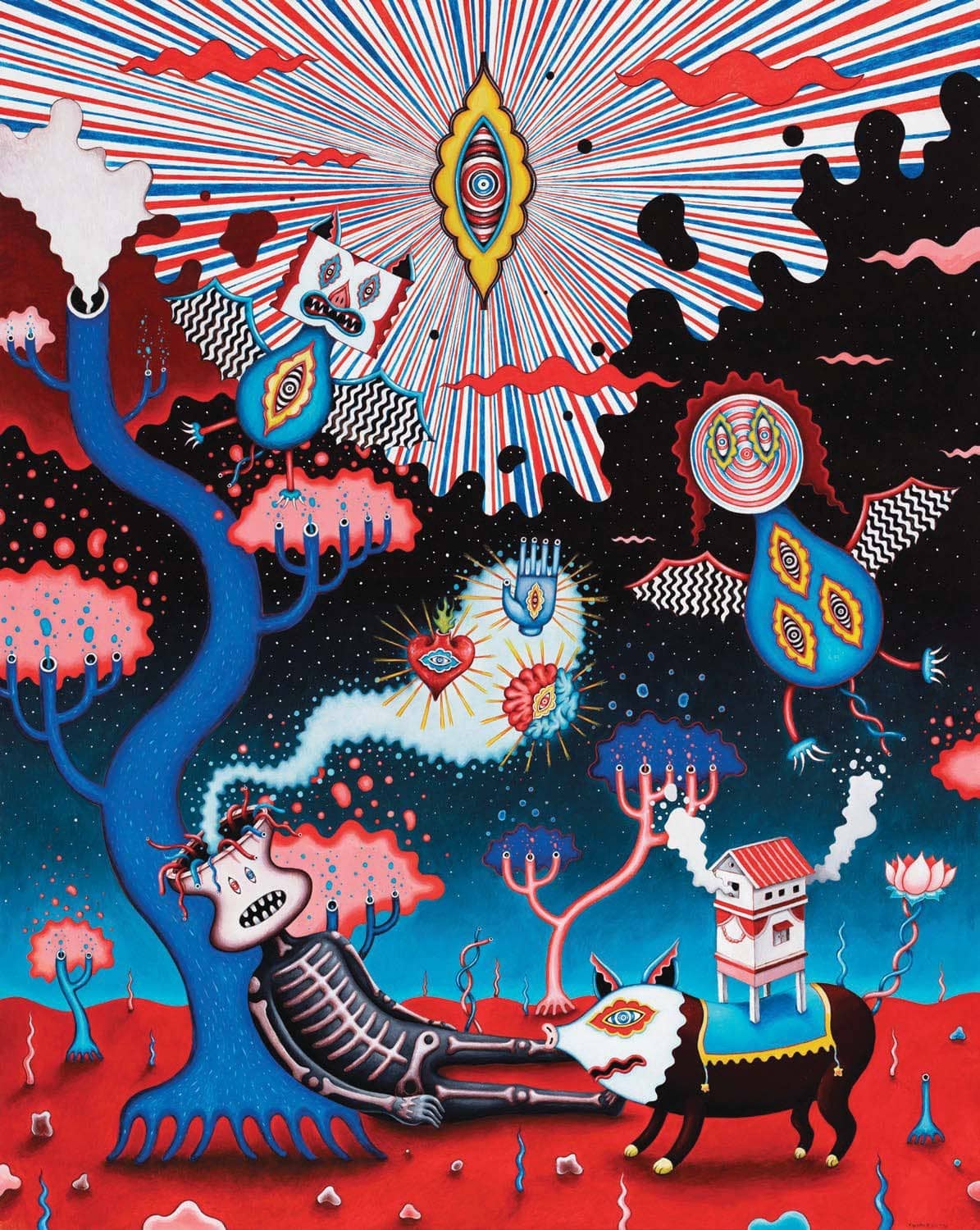 What role did American culture play in your life growing up, and in influencing the artist you've become today?
American culture, like 1980's horror and sci-fi films by directors David Cronenberg and Alex Proyas, have always been really influential for me. My parents showed me a lot of American TV growing up instead of Japanese stuff. We watched a lot of The Simpsons and Disney in my childhood. I specifically remember this Disney animation called Silly Symphony: Flowers and Trees, which I had on VHS and watched over and over again. I think that's the first illustration I remember being inspired by. Later on, I got into South Park, too.
As for illustration and art, things like Rat Fink, and Lowbrow artists, and skate graphics by Jim Phillips were always some of my favorites. Skateboard culture was a big influence on me, even though I'm not good at skating. Musically, I'm into punk and hardcore, mostly UK Punk and '90's hardcore, and post-punk like Fugazi.
You can read up to 3 premium stories before you subscribe to Magzter GOLD
Log in, if you are already a subscriber
Get unlimited access to thousands of curated premium stories and 5,000+ magazines
READ THE ENTIRE ISSUE
Summer 2020