Peace, Justice and Strength
TOward 2030 Uses Art for Urgency
Ready or not, 2020 has slammed the future before us, and it's time to sink or swim. Climate change, transparent communications, accessible healthcare, and social justice reform have become shared global missions. In so many respects, educating the path to reform is a difficult task, but visual art expression can often convey urgency and connection where words cannot. In this critical moment to steady the global tipping point, a major pandemic has forced us to exchange ideas in the digital space instead of physical social collaboration.
This past spring, Lavazza launched TOward TOmorrow and a 2020 international contest with a project called, "TOward 2030, What are you doing?" Artists from around the world created artwork from a list of 17 global NGOs working under the United Nations' 17 Sustainable Development Goals. With hundreds of entries from around the globe, the winner of the 2020 competition was UK-based, self-described "creative maker," Pricklysauce, whose work embodied SDG 16—Peace Justice and Strong Institutions. We sat down with the artist after the announcement of his winning work, a potent poster image flashing colorful strength and the immediacy of classic graphic design. From a life in architecture, furniture design and his own poster-a-week project, the 50-year-old artist has had a lifetime working in the arts, and a breakthrough in his practice.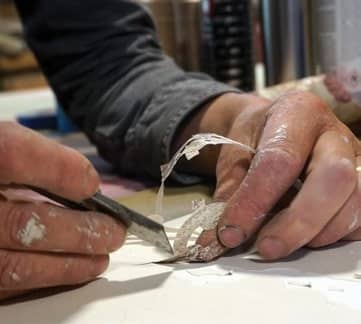 Evan Pricco: There are so many creative endeavors you've pursued: crafting furniture, working in an architecture firm, and now donning the encompassing title of "creative maker" as you work under the moniker, Pricklysauce. And since you mentioned being interested in street art, what struck you about it?
Pricklysauce: It's not just vandalism. It's cultural art, part of the urban makeup. It's actually an important part of society now. Because I studied architecture, as well, I've explored some of these things, maybe not directly with graffiti and street art in my own work, but in my third year, when writing my dissertation, there was another architect, a skateboarder and graffiti artist. And that was incredibly cool to have someone who started discussing architecture around those subjects. So I guess it's always fascinated me.
But also, like any creative, looking at something, you say, "What can this give me in a different way?" It's going to be public, but they're also taking that space and making it something else, making it their own, often bringing to it a social-political commentary, as well. There's actually a lot to it.
You can read up to 3 premium stories before you subscribe to Magzter GOLD
Log in, if you are already a subscriber
Get unlimited access to thousands of curated premium stories, newspapers and 5,000+ magazines
READ THE ENTIRE ISSUE
Fall 2020