Laura Berger
Body Language
Laura Berger headed to the coasts of Costa Rica for her first great escape, and the shores still tug mightily. She's a Midwestern gal, born and bred, a firmly centered one at that, but like the symphony of skyscrapers for which her hometown of Chicago is known, her figures are unique but dance in harmony. A background in theatrical performance informs the understanding that ensemble enhances the beauty of a solo, while her devotion to yoga is evident in the rangy bodies that curl up in contemplation or reach out and strive like her city's skyline. As she readied for her show with Hashimoto Gallery In NYC this November 2020, I spoke to the painter, and sometime sculptor and animator, about her melodious, multi-fluent and timeless inhabitants who speak softly but sound out.
Gwynned Vitello: You paint men and women, but when I look at your pieces, I don't really see a sexual identity. I guess I'd say I see humanity. Or maybe the gentler qualities ascribed to humankind? And, if not non-racial, certainly not blue-eyed and blonde. Am I way off-course? Laura Berger: I mostly paint women because that's my perspective point, but the focus is intentionally not placed on the sexualization of the figure— it's more about sensuality and comfort in the body and feeling. While feminism also plays a big, underlying role in my work, the themes aren't exclusively centered around that. I've been using the figures as a way to explore our shared humanity, the unifying experiences that we share on emotional or spiritual planes. I'm thinking about things that are more existential and universal, so the characters are used as a representation of all of us, serving as a kind of template to work through these ideas.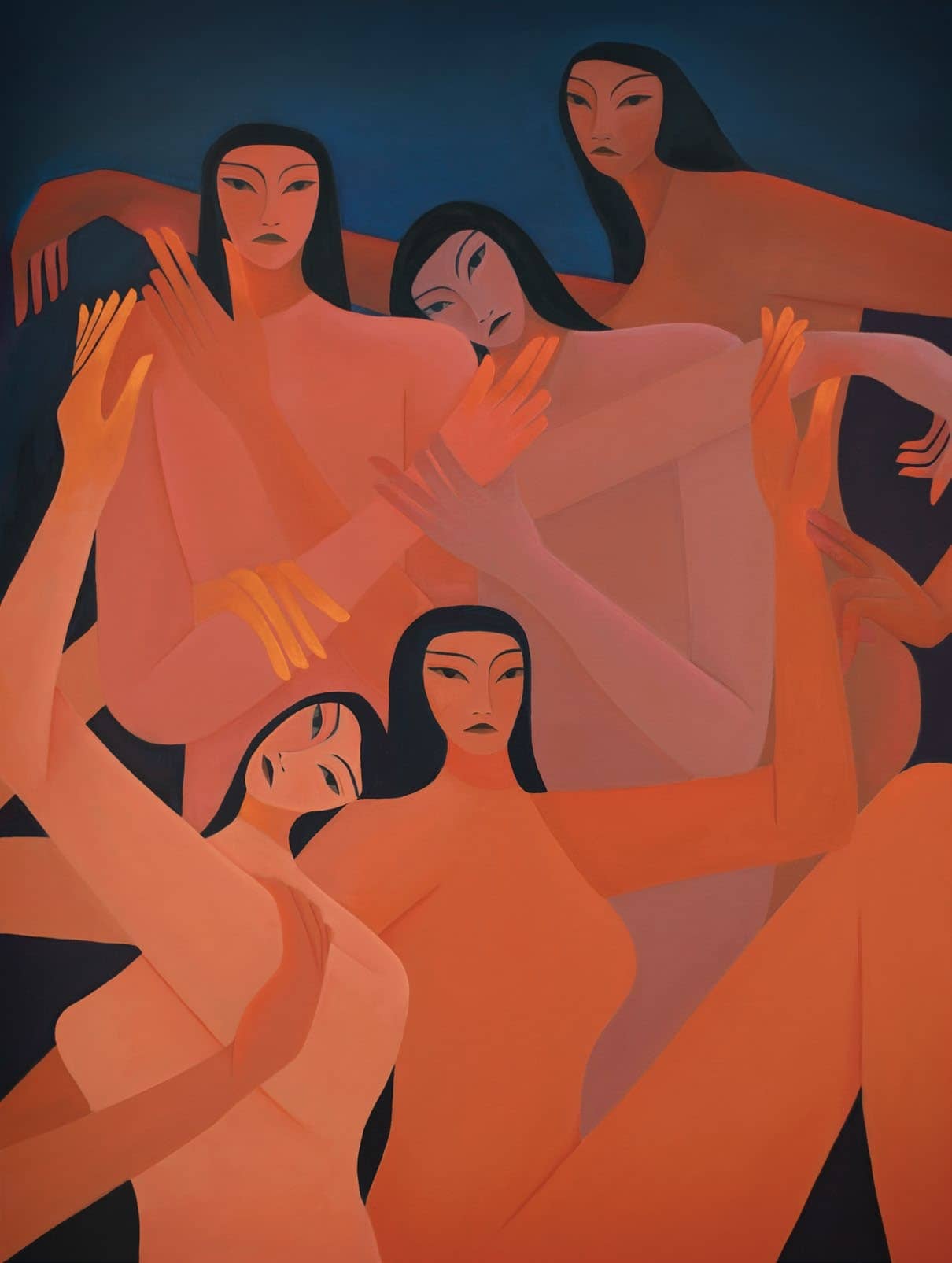 Your background in performance and stage sets must influence your work, especially the evident choreography, from Busby Berkeley to Contemporary dance. Do you visualize your bodies in that way?
I'm definitely inspired by dance, and really, any kind of movement. I'm not necessarily thinking of the figures as dancers or dancing, but I want them to be deep in their bodies and physically expressive. I try to use the positions that I'm painting as a way to visually render their psychologies, their inner lives.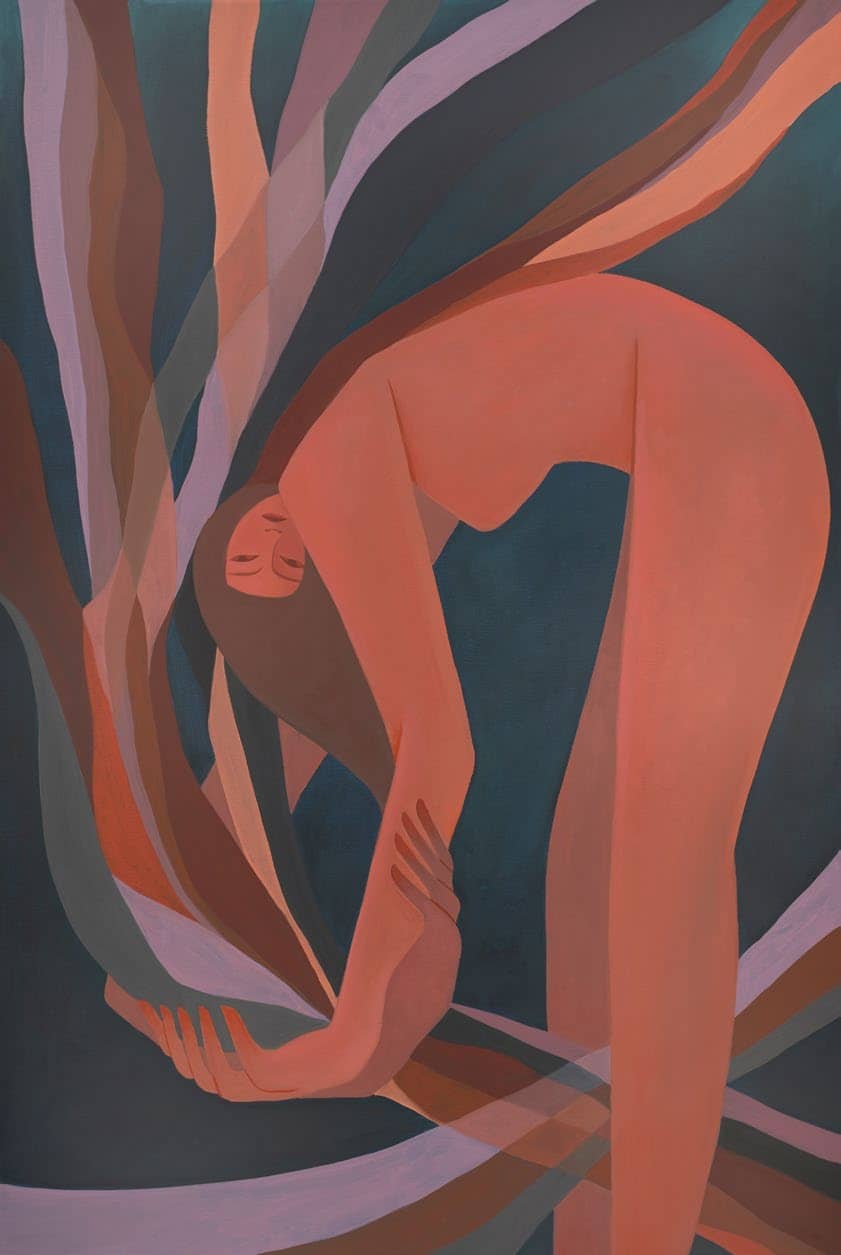 Is there a genre of performance that influences your art, and if so, can you explain how?
As far as performance goes, it's most powerful for me when I connect with it on a felt level, in the gut of the heart. So, really, anything that feels pure and honest is exciting and can be inspirational on a quieter, internal level.
Almost every interview references your devotion to yoga. But beyond that practice, your work celebrates body awareness. Maybe there are a lot of swimmers in the paintings! How important is yoga to the work you do?
I would say that yoga is just really helpful for creativity. I can get a lot of nice visual flashes of imagery any time I'm able to turn down my thinking mind a little. It connects to work for me most in the way that painting, yoga and meditation can be therapeutic and mentally or spiritually expansive. Art and yoga are both practices that help us hook up to the things that are more intangible or exist beyond logical grasp.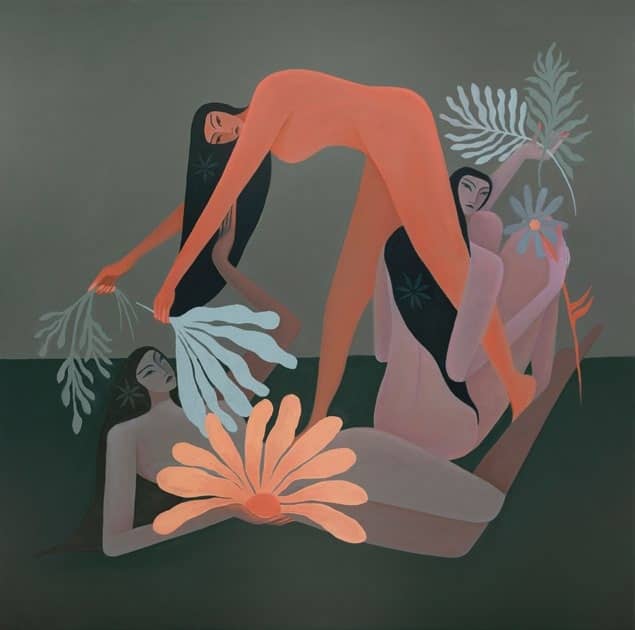 There are ideas that I'll be working through in my actual life, and I use yoga as one of the tools to do that, but painting is another equally important tool. So, for me, they feel very interconnected; they're just different ways to get there.
Let's go back to growing up in Wisconsin. Most artists I interview say they grew up doodling, making art. Did you? Or did that take a backseat to you setting up stage plays in the neighborhood?
I was a child doodler, for sure. I was a pre-Internet kid of the '80s and all I remember from growing up is doing weird, random creative projects with my friends. We drew and made clothes and magazines and recipe books and board games… but yes, I also loved to sing and play the piano too.
You can read up to 3 premium stories before you subscribe to Magzter GOLD
Log in, if you are already a subscriber
Get unlimited access to thousands of curated premium stories, newspapers and 5,000+ magazines
READ THE ENTIRE ISSUE
Fall 2020