Kelly Beeman
JUXTAPOZ|Summer 2020
A Fantastical Life
Long before the Great Pause of 2020, we had planned to speak with Kelly Beeman. Her watercolor works and paintings are stories of domestic life, the little dramas and fantasies we create about the past that almost feel cinematic. She paints solitary moments, as well as familial bonding, scenes of the recent few months we had longed for, or maybe been desperate to escape. Amazingly, our daily lives are Beeman's universe, symbolic interactions we have with the self and others that are dramatic and internalized, yet feel so common. We spoke to Beeman from her Brooklyn apartment a few weeks after a studio visit, now in a world so altered, but immersed in artwork that felt so perfectly prophetic.
Evan Pricco: Asking how you are doing seems so different now. I want to make sure I ask, "How are you doing?" and have an answer on record.
Kelly Beeman: It's pouring rain. I'm inside like everyone else right now. It's kind of weird that it hasn't changed my routine that much. It's like the world around me has just sort of shifted into absolute craziness, but individually things are still the same. I'm not going to my studio as much, but theoretically, I could walk there. I could work there because I'm alone. Then, in terms of my work, I've had people saying things like, "Everyone is kind of in your world now, stuck at home and in these weird domestic situations."
I do feel like much of your work defines the mood of these times.
There's something uncanny about how perfect it is. I've been feeling that lately, in the sense that it hasn't changed my life very much or my approach to art-making. The same themes are there. I'm not thinking, "I can't work." It's such a break with the past when I was working very comfortably in imagining this hypothetical scenario. It's kind of symbolic in a stuck-at-home scenario, not like one that's actually happening. Then I thought, "Okay, I need to really make something new," in order to be able to talk to you. I spent the weekend working on a new painting, which, in some ways, could have been made a few weeks ago, but there is a crucial difference: it has more people. It has more of the sustaining character, which has multiplied. There's a change.
I think that your paintings, right now, really do have this underlying friction of what domestic life might be for people. And what I think is really unique to your work is that you don't have to have to try and tap into this feeling, because you are already there!
Those domestic spaces and the paintings function for me more symbolically. It's not really an actual situation. It's more of a place that everyone can relate to, the vessel for our lives, our families, our little dramas. It's really just that. I don't think I'm going to focus on it now in a more literal way, even though we are literally there now.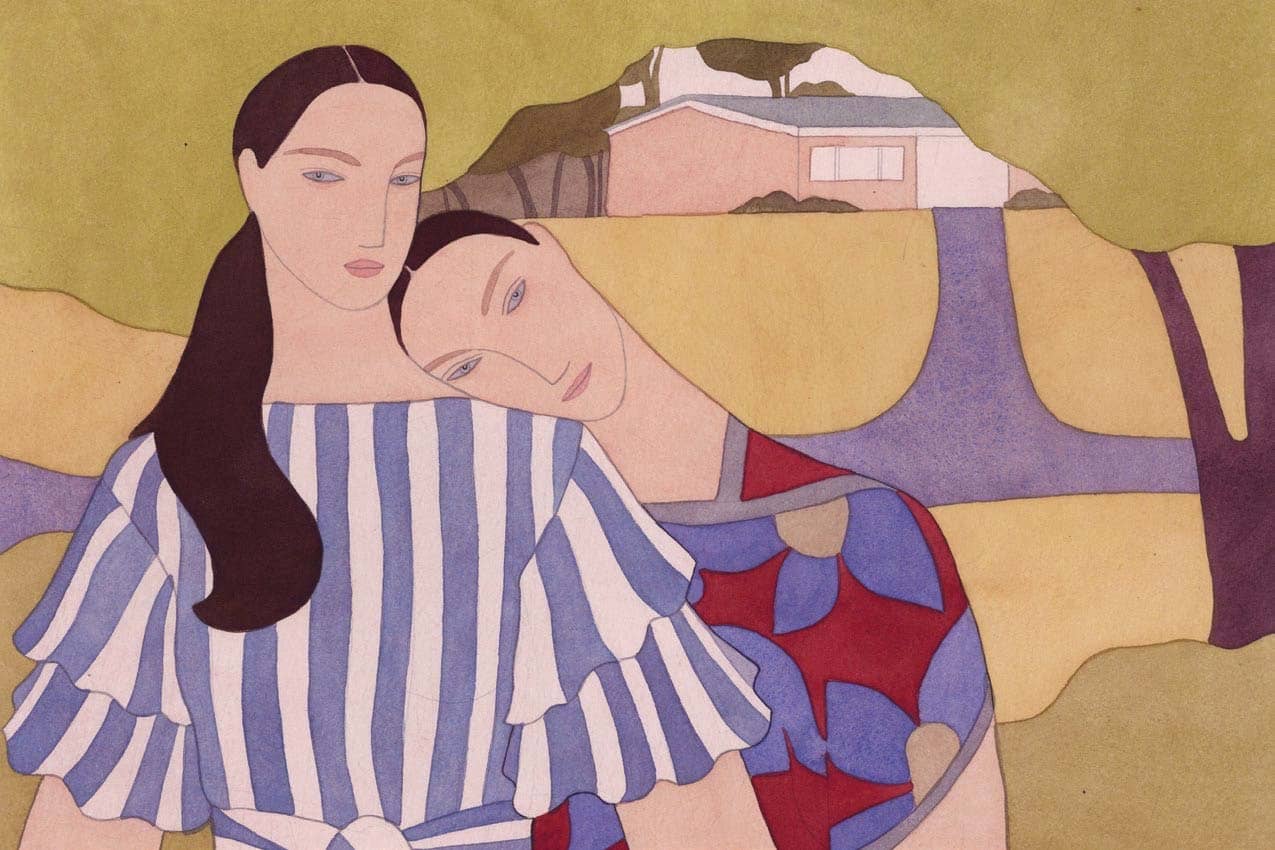 Are the subjects you paint based on real life? Do friends or family say, "Oh, that's me in your painting."
They're not really anyone in particular. There was an exception to that when I did a few that were supposed to be my sisters, but that was really the only time. The rest of the time they're kind of like clones or prototypes; they're all the same. They're supposed to all be the same kind of equality that I occasionally experimented with abandoning, but then I always go back to it because it's kind of essential to the work.
They're sort of like actors that live out my life sometimes. Not always, but sometimes they're autobiographical narratives. You could say that maybe they're me, but I wouldn't say they always are, either.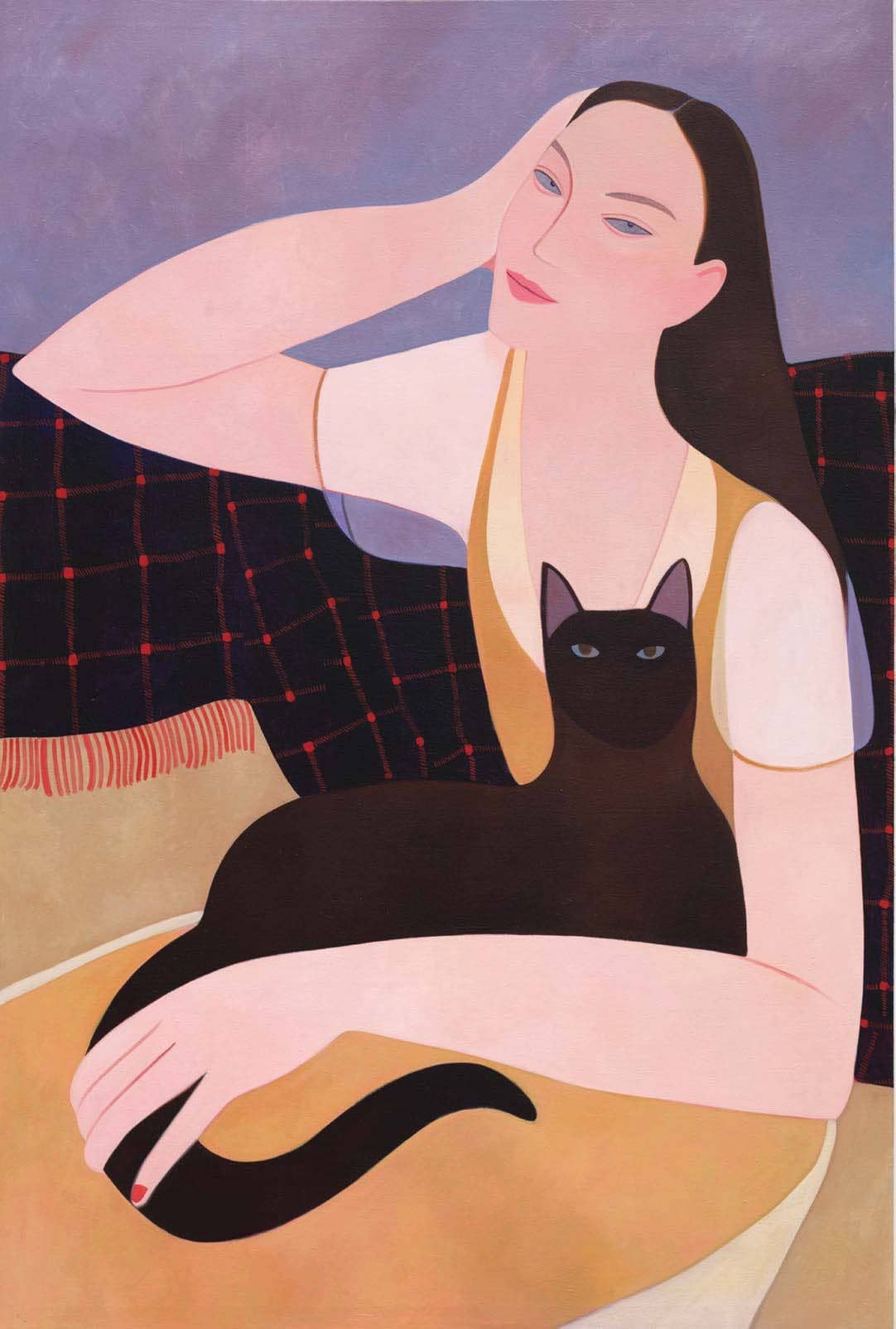 Do you have a hard time looking at the bulk of your work in that way, wondering or recognizing that it is like a diary or a screenplay of your own life?
I think, in a way, because those experiences are kind of repackaged. They have been through a beauty filter of things that were painful to live through in a painting, but then sort of presented in a way that is very beautiful with color and fluid forms, which lends a lot of harmony to them. When I look at them, the idea is to not feel any sort of tension. If I feel tension coming from anything, whether it's just the formal qualities of the work or a shape or a line where I didn't successfully achieve what I wanted, then I feel tension from that.
I feel a bit of tension looking at your paintings because it seems the characters are holding some sort of story, like they want to tell you something. I don't know if that's the intention, but it's very palpable to me.
I would just hope that there's a difference between curiosity and tension.
I don't feel stressed out, but I want to know the story.
Yes, that I do want. I would want people to feel curious looking at them, to feel an intriguing element or something important has happened. There's a secret, there's something you have to discover in the narrative. They're not just sitting there to be looked at, there's an actual story. At the same time, I want people to feel serene and relaxed, deriving a kind of pleasure by seeing a story kind of unfolding.
You can read up to 3 premium stories before you subscribe to Magzter GOLD
Log in, if you are already a subscriber
Get unlimited access to thousands of curated premium stories and 5,000+ magazines
READ THE ENTIRE ISSUE
Summer 2020