JR Everyday People
JUXTAPOZWinter 2020
Let me make an image that would describe [a feeling] without struggling with the words.
" Midway through our tour of his massive retrospective, JR: Chronicles, at the Brooklyn Museum, JR quietly voiced what his entire body of work captures. In his heart, he is a storyteller, one who has traversed the world creating portraits permeated with feeling that cannot be described in words. They are feelings, and somehow, whether celebrity or random person on the street, the subject of JR's camera sheds inhibitions, prejudices and even social class. They are, and this isn't too far of a poetic reach, they are just themselves.
JR has spent almost two decades working with… people. He explores ways in which the photograph can be used to eliminate hierarchies, challenge our perceptions of space and place, and use the power of community-building to develop a universal language aimed at achieving a better understanding of surrounding points of view. The people we don't speak to, that we have, for political or social reasons, perceived with a skewed and potentially harmful stereotype. From his first works in the neighborhoods in outer Paris, to his recent video murals encompassing entire cities, JR aims to find a real story that can help us better comprehend our world.
Since we last spoke, JR has become an academy award-nominated filmmaker, worked with Robert De Niro on a short film, hung out with presidents and built an installation at the Louvre (full disclosure, JR even got this writer to wheatpaste with him in Paris for this project). But that ethos never changed: what are our stories and how can we collectively tell them?
Ever charismatic, JR walked me through his exhibition with the energy of someone telling the story of his work for the first time. At only 36, he is a wise sage, but one who never takes his access to both celebrities and our city streets for granted. In many ways, this is our collective history, one that JR treasures and preserves.
Evan Pricco: Let's start with the first iconic image that opens the Brooklyn Museum show, your friend in the suburbs of Paris, holding the video camera like a gun.
JR: I took that when I was 19, and it came right after I did my first photos with the camera I found in the subway. This is in the projects outside Paris. That's my best friend, Ladj Ly, and we started together. I did that photo at 19 years old, and a year later, the riots exploded in front of a pasting of it. The mayor sued me. That image becomes, you know, the background of the loudest riots we had in France since the French Revolution. And, over the years, we stay friends and our careers, in a way, started there. He wanted to be a filmmaker, I wanted to become an artist. At that time, we didn't even know that's what we wanted to become, that's just what we were doing.
This year, he presented his first movie at Cannes, Les Misérables, and won the best director award! He's the only movie represented by France at the Oscars this year, too. The movie is a striking point of what's happening in the projects today, and you'll see all my backgrounds in the movie because that's where we shot. That was our playground for all those years.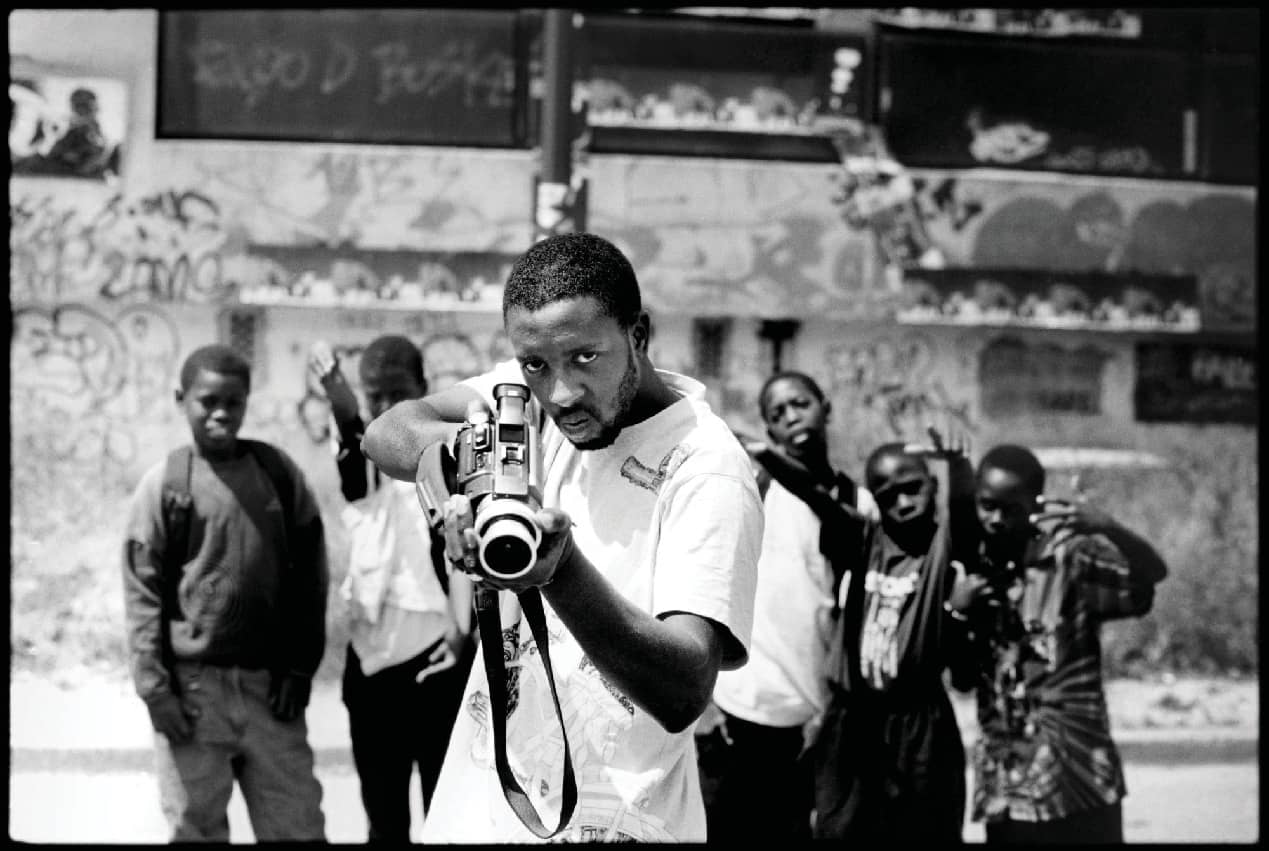 This was before there was a term "street art," before any of the international movement was labeled. You were doing this work illegally, but it's sort of amazing how all of this comes full circle.
Really weird. But I wanted to start the Brooklyn show with this image because that's how we started and we never knew when that image would make sense. So when we took it, it was already a photo. We were like "Whoa!" We didn't even know how we did it. Then we pasted it on the wall and this mayor sued us and I was, like, oh, shit, I don't want to pay a fine. "I leftthe country for one year. When I came back, the riots started, and that's really when people noticed the wall from the background.
And that's where I had my first job offer with a press agency that said, "Hey, we'll pay you to photograph your friends burning cars there." I was the only one who was able to enter the neighborhood. No journalists could enter, but the thing is, that's not what I wanted to do, so I refused that job. And that refusal set me up as an artist because I refused a job where I would get paid to do images. I borrowed a camera that had a 28-meter lens and started taking photos of my friends making funny faces. So basically that image had been a decisive moment for what I do today. If I had accepted that press job, I would be a photojournalist, I'd be doing some other stuff. So really, without even knowing it, there was a job for being an artist and I kind of fell into it.
And the best part: you took this photo without any intention of really anything. It's just a great photo.
I was just pasting in our neighborhood, you know? And then my friend was just filming. A couple years ago, I was doing graffiti, and I found the camera in the subway. Some tourists forgot it. No name, nothing. I started using it, and it wasn't a good camera; you can't even change the lens or anything, but you have a strong flash. So I start shooting our journeys on roofs and stuff, all around Paris, in the subways.
I had never seen a museum, never seen a photo gallery. I didn't know about any references. So all of this documentation, and really my art career, doesn't come from a reference. I had no knowledge of that.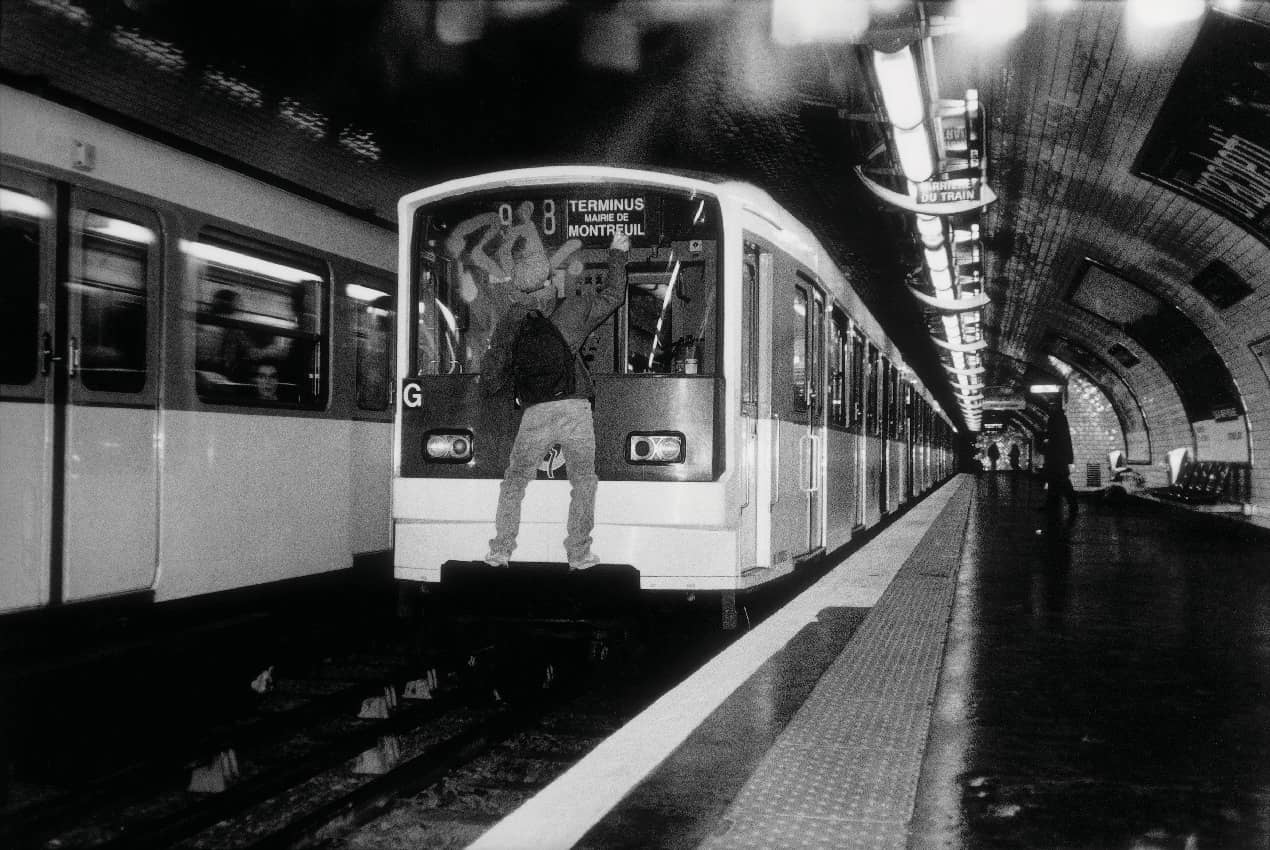 It was just you going out with your friends and taking photos.
I wanted to take photos that if I showed them to you, you would understand without me explaining, you'd know what the vibe was. There's people waiting on the track, we're in the terminal, I'm in the middle of the track. I don't need to tell you. That's what I was really trying to transcribe. Each time we were coming from this crazy adventure, it was having to find words to describe it. And I was like, "Oh, let me make an image that would describe it without struggling with the words."
There is a photo I took of a wheatpaste I did, the first sidewalk gallery I had done. And without knowing it, it was right in front of the Museum of Photography in Paris.
Twenty years later, you had a show in that same museum.
But at the time, I didn't know that there was even a museum there!
And you had never really taken photos before? This was prior to a world where everyone was taking photos.
You can read up to 3 premium stories before you subscribe to Magzter GOLD
Log in, if you are already a subscriber
Get unlimited access to thousands of curated premium stories, newspapers and 5,000+ magazines
READ THE ENTIRE ISSUE
Winter 2020