Calida Rawles
JUXTAPOZ|Summer 2020
Wade in the Water
A Dream for My Lilith was 2020's most talked-about West Coast exhibition, the first solo show for Calida Rawles, whose work took multiple forms until an enlightening deep dive. Water arose as a metaphor for life, death, the ubiquitous unknown, and the universe, and she's only just begun this exploration.
The paintings Calida made to accompany her friend Ta-Nehisi Coates's celebrated novel, The Water Dancer, brought her work into the light for many, but her flame has always burned steadily, and she remains in pursuit of beauty among the unease, wading through waters both troubled and calm.
"I hope I'm like a visual Octavia Butler," Calida mused during our conversation, referencing the mind-expanding Afro-futurist science fiction author. Butler's wise words are a poignant starting point for our conversation during uncertain times: "Kindness eases change. Love quiets fear."
Kristin Farr: I can't imagine shelter-in-place with three kids in the house and a studio practice. How's it going?
Calida Rawles: There's this guilt of being in the studio that wasn't there before, because my husband is home with the kids trying to be a teacher and a cook. I actually didn't come to the studio for a week because I was feeling sick, and I realized it was self-induced. I had no symptoms, but I convinced myself I had the coronavirus, and I kept waiting for it to come. And then I was like, you know what? I don't have corona. Maybe it was depression that I was feeling, or I was scared shitless and didn't know what to do. I was in this weird warp, and I had to get myself up, and that's why I'm in the studio today for the first time in a week. My four-year-old, Siena, was starting to cry before I left. She said, "Mom, I feel like I'm gonna be in the house all day until I die."
No wonder you feel guilty.
That's the shit my daughter says to me. My husband's been really cool about everything, and I'm so happy to be in the studio and out of the house, but then I feel guilty again. So that's my whole quarantine; a guilt trip.
Can you even go swimming?
No.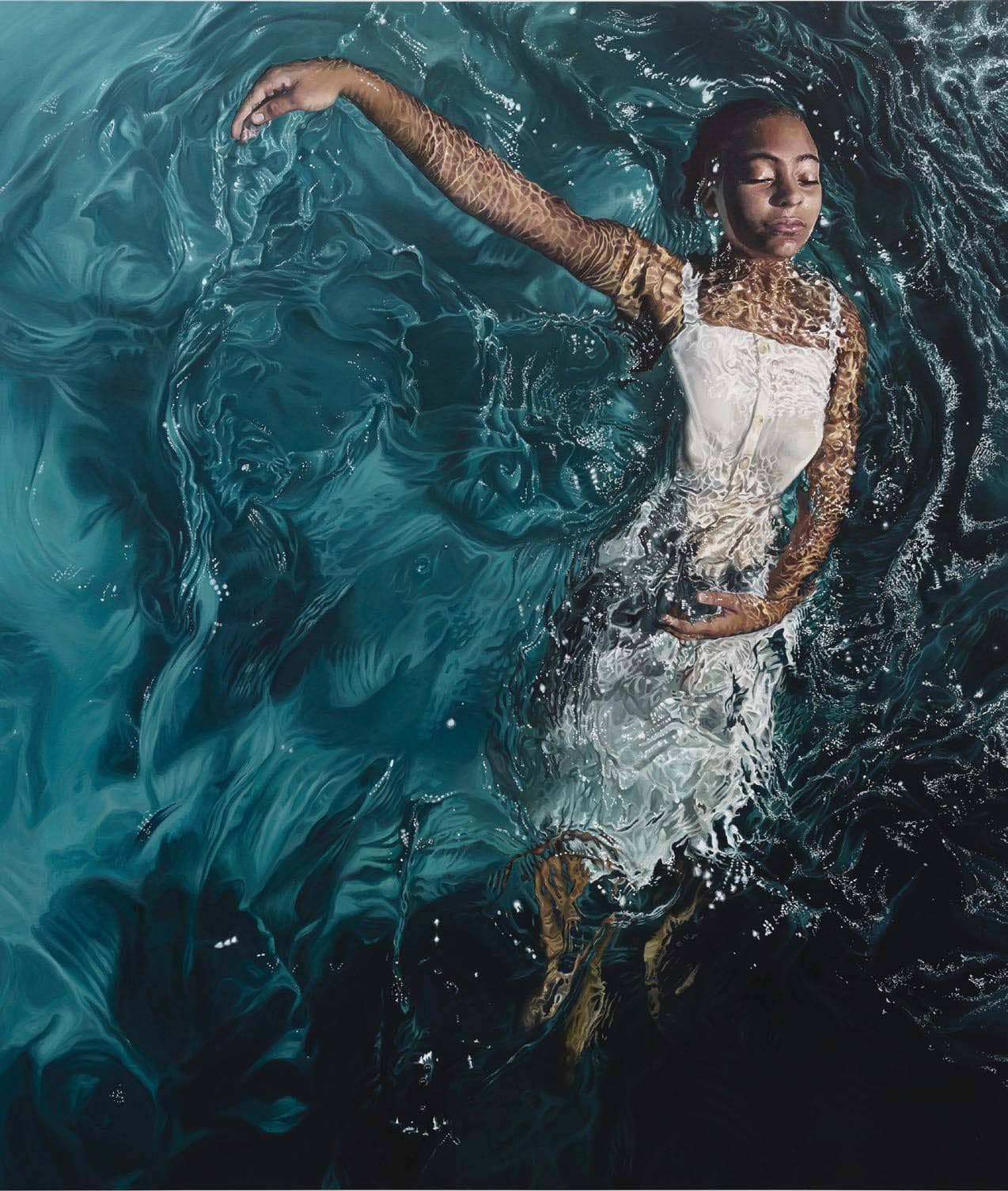 Can we ever swim again?
I am. As soon as someone opens a pool, my butt is gonna be right in that water. I need to swim. I am so waiting to get in the pool. I want to make money selling paintings so I can get a house with a pool! That's my new goal. I always have to go to someone else's house or public pools. So now I feel more motivated to get a pool. That's all I want.
I heard you've been selling art since day one.
As a kid, I would draw things like Garfield cartoons and sell them for a quarter to my friends. I'd be like, "What do you want, Snoopy?" And I'd write down what everyone wanted, and go home and do a cartoon and put their name on it in bubble letters. That made me feel like I could make money from art, and it was fun to take orders.
Your solo show at Various Small Fires was a huge hit when it opened in February, and then we all had to go home indefinitely. How did that success feel?
Really good. I was very happy the work resonated. I was selling paintings out of my studio for years. They take so long to paint, and I had been working on that show for nine months, and I was so happy with the reception. I couldn't have scripted it better and I was blessed with the timing. Just one month later, and no one would have seen it.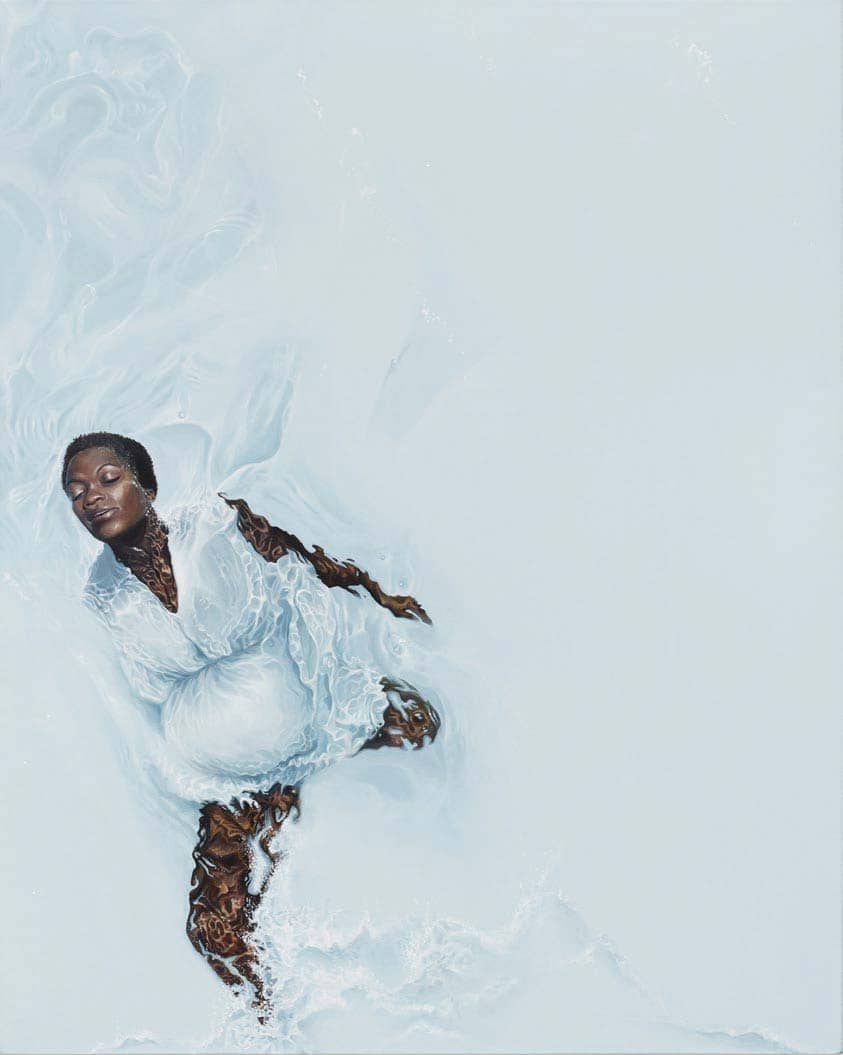 Tell me about the title, A Dream for My Lilith, because Lilith was an unsung biblical character.
Some girlfriends mentioned the Lilith story to me, and it was fascinating that there was an alternate creation story that I never heard. Lilith became known as the spirit of darkness because she wouldn't lie beneath Adam. She wanted to be seen as equal, and therefore she left Eden and was punished. Equality is something we should all strive for, and I can't imagine why we are punished for it, even though it happens all the time. So that stuck with me and made me think of my experience as a black female. She was seen as difficult, and these stereotypes of how they describe her, or how she's written about, are somewhat like stereotypes of black women. It could be about any woman, but it's a dream for those who wanted to be seen as equal and were chastised for it.
My 14-year-old daughter, Skye, became a focal point, as I think of her becoming a woman and what that means, and what she has to face, and how people may see her as difficult when she shares how she feels. At the same time, I lost a cousin last year, and we were very close, born two days apart. She had ovarian cancer, and we went on a girls' trip to Jamaica when her illness was pretty far advanced. I was telling them the story about Lilith, so we decided to call ourselves The Liliths, like descendants of this woman who fought against the grain and didn't even want to return. She had the option to go back to Eden but said no, that she'd rather be alone than subservient.
When I'd call my cousin, I would say, "How are you doing, my Lilith?" So it was a tribute to her too; the title is multi-layered. My cousin and I grew up together, we had different complexions, and I played with that a bit in the show. The painting, Yesterday Called and Said We Were Together was definitely me thinking of her.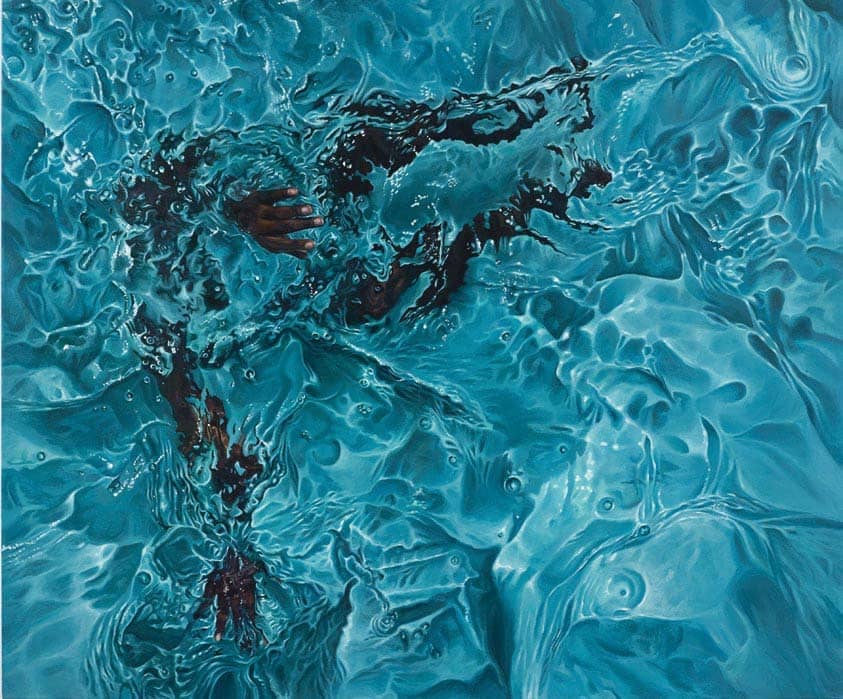 You can read up to 3 premium stories before you subscribe to Magzter GOLD
Log in, if you are already a subscriber
Get unlimited access to thousands of curated premium stories and 5,000+ magazines
READ THE ENTIRE ISSUE
Summer 2020